Obasa: 51 Hearty Cheers To The Legislative Generalissimo
Posted on November 11, 2023
BY JAMIU YISA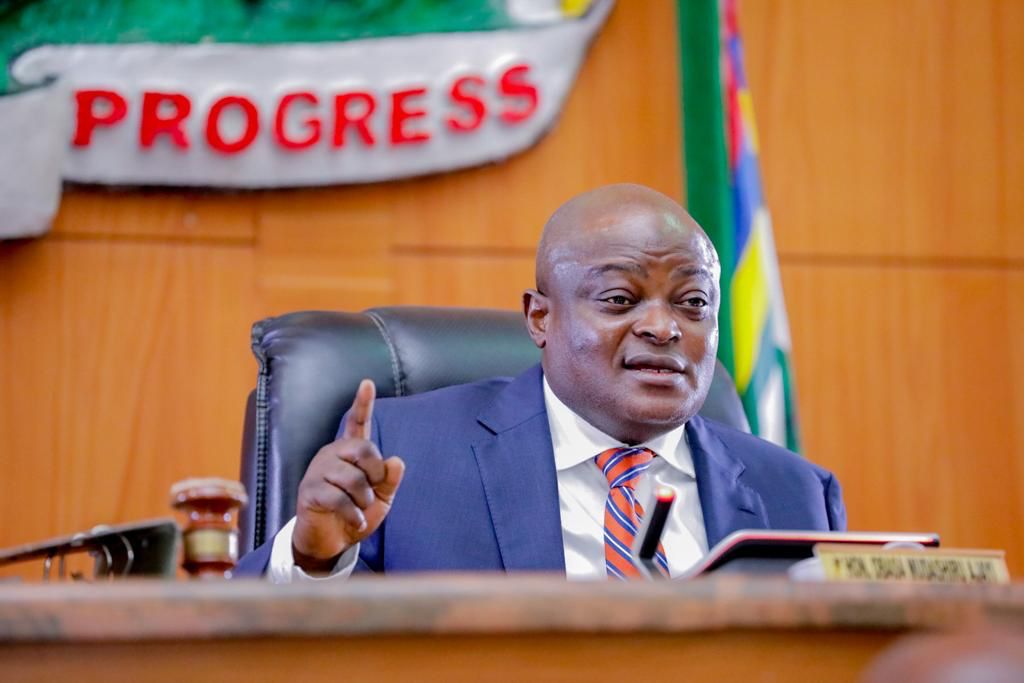 In the world of politics, it is a rare occurrence to find a legislator who consistently delivers excellence over a span of two decades. However, in the case of Rt. Hon. (Dr.) Mudashiru Ajayi Obasa, the Speaker of the Lagos State House of Assembly in Nigeria, this exceptional feat has become a defining characteristic of his distinguished career.
As we celebrate his 51st birthday and 20 years of legislative excellence from 2003 to 2023, it is impossible to ignore the significant impact he has made on the lives of the people he serves.
Starting out as a councillor in Agege Local Government in 1999, Obasa has developed into a significant player in Lagos politics, reaching the third highest position in the state.
In 2003, he represented his constituents, Agege Constituency 01, in the Lagos State House of Assembly. On June 8, 2015, he was elected as the Speaker of the Eighth Assembly. His colleagues reelected him to continue his commendable work in the Ninth and current 10th Assembly.
From the moment he took his oath of office in 2003, it was evident that he possessed a remarkable dedication to public service. Throughout his terms in office, he has consistently demonstrated a deep understanding of the needs and aspirations of the Lagos State community. This empathy, coupled with his unwavering commitment to progress, has allowed him to navigate the complex landscape of legislative work with ease.
One cannot discuss Obasa's legislative achievements without acknowledging the transformative legislation he has championed. To date, he has initiated approximately six Private Member Bills, making him the first and only Speaker in Lagos history to accomplish such a feat. It's also important to mention that the majority of his Private Member Bills have directly benefited the people of the state.
The House under his speakership had passed into Law, 46 Bills with over 120 resolutions and a couple of regulations in four years, during the 9th Assembly. With such passage, the House had brought about remarkable legislative improvement and service delivery to the State.
In addition to his legislative achievements, Obasa's leadership style is worth commending. As the Speaker of the Lagos State House of Assembly, he has fostered an environment of transparency, inclusivity, and accountability. His open-door policy has allowed for constructive dialogue and collaboration among legislators, resulting in the passage of impactful bills and policies.
There is no doubt about his leadership qualities, and today he successfully guided the proceedings of the state Assembly, resulting in a remarkably peaceful Parliament in Nigeria. Being a bridge builder, he not only promotes peace but also embraces the concept of love and sharing among individuals.
In his role as an administrator, he made sure to uphold and enhance the tradition of providing continuous training for lawmakers and staff of the Lagos State House of Assembly, making them possibly the most well-trained in the country.
A chieftain and two-term ex-state chairman of the party, Chief Henry Oladele Ajomale, described him as a loyal party man, a leader, a democrat, and both fearless and brave.
"Obasa has been involved in politics for a while now. Though not as long as some of us, he has definitely worked and contributed a lot over the years. From AD to AC to ACN and now APC, he has helped carry on the vision of our forefathers. Without that continuity, we wouldn't have the focus or the direction we need.
"When I was the chairman of the party, he was always there representing the House of Assembly. He made sure everyone paid their dues to support the party. In fact, he led by example – always the first to pay his fair share. That's the sign of a true team player.
"To us that know him, know that he is a very courageous, bold, not afraid to take decisions that are going to benefit the majority of the people. That is how you know leadership, by knowing someone who is not afraid to take decisions. The good decisions on behalf of the people, that shows his leadership skill and that is why they call him a leader. So far so good, he has done what is expected of him very well.
"He is quiet, unassuming but don't touch the tail of the cobra when it is sleeping. Don't wake it up, you'll see venom. The day you try to step on the tail of the cobra, you're in trouble, but he respects everybody, leaders, elders, even the younger ones, because respect begets respect, that is respect deserves and it is reciprocal. He has shown that trait, so he will respect you, even if you're a toddler. That is why he is unique, that's why I like him," said Chief Ajomale.
Hon. Femi Saheed, the lawmaker representing Kosofe Constituency 02, described him as a man of many parts. "He has an in-depth understanding of what legislature is all about. He is well-grounded in lawmaking and is able to form different opinions fitting each situation. He is a man that you cannot work with and complain because he is a teacher, a lawmaker, and a pragmatic achiever who loves the people he works with and believes in honesty and dedication. He is a man who assesses you more than you think. He has an innate ability to study individuals personally and assigns responsibilities based on their understanding. He is a good achiever.
"Lagos State House of Assembly, according to our slogan, is the House above the common standard of Excellence. You can see the kind of laws that we have enacted and the impacts they have made. You can also see the way the public perceives us across the country.
"It is because of his robust legislative experience that we have been able to bring confidence, sagacity, and exposure into the legislature. This has been the only instrument that we have been using as a recipe to be above other assemblies in Nigeria."
According to Engr. Rasheed Shabi, a first-term member representing Lagos Mainland, "I can strongly say that the distinguished Speaker has been a humble and dedicated gentleman. He is distinct and professional in his job. He is someone who will be there for you when you are close to him, but do not abuse that relationship.
"Since we came in, he has been a brother and a leader to all of us. He has never discriminated against anyone, including the two Labor Party representatives. He has accepted us as one. He says that as long as we are in this House, we are all one and it does not matter which party you came on board with. He wants everyone to contribute when it comes to decision-making. He does not dictate the way things should be because he is the Speaker. He wants all of us to contribute, even at the parliamentary level."
According to Hon. Kehinde Joseph, a third-term lawmaker representing Alimosho Constituency 02, "If you want to understand how the parliament works, just study the Speaker. He is incredibly smart. Whatever question you ask, he gives an immediate thoughtful response directly related to what you asked.
"As Speaker for the past three assemblies, he has set the standard. And he knows how to reward good work. When it's time to recognize your efforts, he is there to do it. And don't even try to act smarter than him because there's very little about the legislative process he doesn't know inside and out. If you have any challenges in your work, I guarantee he'll have the perfect advice. He's like the Joseph in the Bible who could interpret dreams.
"I have learned so much from him, and I'm very grateful. Among all the state assemblies, he is probably the longest-serving member. When you look at other countries, their parliamentarians often serve for decades. So his longevity really helps us. The state is lucky to have such a capable Speaker. All current and former members will tell you he is the ideal person for the job."
According to Hon. Tobun Mustainu Abiodun,"Obasa has been a great friend and mentor since I joined the House. He is very humble and hardworking, always making time to help others understand the legislative process. We've learned a lot from him about how to best serve our constituents. He truly cares about the people of Lagos and works tirelessly each day to move the state forward. He leads by example and has helped elevate the House to new heights. I respect him not just as our Speaker but as a father figure who wants the best for all.
"Under Obasa's guidance, the Lagos State House of Assembly has become a model for other state legislatures to learn from. He has set a high bar for excellence that we strive each day to meet. From improving infrastructure to passing impactful laws, he has transformed the House into one of the most effective in the country. Other states regularly adopt our policies, showing the positive influence we've had nationwide. Obasa's vision and dedication have strengthened democracy and bettered lives across Lagos. We're proud of all he has accomplished and the example he sets for principled leadership.
"The LNSC has been hugely beneficial for Lagos, helping maintain law and order through intelligence gathering and community partnerships. While not armed like the police, they fulfill an important security role. They work closely with the NPF to evaluate threats and keep citizens safe. No system is perfect, but the LNSC demonstrates Lagos' commitment to innovative, collaborative approaches that produce real results. Their efforts, along with laws passed by this House under Obasa's guidance, have undoubtedly enhanced stability across the state," he averred.
The lawmaker, representing Eti-Osa Constituency 2, Hon. Gbolahan Yishawu, in his congratulatory message to Obasa, speaks to the fact that the journey to the top is with its course through the path of loyalty and fidelity to the right values.
According to him,"He has not only distinguished himself as a lawyer, lawmaker and politician, his track-record as a leader is outstanding. He is bold, forthright and visionary, always looking out for ways to chart a new path to enrich process and outcomes.
"Under the leadership of Mr Speaker, the Lagos State House of Assembly has continued to set the pace among the legislative houses in Nigeria.
"It is on record that under him, the 9th Assembly passed a total of 46 bills and over 120 resolutions, which made huge positive impacts in the development of Lagos State and lives of Lagosians.
"He is never afraid to assign responsibilities to others and extend opportunities that help to broaden the experience and record of other legislators in Lagos State and Nigeria generally. He is always looking out for good, progress and development of others.
"The story of Rt. Hon. (Dr) Obasa is one that inspires on many areas. It is a story of determination and industry that has seen him through an inspiring and progressive journey, which started with him as a legislator in Agege Local Government to becoming one of the most successful lawmakers in the history of the Lagos State House of Assembly.
"This day offers me yet another opportunity to celebrate and appreciate this great man, who I have had the privilege and honour of working with in the last 12 years, eight of those years under his leadership as the Speaker of the Lagos State House of Assembly.
"As Rt. Hon. (Dr) Mudashiru Ajayi Obasa celebrates his 51st Birthday, I congratulate and wish him many happy returns of the day. May Almighty Allah grant him good health and wisdom to continue to positively impact this and future generations. Happy Birthday, My Speaker," he prayed.
It is perhaps Obasa's ability to consistently exceed expectations that sets him apart from his peers. Throughout his 20 years in office, he has continually raised the bar for legislative excellence. Whether through his tireless work ethic, unwavering dedication to the people, or visionary leadership, Obasa has proven time and time again that he is a force to be reckoned with in the political arena.
As we reflect on Mudashiru Obasa's 51st birthday anniversary and 20 years of legislative excellence, it is clear that his impact on Lagos State cannot be overstated. His unwavering commitment to progress, coupled with his visionary leadership, has transformed the lives of countless individuals.
As he continues to serve the people of Lagos State, one can only anticipate even greater achievements and a brighter future under his guidance.