Ondo State's Abioye Wins Lagos Women Run Back-to-Back
Posted on November 11, 2023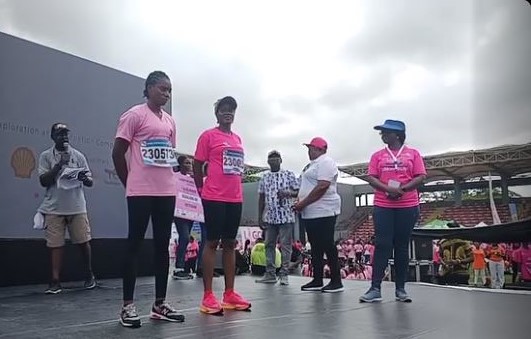 David Abiye George from Ondo State successfully defended her title as champion of the 2023 Lagos Women Run.
She won the title last year, to record her second straight win in her second participation in the biggest women run in Africa.
The 2023 Lagos Women Run which is in its 8th edition emerged as the most successful edition with over 7,000 runners participating.
David Abiye George who is an officer of Nigeria Security and Civil Defence Corps ( NSCDC), defeated thousands of runners to take home the N1.5 million price money at stake after breasting the tape at 39: 13: 78 seconds.
In second place is Deborah Pam who crossed the line 39:22: 73, while the third position went to Patience Dalyop with a time of 40: 2:08 seconds.
The second and third place winners went home with N500,000 and N300,000 respectively, while the first twenty persons to get to the finish point got various cash prizes.
Winners also emerged in the veteran category the first three winners got N300,000, N200,000 and N100,000 respectively with the first ten finishers also going home with cash prices.
Speaking after the race, Abiye said she trained very hard for the marathon, noting that, the victory will give her the necessary confidence as she prepares for the forthcoming Warri Marathon.
She was also full of praises to the organisers of the race for creating a platform where women compete among themselves and for her employers for their support which enabled her to excel.
Earlier while flagging off the race, Wife of Lagos State Governor, Ibijoke Sanwo- Olu who was represented by Dr. Mrs. Modinat Akiolu expressed happiness with the successes recorded by the race just as she reminded women of the need to be part of the race as a way of exercising themselves and networking.
"I'm happy that the Lagos Women Run has come to stay and the successes recorded over the years cannot be overemphasized.
"The race has not only made women to come together and compete in a friendly environment but has helped in showcasing the beauty and iconic landmarks of Lagos state to the outside world and I want to commend the organisers for this wonderful idea which has helped in giving women a sense of belonging and helped in the battle against gender violence and emancipation of women in Lagos.
In her remarks, coordinator of the race, Tayo Popoola, while expressing happiness at the completion of another successful event, noted that, the race is not all about running or winning prices but a statement of empowerment.
" The Lagos Women Run is not all about running; it empowers women to overcome challenges, conquer stereotypes and break barriers.
"It sends a powerful message that Lagos women are strong, confident and unstoppable. And as they run through the city's streets, they inspire and uplift others, proving that they can achieve anything they set their minds on.
Popoola also noted that the race serves as a platform of creating awareness for some non communicable diseases that ravage womanhood.
" In this race, we use it to create awareness about some non communicable diseases and that's why you see some participants run against cancer, diabetes and hypertension and I want to assure you that we'll keep on improving", she concluded.