My P*nis Too Big To Penetrate My Players' Anus -Football Coach
Posted on November 22, 2016
CYRIACUS IZUEKWE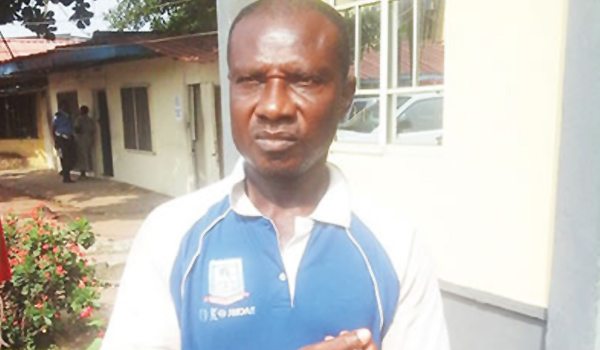 A 49-year old football coach, Frank Darlington has confessed that he actually engaged in sex with most of his young players in his team but denied that he never penetrated them through their anus because his penis was too big to enter into it.
Darlington made the confession on Monday at the Lagos Police Command headquarters at Ikeja, Lagos, Nigeria where he was paraded.
He disclosed that he was always engaging the boys in sex escapades but denied having anal sex rather derived sexual satisfaction penetrating them through their laps.
He explained that the players were attracted to him coupled with the fact that his wife was not living with him.
He said: "I always get attracted to the boys whenever I remember my wife, because it is not easy staying alone without a woman.
"It is not every time I sleep with some of the boys; sometimes I do romance them just to relieve myself of my feelings for my wife.
The suspect said he actually sleep with women at the same time with the players but saw it all as fun.
Darlington, who is the manager of Super Warrior Football Academy, Agege, Lagos, confessed that the players are young and very attractive to him.
He said he could not explained how he imbibed such habit and had been battling to  stop it since last year before he was exposed and arrested.
He said that whenever he set his eyes on them, he will suddenly start feeling the urge to have sex with them.
Darlington, an indigene of Obowu in Imo State, was a trained coach who had discovered many talented players in Lagos.
He was among the suspects paraded on Monday by the Lagos State Commissioner of Police, Mr Fatai Owoseni.
According to Owoseni, the police received a report of the activities of Darlington on how he has been abusing young boys whom he was training as footballers.
He said the police moved into action and arrested him and he confessed to committing the alleged offence.
Police said he had slept with four of the victims through their anus before he was arrested.
Owoseni said the suspect will be charged to court after the conclusion of investigation.