Police Smash Notorious 'No Salary Boys' At Popular Hotel
Posted on September 16, 2020
MICHAEL AKINOLA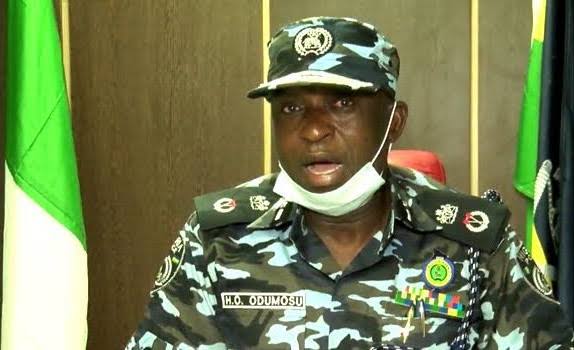 It appears that there is no hiding place for suspected armed bandits and cultists in Lagos following the operational strategy put in place by the Commissioner of Police, CP Hakeem Odumosu, in various Area Commands and Divisions across the state.
P.M.EXPRESS reports that recently some dreaded cultists and armed robbery suspects known as 'No Salary Boys' went on rampage at Abaranje Road, Ikotun area of Lagos, robbing people openly with force of arms in the daytime including the popular D Royal Hotel in the area.
However, the information got to the Police at Ikotun Division and the DPO, CSP Adagba Johnson, mobilized and led his officers to the scene and smashed them.
During the operation, eight of the suspects were arrested, some arms were recovered while others escaped and are now at large.
The suspects arrested included: Sikiru Lawal, 29, Oyeniran Jamiu, 30, Latest Folunsho, 21, Emmanuel Odeniyi, 22, Quam Eniola,20, Fatai Warris,26, Tunde Adeoti, 26 and Ishola Adamson, 26.
The Police also disarmed them and recovered six cutlasses, stolen phones and other items as exhibits and transferred all including the suspects to the FSARS at the Police Command in Ikeja, Lagos for further investigation.
Police sources said they all confessed to belong to cult groups and were part of the armed robbers terrorizing innocent people in Lagos and its environs.
After interrogation, the Police found them culpable and subsequently charged them before the Ogba Magistrates Court for armed robbery which attracts several years of imprisonment if they are tried and found guilty before the Court.
Police sources said that the suspects will be transferred to the High Court based on the evidence against them by the complainants and the nature of the offence they allegedly committed.