Prince Adetarami Festus Adegbehim (SP) – The Transformation To A Super Cop
Posted on December 15, 2018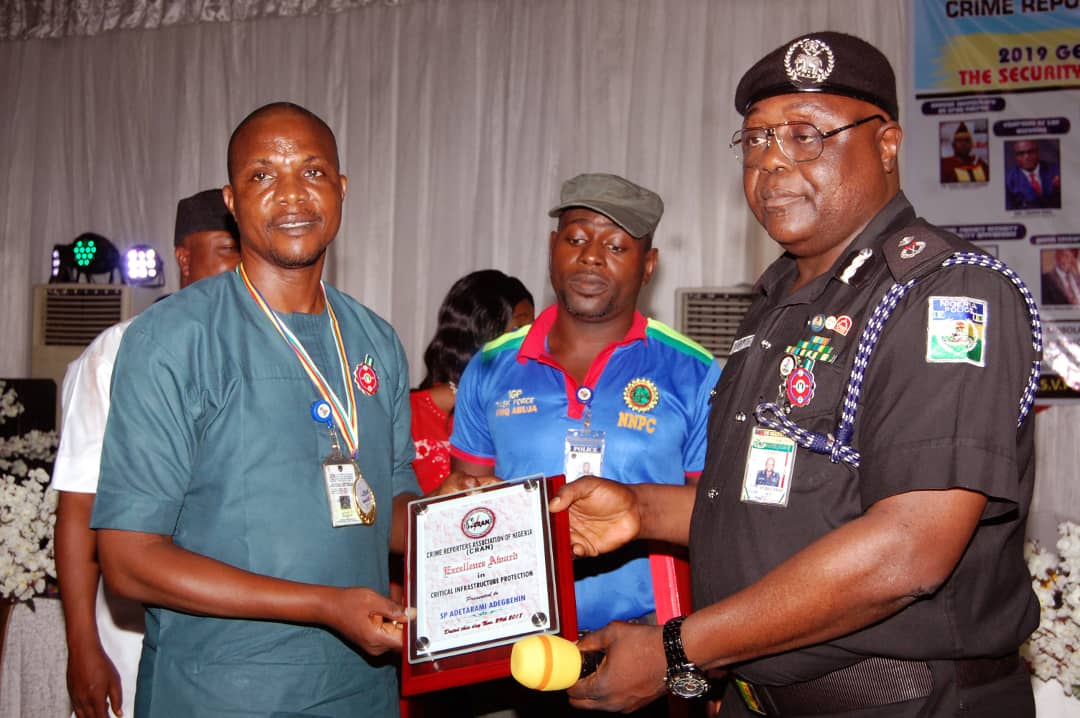 It was Thomas Hauser who said that being a good police officer is one of the most difficult, dangerous and idealistic jobs in the world. It is particularly important to note that policing is very demanding, as their work demands that they be permanently on call. At the same time the Police Force has had a bad name over the years because of a few rogue officers who have given new meaning to the saying; one rotten egg spoils the entire pudding. By their selfish acts, they have dented the image of the police and as fate would have it, the bad elements in the Force are easily noticed
 But it would be dishonest to deny the existence of a good number of police officers who execute their duties with diligence and dedication.
Accordingly, P.M.EXPRESS deems it fit to highlight such hard-working officers like Prince Adetarami Festus Adegbehim (SP). Hard work, as often said, pays. Hopefully, this piece will help to goad other officers who often treat their work shabbily to work hard and honestly for the good of society.
Prince Adetarami Festus Adegbehim (SP) was born in Ikeja, Lagos State on 3rd October, 1966. He attended Methodist Primary School at Ode Aye and Layelu High School at Okitipupa both in Ondo State. Because of his zeal for education, he proceeded to University of Ado-Ekiti where he bagged Advance Diploma in Criminology and subsequently Post Graduate Diploma with specialization in Security Management and Criminology.
His foray into the Police Force started when he got enlisted through Recruitment Training in 1986. After his training at Police College, Ikeja, he was posted to Denton Police Station at Ebute Metta in the heart of Lagos. He acquired enough experience in both Police general investigation and duties.
Due to his agile disposition, Adetarami was recommended for mobilization into the Mobile Police Squadron 17 Base in Akure, Ondo State. He was there for reasonable number of years. Over there, the strength for selfless service in him manifested itself which orchestrated his movement from there to the Embassy Protection Unit under the Lagos State Police Command. His sterling performance won him a Golden Certificate of Appreciation from the American Embassy in Lagos.
From the Embassy Protection Unit, Adetarami was transferred to the much revered Lion Building Police Division, Lagos. Just like a golden fish that has no hiding place, he was moved to the Force Criminal Investigation Bureau (FCIB) precisely Federal Special Anti+Robbery Squad (FSARS) at Adeniji Adele, Lagos. At FSARS,
Ade, as he is fondly and popularly called became a thorn in the flesh of criminals. Having seen the gallantry in him, he was transferred to the Lagos State Police Command under the then Inspector General of Police, IGP Attah and Commissioner of Police, Yemi Odubela, to form the Lagos State Command Special Anti-Robbery Squad (SARS).
When the Lagos State Command SARS became solid, Ade was moved to the Federal Operations Department in the then Force Headquarters, Obalende now Annex and it was from that department that he was seconded to Chief Ebenezer Babatope (Ebino Topsy), then Minister of Transport and Aviation as  Security Attaché in 1995.
Ade was later detached from the Minister and reassigned to the Presidency, Aso Rock Villa, as a Security Attaché. From the Presidency, he was also moved to Federal Operations, Abuja. He was there for some time before going to the Mobile Police Squadron 44 Base as a Unit Commander and attached to the Nigerian Liquefied & Natural Gas (NLNG) in Bonny Island, Port Harcourt, Rivers State.
As an Officer, he has served as Divisional Crime Officer (DCO), Satellite Police Division under the Lagos State Police Command. Ade as well served as Operations Officer at Oke-Odo Police Division, Agege, Lagos. The usual Police transfer again brought him to Area F Police Command, Ikeja, Lagos, as Area Crime Officer (ACO).
He was again needed at the Special Anti-Robbery Squad (SARS) and moved back there as Team Leader. Due to his very impressive performance while at SARS, he was made the Commander of Tactical Operations Squad that successfully monitored the 2015 elections and a sole outfit that provided security to eminent foreign personalities like the United States Secretary of State, Mr. John Kerry, during his visit to Nigeria which attracted the US Embassy Award of Certificate of Appreciation.
As a very active officer, he was transferred to the dreaded Federal Special Anti-Robbery Squad (FSARS) as Commanding Officer, Sokoto State Police Command, where many successes were recorded before moving to the Federal Anti-Robbery Squad as second in Command (2i/c), Oyo State Command.
In 2017, Ade was mobilised to the Inspector General of Police Special Task Force on Petroleum/Illegal Bunkering and Adulteration under the strict directive of the Inspector General of Police, Alhaji Ibrahim Idris, Force Headquarters, Abuja. Having discovered huge potentials which added more laurels to his golden achievements, SupolAdetarami was made the Sector Commander of IGP Special Task Force, Warri, Delta State, Commander, IGP Special Task Force, AkwaIbom State; Sector Commander of IGP Special Task Force, Abeokuta, Ogun State, Sector Commander, IGP Task Force, Ilorin, Kwara State and presently, Sector Command, IGP Task Force, Sagamu Sector Command – the most volatile sector of all the IGP Special Task Force Sectors throughout Nigeria.
Supol Adetarami has attended so many professional courses, seminars and workshops in Nigeria and Africa. In 1995, he attended Tactical Operations and Maneuver in Tripoli, Libya. He also attended Human Rights Course organized by Human Rights Project of Lagos State Police Command in 2010, Modus Operandi course and Advance Detective Course, Police Staff College, Jos, Plateau State.
Ade has gotten his name conspicuously scripted in the hallmark of fame and legacy. He has displayed genuine and persistent belief in selfless life. Thus, he not only preached it but has practiced it by imprinting his name in history books of the Nigeria Police Force. In all the police formations where he has been posted to, he always left behind legacy projects; erecting new buildings and renovating dilapidated ones. Despite various storms and challenges, he has forged ahead in attaining greatness and achieving set vision and goals.
SupolAdetarami is an officer with a big heart, highly disciplined and as well a disciplinarian to the core even though he is simple, approachable, accommodating and professionally considerate. The only people that may not like his face are the bunch of criminals who at various points had been impeded by his rigorous attacks, arrests and blockages of their nefarious activities.
His sterling performances have earned him several awards and accolades from within the Force, the media, associations and various communities where there had been strong imprints of his gallantry. On November 29, 2018, the Crime Reporters Association of Nigeria, CRAN, singled out Supol Adetarami and honoured him with an award "Excellence Award In Critical Infrastructure Protection" for his strides as Sector Commander, IGP Special Task Force, in different places especially at the most volatile of them all.
P.M.EXPRESS can conclusively say that going by the achievements of Supol Adetarami in different formations and capacities, he has remained consistent in his strivings to become a super cop in Nigeria and with his likes in the Force the wrong perceptions and notions about policing and police officers will change positively in no distant time.