Rivers United Kick Off Preparation For 2016/17 Season
Posted on November 1, 2016
TAIWO ADELU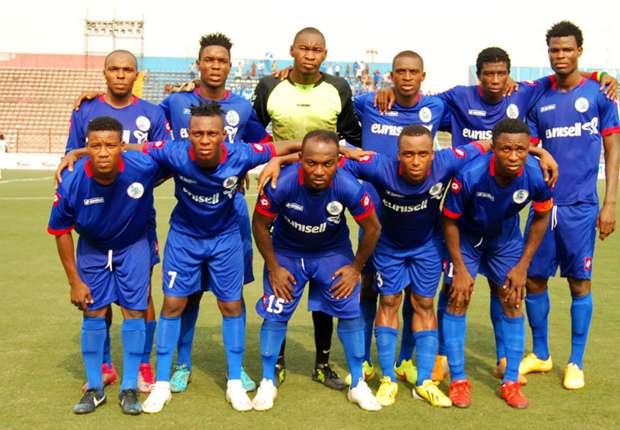 Nigeria Professional Football League (NPFL) club, Rivers United FC have commenced preparations for the 2016/17 football season.
According to the Media Officer of the club, Sammy Wejinya, players and officials converged at the Yakubu Gowon Stadium, the home ground of the club, on Tuesday morning for the team's first training session ahead of the new season.
The session lasted for exactly 90 minutes and was supervised by the chief coach, Willy Udube.
Rivers State Sports Commissioner, Honourable Boma Iyaye, who watched the session, charged players and officials to maintain 'a high level of discipline' ahead of a potentially demanding season.
"On behalf of the sponsor of the team, the Rivers State Government, I want to welcome you back from your vacation.
"However, this is the time for hard work and I want to charge you all to realize that you are ambassadors of Rivers State and Nigeria as you will be representing this country in the 2017 CAF Champions League.
"I urge you all to display a high level of discipline and focus as you look to do Rivers State and Nigeria proud in the upcoming season," he said.
Responding, club captain, Festus Austine promised that the players would work hard always and they look to justify the confidence reposed in them.
"We want to thank you Honourable Commissioner for your Fatherly advice and also want to use this opportunity to express our appreciation to the Rivers State Government for the continued support to the club.
"We will not relent ahead of the new season as we look to put smiles on the faces of Rivers people and Nigerians in general," he said.
Meanwhile, General Manager of the club, Chief Okey Kpalukwu confirmed that a few of the players are still expected but assured that there would be a full house by Wednesday.
"I want to urge the few players who have not yet turned up to do so without any further delay.
"Our time for preparations is quite short and we will need a full house before the next training session on Wednesday," he said.
Rivers United finished in second place in last season's NPFL and will represent Nigeria in the 2017 CAF Champions League.