Robbers: Ogun, Lagos Police Commands Spit Fire
Posted on January 14, 2021
CYRIACUS IZUEKWE
It appears that armed robbers may be at crossroads following the decisive action plan taken by the two Commissioners of Police for Ogun and Lagos State Commands recently.
P M.EXPRESS reports that while the Lagos Police boss,  CP Hakeem Odumosu, went after the armed bandits terrorizing Lagos residents, his colleague in Ogun State, CP Edward Ajogun, has sounded it clear to criminals that Ogun State is no go area.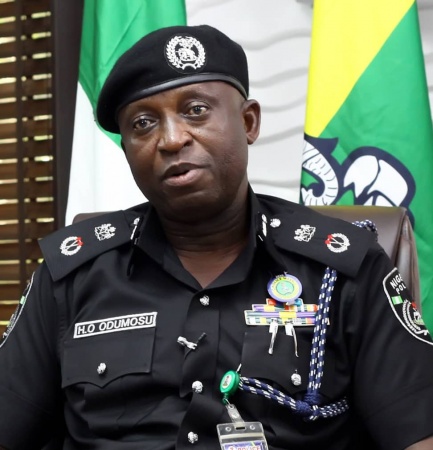 CP Ajogun stated that the activities of serial killers, which had been claiming lives persistently within Ijebu–Ode and its environs, will soon be things of the past, as he has declared total war against criminality.
To match words with action, CP Ajogun has arrested 11 cult members, whose ages range between 25 to 30 and above.
A furious CP Edward Ajogun,  declared that any individual caught with any weapon capable of inflicting pain, kill or maim person, will be dealt with decisively from now onward.

 He made the declaration  when parading the arrested members of the cults at Ijebu-Ode Police Area Command. CP Ajogun said that Ogun State is no longer safe for criminals and it is better for them to relocate, while he reminded individuals or group of people that might be sponsoring the dreadful activities of the cults against the peace and wellbeing of the people to discontinue now because the long hands of law will soon catch up with them.
The Police boss further said that there is nobody that is above the law. He cited himself as an example that if he became blameworthy of sponsoring cults or involved in any criminal activity, the law will take its course without favour.
He said the Police's offensive attack on the cult groups is responsible for the cults members being in disarray, causing many of them to spread into other communities. He said the recent attack by the cultists was battle for supremacy among the remnant members of the two group.

It will be recalled that the recent blood-letting were carry out with guerrilla tactics, moving from one community to another unannounced in a battle for upper-hands  between Black Axe (Aiye) and Eiye Confraternities, whereby many innocent live were loss.
The Commissioner of Police said the Police efforts towards curtailing the activities and confrontation of the cult groups were demonstrated by the cracked down on them, effecting arrest of many who had already confessed their involvement while arms and ammunition were confiscated from them.
CP Ajogun sounded note of warning to the community leaders, politicians and sponsors of cultists as well as individuals nursing ambition of becoming cult member to rethink as the Command is all out for battle against cultism.

 "We are battle ready! Henceforth, any person, cultists or not, found with weapons or displaying weapon in the public or using same to maim or killing in Ijebu-Ode metropolis, Ijebu-Ode environs, indeed any part of the state will be dealt with in the most decisive manner."
Ajogun said it is now fire for fire with cults across the state. He furthered said any person caught in midst of crime will be charged with multiple charges and be made to face prosecution. 
He urged the residents of Ijebu-Ode to join hands with the security agencies in the battle of returning Ijebu-Ode to its former glory.