SCF Chain To Be Launched In Lagos
Posted on September 27, 2023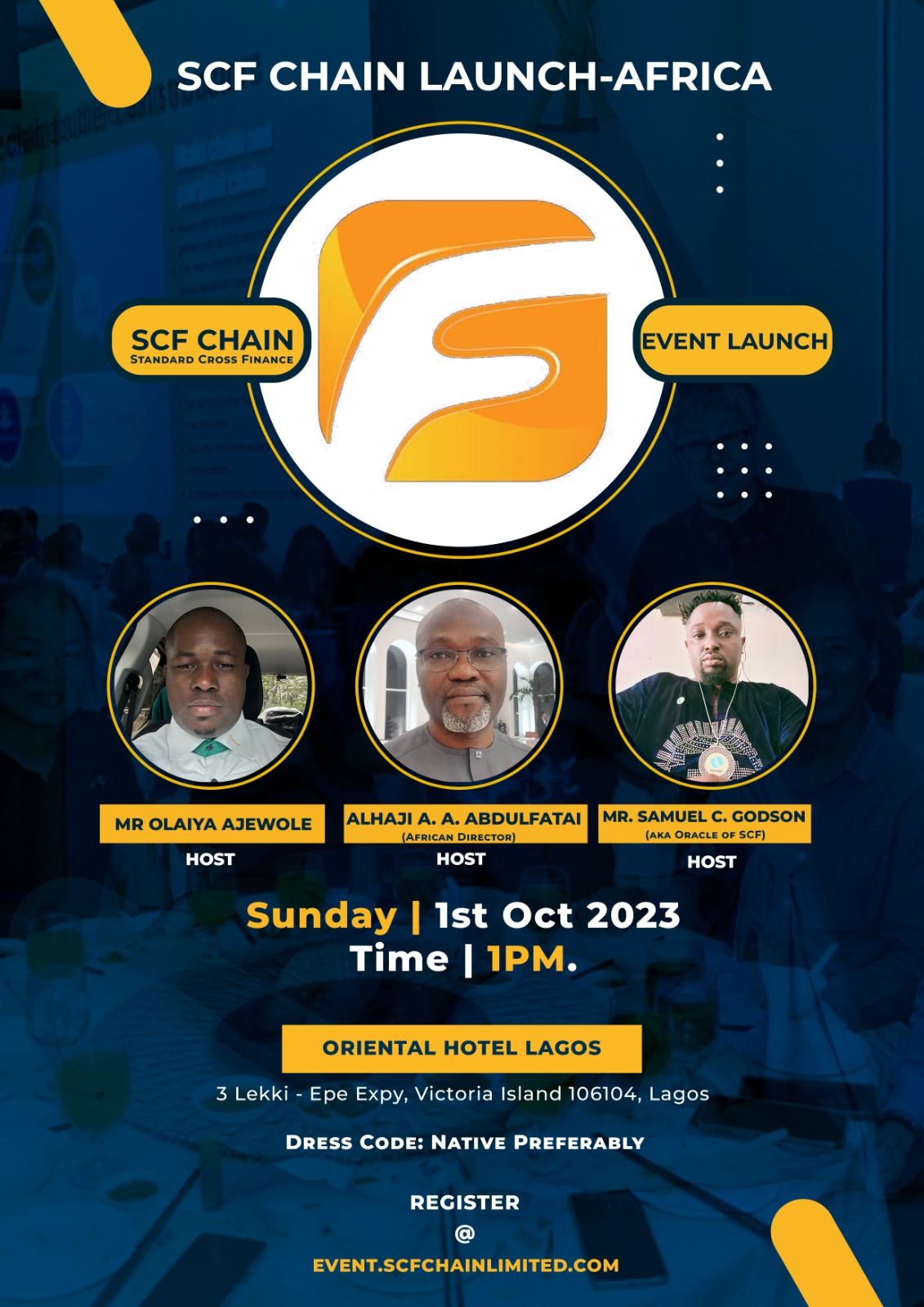 In order to showcase the world of blockchain finance and as well to create an avenue for networking with a diverse and dynamic community of professionals, investors, and entrepreneurs from all over the world, the SCF Chain will be launched in Lagos, Nigeria on 30 September and 1 October at the Four Points By Sheraton Hotel and Oriental Hotel respectively.
In a chat in Lagos, Mr. Femi Awojobi, who is one of the key Media spokespersons for the event in Nigeria, revealed that the event will not just be an eye opener to the world of blockchain finance opportunities, it will be a dynamic and ever-evolving world of finance and innovations where one looks into how blockchain can be used for unique opportunities to work with cutting edge technology in solving complex problems.
"We want to leave no stone unturned hence the need for the SCF Chain Launch Event here in Lagos. The first day is earmarked for the pre-event, while the second day is for the event's proper at the Oriental Hotel, Lekki, Lagos.
Continuing, Awojobi who is a voice to reckon with in Nigerian Media world opined further that the SCF Chain Launch Event is poised to be a game-changer in the world of blockchain finance that would bring together thought leaders, industry experts, and innovators.
"This 2-day event promises a deep dive into the latest trends, opportunities, and strategies in the finance and blockchain sectors".
Also, highlights of the event will include Inspirational insights from some of the brightest minds in the industry, including William Thompson, President & CEO, Standard Cross Finance (SCF Chain) who has arrived in Nigeria from USA, the African Representatives, Mr. Oluwatoyin Ajewole (Lateef) and Nigerian Representative, Alhaji Abdulfatai Abdulrauf among others.
There will be a thought-provoking panel discussions covering blockchain, finance, and innovation, live demonstrations of revolutionary cutting edge technology that is reshaping the financial landscape.
Interested individuals need to get a referral link from any User of the SCF Chain App or download the SCF APP from https://scfmain.com to become registered members for free before they can visit the website to register for the Lagos event at : www.event.scfchainlimited.com.
"There is no doubt that many opportunities abound for attendees to be at the forefront of innovation, discover the future of finance, gain valuable insights, connect with visionaries who are shaping the industry apart from a brand new Car as a star Prize for the Winner at a raffle draw during the event and other Gifts," Awojobi concluded.