Sidophobia Fans Club Set For 2021 Anniversary
Posted on July 11, 2021
MICHAEL AKINOLA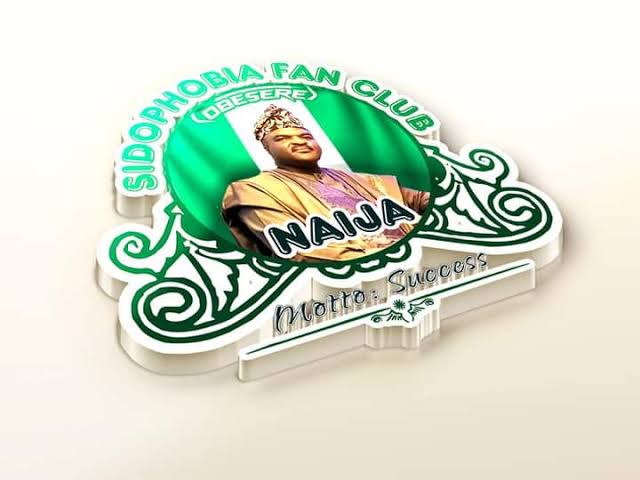 Sidophobia Fans Club, a group of respected individuals who are followers of Alhaji Abass Akande Obesere, (Alimosho Chapter), is set for 2021 Anniversary Celebration.


The Anniversary Celebration, which is a weeklong programme, will be flagged off on 22nd August, 2021, at palace of their Royal Patron, Oba Adekunle Oyelude Makama, Olowu of Owu Kuta, Ayedire Local Govt, Osun State.
It will be followed by a Press Conference and free Medical outreach at the palace.

On 23rd August, there will also be a free Medical outreach at Alimosho Town Hall in Lagos, which will be followed on 24th August by Empowerment on Education and Quiz Competitionfor Schools in Alimosho Local Government area.
On 25th Wednesday, will be the visitation of Sidophobia Estate site at Mowe area of Ogun State, while there be open match of Sidophobia Football competition on Thursday 26th August at Alimosho Local Government.
Friday 27th August will be the Final Match of the Sidophobia football competition. There will also be Jumat Prayer at Alimosho Central Mosque, which will be followed later by Sidophobia Dinner, while Saturday 28th is a free day.

The Anniversary Day, 29th August, will start with Church Thanksgiving Service, while the event proper will take place at Baystar Hotel & Gym, 40/42 Ekoro Road, Egbe Bus Stop, Meiran, Abule Egba Road, Lagos, from 10am.
Expectedly, music will be supplied by Alhaji Abass Akande Obesere (Agbaakin Bobagunwa) while the event will be anchored by Olusoji Omotayo Baaroyin Apeede Ara 106.5 Faaji FM.
Dignitaries billed to grace the event include HRM Oba Adekunle Oyelude Makama (Olowu of Owu Kuta, Ayedire LG, Osun State), C.F.O Shola Alegi (Special Guest of Honour), Alhaji Mukaila Ajao Milaco (Special Guest), Chief Alani Bankole (Patron), Mr. Azzez Olatunji, AZLAD (Patron), Mr. Akin Osundolire, MD AK Logistics System Ltd (Patron), Olori Abimbola Yetunde Omo Deseye (Matron), Alhaja Mosurat Akande, Arena (Matron) and many more distinguished guests.
It promises to be a day of fun, glamour and glitz for the Sidophobia Fans Club, Obesere enthusiasts and invited guests.