Socialite Seun Egbegbe Sent To Kirikiri Prisons For PhonesTheft
Posted on November 24, 2016
MICHAEL AKINOLA
Controvesial filmmaker Seun Egbegbe has been remanded in Kirikiri Maximum Prisons, Lagos on the order of the court.
Egbegbe was arraigned on Thursday before an Ikeja Magistrate's court for allegedly stealing nine iPhones at a shop in the popular Computer Village, Ikeja,Lagos.
He was arraigned before Magistrate Aje Afunwa on a one count charge of stealing.
Egbegbe, however pleaded not guilty to the charge.
He was granted bail in the sum of N1 million with two sureties.
Egbegbe was ordered to be remanded in Kirikiri Prisons pending when he will meet his bail conditions.
However, the socialite was unable to meet the bail conditions and was moved to the Kirikiri Prisons immediately.
Meanwhile, a mild drama ensued outside the court as some of Egbegbe supporters who had stormed the court threatened openly anyone caught taking the pictures as he was to be moved into a waiting prisons van.
The supporters were chased out of the court premises by a team of police officers and court officials. While this was on, the prison warders were allegedly colluded with the family members of Egbegbe to sneak him out of the court premises through the back door into a waiting prison vehicle.
Egbegbe, a filmmaker and ex-lover of popular actress, Toyin Aimakhu was arrested on Tuesday morning after he was accused of stealing nine Apple iPhones at a shop along Simbiat Abiola Way, Computer Vilage, Ikeja in Lagos.
Reports have it that after requesting for the phones and brought out for him, Egbegbe reportedly told the shop's sales girl, that he wanted to pick money from his vehicle outside.
He then allegedly attempted to escape with the phones in a waiting SUV before the sales girl raised the alarm.
However, when he was stopped, Egbegbe was said to have told the people that he wanted to pick the money from the car when the sales girl screamed for help and alerted the mob who pounced on him.
Another reports said Egbegbe attempted to escape from the shop with the phones, after telling the sales girl that he was coming back. He left, crossed the road and entered into a waiting taxi. The sales girl who claimed she was hypnotized, said she came back to her senses and raised an alarm.
Some traders chased and caught up with Egbegbe, beat him up before finally handed him over to the police.
Egbegbe's camp was to initially denied the story, claiming it was blackmail. But a source said Egbegbe's claim was farther from the truth.
According to a source who chatted with our correspondent, when the controversial filmmaker was arrested by the mob, he was taken to the office of the CAMPAN (the association in charge of Computer Village traders) before the police from Area F, where he was detained, arrived.
The source said Egbegbe would have been badly beaten if his boys didn't quickly alert Police who came to his rescue before further injury could be inflicted on him.
However a shop owner at Computer Village where it all happened reveals that it is indeed true and this kind of theft is not new to them as traders claimed they have been repeatedly robbed like this severally.
A report by online portal, www.broadwayafrica.com, validated the trader's claim.
According to the online portal's investigation, Egbegbe's notoriety is known all over the Computer Village market. Because the guy was said to be extremely influential among the Lagos notorious area boys and believe to have the backing of some unknown godfathers, he always have his way.
He has been allegedly to have been involved in many of such cases without any scruples. But on that Tuesday, Egbegbe stretched his luck too far.
"He has done the same thing to more than three people in this market," a trader, in the Computer Village trader who doesn't want his identity disclosed, said.
Everyone who spoke to the online portal did so under anonymity because they said Egbegbe is very influential among area boys and even among the Police, thus they were afraid of his boys' reactions.
One man said "I have a wife and children at home. I don't want them to become an orphan yet. The truth is that Seun is feared or should I say his supposed influence and the end game of it is feared. "
As rumours swirled around about the authenticity of the whole theft saga and if indeed Egbegbe has been cleared and released, P.M.EXPRESS learnt that Lagos State Police PRO, Dolapo Badmus later confirmed Egbegbe's arrest via a short message and his arraignment on Thursday: "After a discreet Police investigation and two nights in custody, Seun Egbegbe has been charged to court for stealing."
It was reported that the state Commissioner of Police, Fatai Owoseni, had earlier Thursday also visited the Area F Command, where Egbegbe was being held. He was briefed on the state of investigation. All these were to assuage the traders in the Computer Village who besieged the station to ascertain if indeed Egbegbe has been released as was been speculated.
But with his arraignment and subsequent transfer to Kirikiri Prisons, many are relieved temporarily, while waiting for the full trial early next year.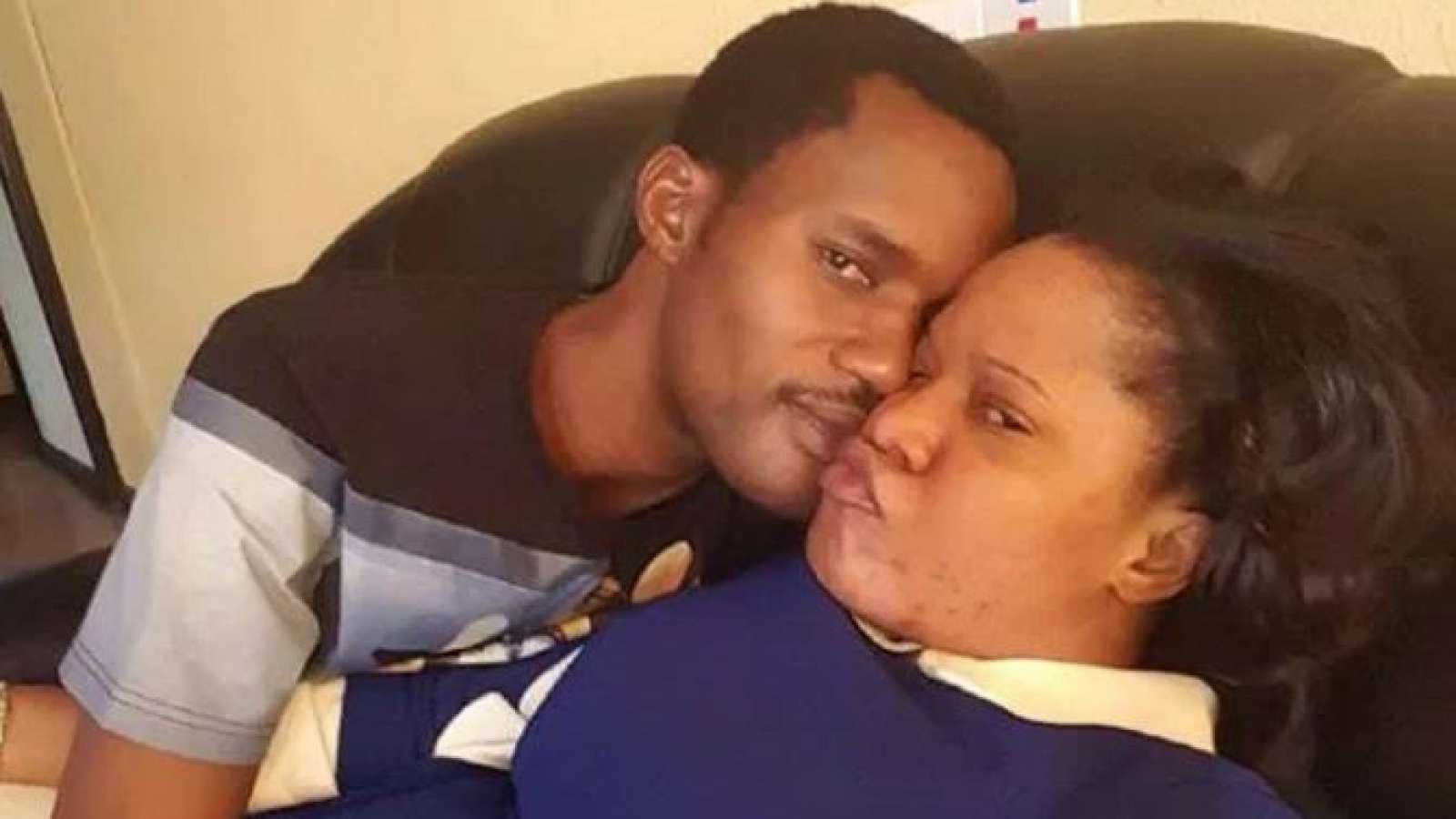 Egbegbe became celebs and gossip media staple after the news of his romance with actress Toyin Aimakhu hit town.
Aimakhu was on Monday July 8 2013 joined with her fiance, Tinsel actor, Adeniji Johnson at the Ikoyi Marriage Registry, Ikoyi, Lagos. But she was to separate from Adeniyi over allegations of infidelity a few months to their second wedding anniversary in 2015.
Then, Adeniyi took to Instagram to confess that his wife truly caught him flirting and he urged fans and friends to support him in begging his wife to forgive and forget so they can carry on with their marriage.
'God will lead me, let him lead us please, I don't want to make any mistake trying to please you fans I really do appreciate the Love and I'm sure he does too,' was what the actress said in response to the apology.
Less than three months after their marriage failed, the Yoruba actress' romance with film-maker and marketer Egbegbe was exposed, and since then, her persona has suffered a hit.
They both went on a secret romantic trip to Dubai in September 2015 under the guise of a working relationship, and he also gifted the actress a grey Range Rover SUV.
In November 2015, Egbegbe was alleged to have stormed a movie location and requested to get his car back, and it was taken to him with the actress' permission. At the time, it was reported that the jealous filmmaker always beat her up at home, but she denied the accusations.
'I have said it times without number that I'm not dating Seun and I have never been beaten to a pulp by any man. Seun is my friend. You can only marry someone you are dating. And I don't think I have time for any relationship now,' she told thenetng. At the time it was also rumoured that the pair may walk down the aisle.
And in February 2016, Egbegbe was alleged to have kidnapped the Alakada actress after she made several emotional pleas on social media to a comedian, Twyse, not to commit suicide.
Her relationship with Seun turned sour after her friends confirmed that the movie producer indeed kidnapped her following a fight at a movie location. Seun had to sign an undertaking with the Nigerian police not to disturb Toyin Aimakhu any more after the actress reported his threats to ruin her career.
Toyin, who reportedly went to the station in company of her lawyer, Bosun Osifowora, stated that Seun Egbegbe's threats affected her business as colleagues and producers were afraid of inviting her for movie shoots because they were aware of his violent nature.
Her relationship with Seun turned sour after her friends confirmed that the movie producer indeed kidnapped her following a fight at a movie location.
Toyin was reported to have fled for her life before Egbegbe came on a video interview after the incident to tell the world that his former mistress cannot find a man who will satisfy her.
Egbegbe was a hit among Yoruba movie practitioners and musicians. When in June, this guy celebrated his birthday, it was in grand style with several nollywood celebrities in attendance.  Spotted at the event are A-list yoruba actors namely Liz Da Silva, Iyabo Ojo, Saidi Balogun, Eniola Olaniyi, Regina Chuckwu, Nkechi B Sunday and many others. Here are few pictures from the star-studded party, more pictures coming soon.