Soludo Is Humility Personified: Meet Him And Love Him!
Posted on September 9, 2021
CHRISTIAN ABURIME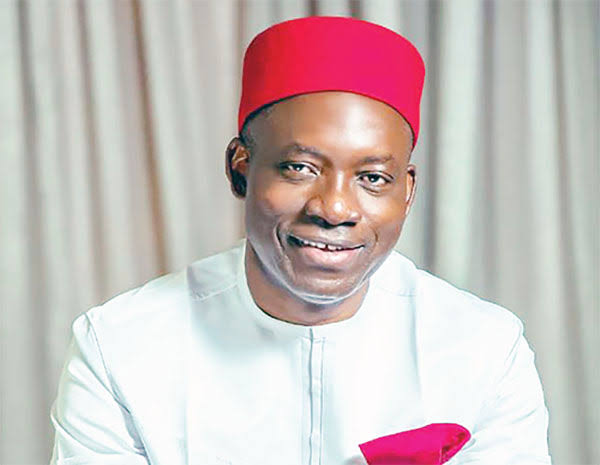 One of the craziest cards the opposition threw at your face in their malicious campaign against Prof Chukwuma Charles Soludo is that the man is arrogant.
The dictionary defined the word 'arrogant' as someone having excessive pride in oneself, often with contempt or disrespect for others. A person who is authoritarian, cocky, conceited, condescending, disdainful, haughty, high-handed, narcissistic, overbearing, presumptuous, supercilious, proud, vain etc
A critical profiling of Prof Chukwuma Charles Soludo's personality shows none of the above descriptions fit into his true character.
Soludo will humbly tell you with a sense of simplicity that he is that village boy, Charlie Mwagbafor, who lost his mother to the cold hands of death at the tender age of 8 years.
A young man who grew up in the village of Isuofia knowing exactly what poverty means. In his private and public utterances, this is the story Soludo would always tell the people. An arrogant person will not subscribe to telling people about his poor background but would rather keep it a secret.
On your first encounter with Soludo, he will always beam a smile and accept you warmly regardless of your status, ethnicity, religion or creed.
If truly Soludo is an arrogant person as being erroneously claimed, I doubt if he would have dabbled into the murky waters of Nigerian politics.
Soludo says he wants to serve his people. He is genuinely driven by the passion to serve the people of Anambra State. Others have suggested that the presidency would have been more befitting for him. But Soludo has always humbly insisted that it is his people that he would like to serve. And that is how plain and humble he is.
Anywhere you encounter Soludo, even in his house, he dines and discusses with you without any air of arrogance.
A man who is arrogant wouldn't have been able to traverse the world meeting people of varying idiosyncrasies and consulting for over 20 global institutions such as IMF, World Bank and more.
An arrogant man will not live a modest and disciplined life as Soludo has done. Soludo remains accessible and approachable anytime anywhere.
It is this profound sense of humility that made him became a Professor at the age of 38 years. It's this same humility and sheer personal brilliance that made President Obasanjo to invite him to serve the nation. It's this infectious humility that has always made him to put the people's interest above every other consideration.
It is this same humility that played out when he risked his life in ensuring the deposits of ordinary Nigerians are safe in the Bank through his banking consolidation; A policy thrust that took the Nigerian financial landscape by storm.
Anywhere Soludo goes, the ordinary people flocks round him. He has never debarred anyone from having an audience with him. He listens to the people's challenges and he attends swiftly to them. An average arrogant man would probably not condescend so low in interacting with people he considers inconsequential and of no significant value to him. Soludo would have none of this, he comes down to the people's level and interact freely with them at every function he attends. This is why he is overtly loved by the artisans, okada riders, keke drivers, Market women, students, etc.
Another aspect of Cee Cee Soludo's humility is his philanthropic gestures. This is a man who in 2000, instituted a scholarship scheme for his Umunna (kindred) that no person should fail to go to University because of financial constraints.
For about 12 years, Chukwuma Soludo "adopted" the primary school in his village (Amoji Primary School) where he provides about 900 pupils every year with free and qualitative education by providing everything they need including uniforms, foot wear, game wear, all writing materials, all textbooks, furnished classrooms, solar powered computer lab with 40 computers; as well as employing over ten additional graduate teachers. All at his personal cost. A person who is authoritarian, haughty, cocky and arrogant wouldn't do this.
Soludo also provides facilities in other 5 pupil schools in Isuofia and currently pays the salaries of about 25 PTA teachers in those other schools in Isuofia.
Every year, Chukwuma Soludo pays the fees for JAMB and SSCE for hundreds of Secondary School students and for all students at the Holy Child Secondary School, Isuofia. Also hundreds of graduates have benefitted from his scholarship and bursaries award annually.
In addition, for over 14 years, he instituted a revolving interest-free micro credit fund with women organisations in the church parishes in Isuofia as well as others such as Umuada, etc amounting to tens of millions of Naira. This is aside from his various short-term palliatives to indigent people.
This is the real and essential Soludo. A humble and unassuming personality. It is therefore very uncharitable for the opposition to accuse an innocent man of being arrogant.
Aburime writes from Awka, Anambra State.