Standup For Women Society Celebrates Womanhood At National Summit In Lagos
Posted on June 20, 2022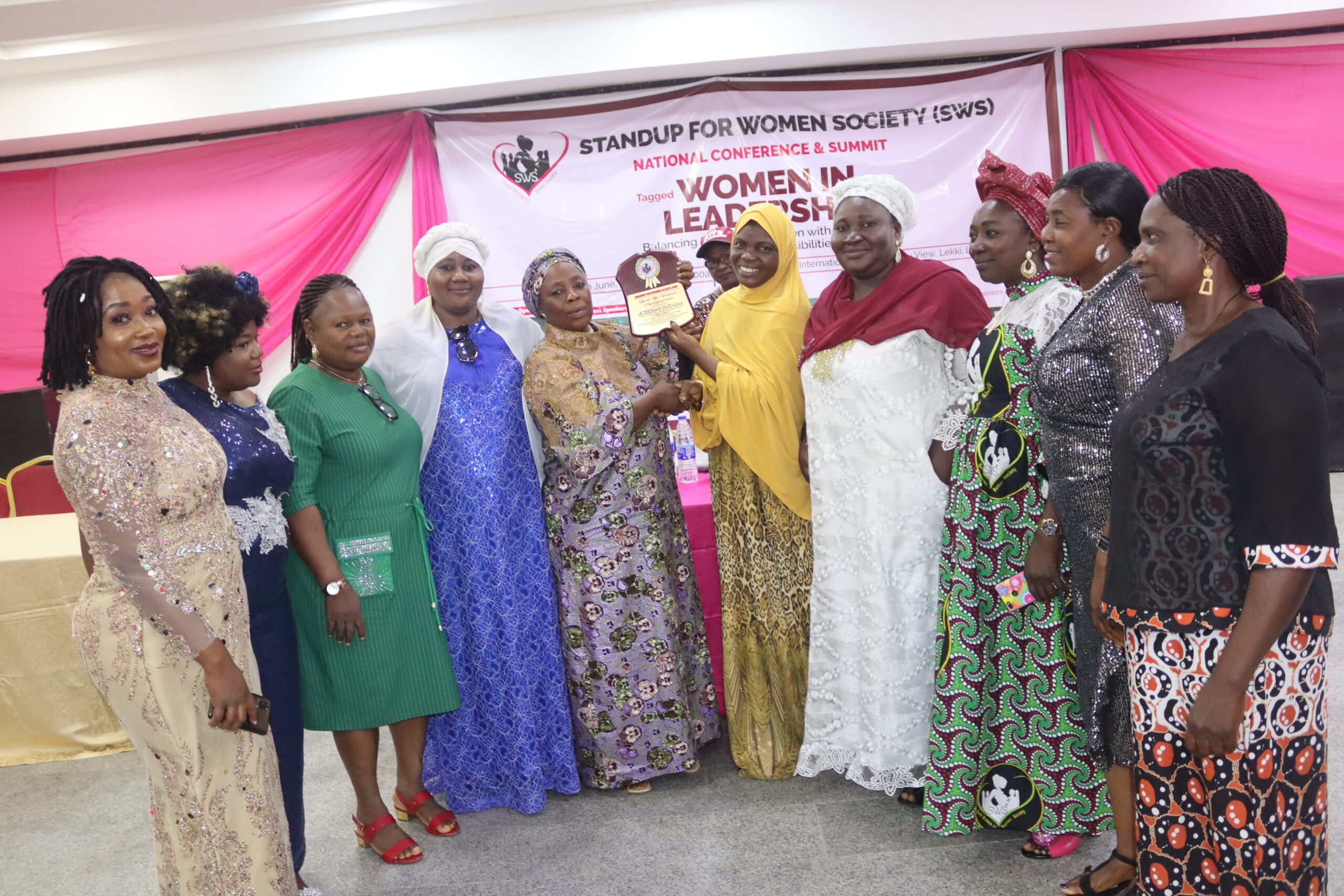 The maiden National Conference and Summit of Standup for Women Society (SWS) ended in Lagos at the weekend with the group advocating for more respect for women in the Nigerian society.
Held at the Novatek Hotel at Chevy View, Lekki in Lagos, southwest Nigeria, the SWS National Conference with the theme: Women in Leadership: Balancing Societal Obligations with Marital and Parental Responsibilities, was a perfect platform for the SWS to send a message to the menfolk that the roles of the women in home and nation-building cannot be over-emphasised.
The conference, which was richly packaged, was attended by members of the SWS from all the states of the federation including the Federal Capital Territory (FCT) Abuja and featured programs which included talks from Prof (Mrs) Yemisi Adeparusi, Mrs Aishat Yesufu, an activist and Secretary to Lagos State Government, Mrs Sherifat Folashade Jaji.
President of SWS, Barrister Deborah Ijadele-Adetona, who was elated with the success of the conference especially the turnout of members across the country, said that the SWS would continue to encourage women's active participation in leadership and decision-making process, while it would also promote women's entrepreneurship as a catalyst for advancing women's economic empowerment.
The Owo, Ondo State-born lawyer said: "Our initiatives have brought the increase in women entrepreneurs access to finance and digital technologies. It is our belief at SWS that if we strengthen women's capabilities for them to have access to resources, the prospect of leadership roles will be within the reach of many more women in our society.
"Having women in leadership positions should become the norm, not an exception. However, slowly but steadily, Nigeria is changing. For the first time, women emerged as governorship candidates of a party in Adamawa while some come out as aspirants in other states.
"It is high time for us to recognise the power of women and help them to prove to the world over that we can do it right if given the opportunity."
The National Conference and Summit was rounded up with highlights that included awards for some outstanding performance among members of the SWS which were given out by the President and awards of honours for some distinguished Nigerians
LIST OF AWARDEES
1) Princess (Dr) Mrs R. U Osula Mku-Atu – SWS Year 2021 Outstanding National Meritorious Award for Caring and Empowering Nigerian Women
2) Mrs Sa'adatu Onyashama Yaya – Year 2021 SWS National Achiever Award
3) Mrs Zuwaira Gambo – Year 2021 SWS National Prestigious Woman Award
4) Mrs Hasafat Umar Gimba – Year 2021 SWS Outstanding National Meritorious Award for Caring Heart for the Vulnerable
5) Dr.Abiola Olumide Oshodi – Year 2021 SWS National Meritorious Service Award for Encouraging and Developing People through Agriculture.
6) Barrister Kaka Shehu Lawan – Year 2021 SWS Outstanding National Meritorious Award for Pillar of Support for Women
7) Right.Hon. Muktar Betara Aliyu – Year 2021 Outstanding National Grassroots Development Ambassador Award
8) Mrs Cecelia Bolaji Dada, Lagos State Commissioner for Women's Affairs – Year 2021 SWS National Outstanding Leading by Distinct Example Award
9) Hajiya Hauwa Umar Jibrin – Year 2021 Outstanding National Golden Heart Meritorous Service Award
10) Ntufam (Dr) Oscar Ofuka, SA to Governor of Cross River State – Year 2021 SWS National Outstanding Agriculturist Man of the Year Award
11) Hajiya Aisha Abubakar Malami – Year 2021 SWS Oustanding National Exceptional Leadership Award
12) Chief Dele Momodu, Publisher Ovation magazine – Year 2021 SWS National Meritorious Service Award for Humanity Growth and Developments for the larger Society.
13) Mrs Angela Emuwa – SWS Distinction Award as Most Impactful Citizen of the Year 2021
14) Dr Daniel Kolawole Olukoya, General Overseer, MFM – Year 2021 SWS Grand Distinction Award as Inspiring and Mentorship Leadership Award