Team Ikorodu Win 2022 Edition of Checkers Custard Battle of The Branches
Posted on June 14, 2022
FUNSHO AROGUNDADE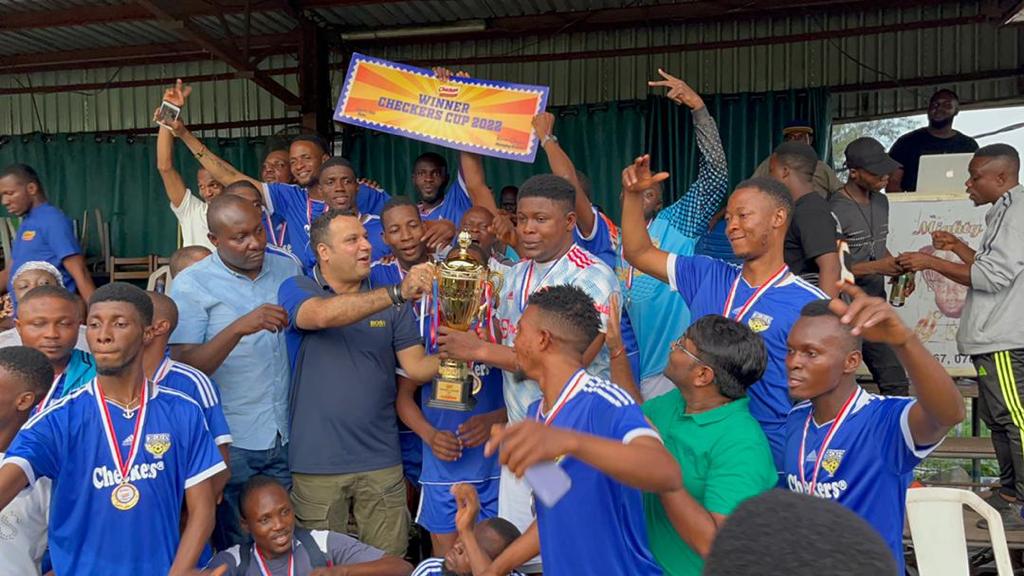 It was all fun, excitement and entertainment on Saturday 11 June as the 2022 edition of the Checkers Custard Football Cup, a one-day, one-match tournament for all the employees of Checkers Africa Limited, producers of the Checkers Custard brand.
The tournament held at The Eagles Club in Surulere, Lagos, saw the Team Ikorodu represented by football players and enthusiasts from the leading FMCG's factory facility in Ikorodu slugged it out with Team Mushin, their counterparts from the company's Admin branch in Mushin, Lagos.
With Team Mushin draped in blue jerseys opening the goal fest against their opponents Team Ikorodu —in yellow jersey— in the first 15 minutes of play, this sent co-employees, their family members and friends, media and other spectators into a frenzy with cheers. Few minutes later, Team Ikorodu equalized. At the end of the pulsating 90 minutes, the game ended with a score line of 4-2 with Team Ikorodu coming from behind to clinch the coveted trophy.
Speaking at the tournament, Checkers Africa Limited CEO, Mr. Karan Checker congratulated all the staff who took part in the tournament.
While noting that the maiden edition of the tourney in 2021 laid the groundwork for this additional activity for employee bonding and encouraging health fostering activities and relationships among workers to ensure a quality work environment, Mr. Karan disclosed that the company intends to encourage the game of football and is ready to sponsor any resoundingly talented player to the very highest level.
He added that Checkers Africa Limited positions itself as a socially responsible company amongst other things ranging from being a category leader and a socially-compliant company.
Plaques and awards were given to the winners (Team Ikorodu). There was also a race competition among male and female staff of the company. In the male category, Mr. Bala won while Ms. Joy won in the female staff competition and Ms. Oyindamola came second. They were all rewarded with cash prizes by the Company's CEO. There was also a dance competition among the staff with the winner also rewarded with a cash prize.
Checkers Africa Limited are makers of Checkers Custard Vanilla, Banana, Milk 3-in-1 and the latest addition, Chocolate 4-in-1.