Tribute To A Good Man, Chief Ezenwa Nwakwelu, Ichie Lord
Posted on April 19, 2022
DR. HARRIS CHUMA-ODILI, (OGENE OGBUNIKE)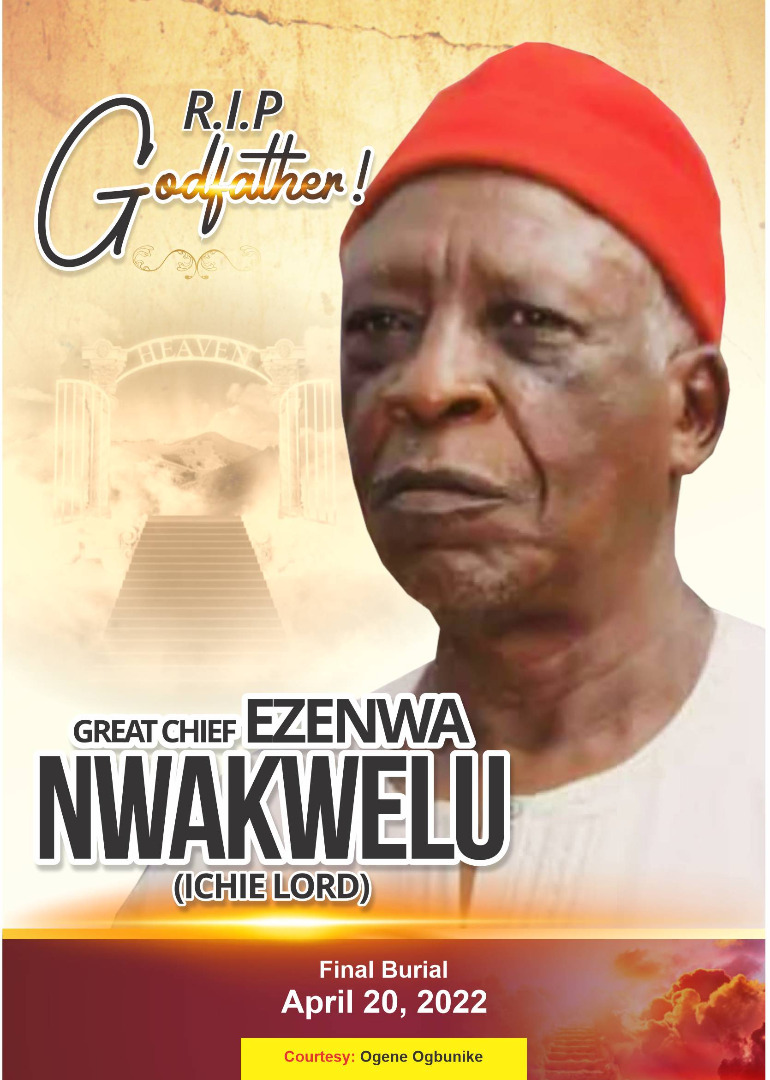 Chief Ezenwa Nwakwelu, popularly known as Ichie Lord, appeared like an elephant to the proverbial blind men. Charles Horngren, a professional author in his tribute to his former teacher concluded that, "For those who know him, no word is necessary; for those who do not know him, no word is sufficient". Ezenwa is in that mold, a good man who played his divinely assigned role on earth.
Sincerely, It has taken months of vacillation to approach the keyboard and bow to daily memories of a leader, beyond a father, indeed a benefactor who played his role in the making of Ogene Ogbunike without waiting to profit from his action. He was God-sent.
Chief Ezenwa of Azu Ogbunike was a man of mean, tough mien and grit visage, a non conformist. A notable traditionalist with a unique personality. Until his demise, he was the Head of the Traditional Council of Ndichie/Ogbuefi Azu Ogbunike, Anambra State.
In January 2022, tragedy found its way into Azu Ogbunike. Such painful tragedy that made the community to shudder. Chief Ezenwa was held in high regard and respect by the community. During his protracted illness, everyone could see pains etched double marks on his face. He spoke with belligerence and rarely smiled, this countenance could be of nothing but sorrow of heart from life's vicissitudes.
Beside being a culture irridentist, the reward of his diligence in promoting the rich cultural heritage of Ogbunike saw him garnered many laurels. His deep knowledge of Ogbunike culture attracted the low and mighty who tapped from his rich intellectual faculty. Such a lovely gentleman and tough disciplinarian. Very sad, Chief Ezenwa succumbed to death when family and friends needed him most.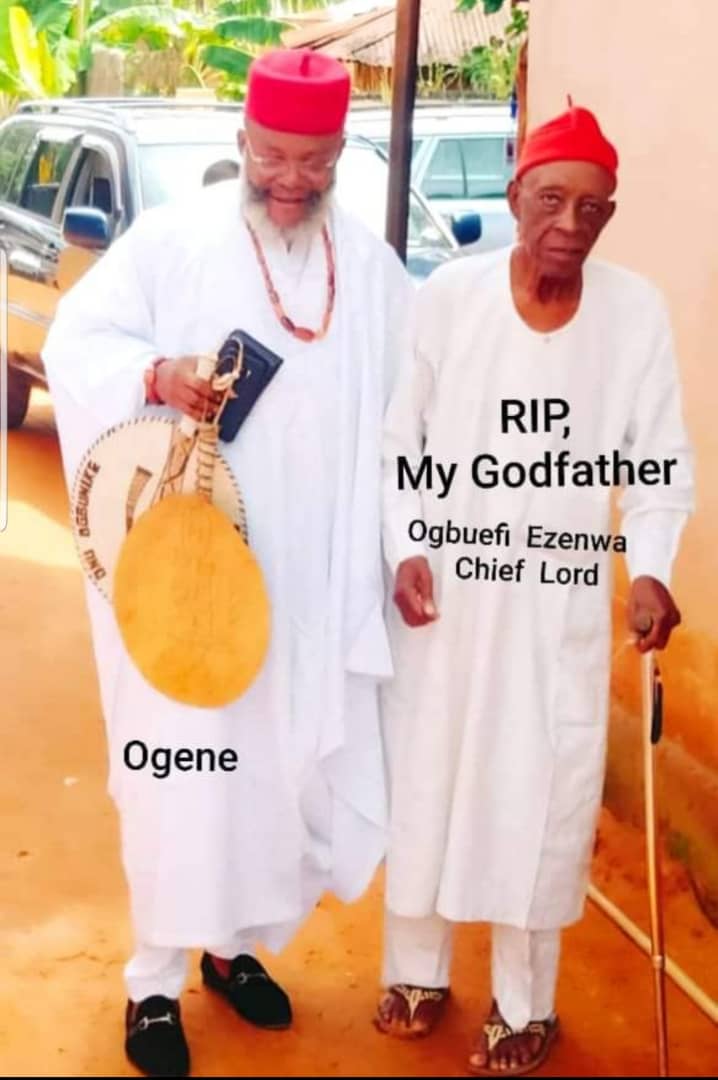 Chief Ezenwa a.k.a. Ichie Lord, except for a light pigment in complexion, he was every bit a chip off the old block. In his hairy days, Ezenwa was energetic, brash, loud and self-conceited, he had a swagger around him and springboard on his steps. When Ezenwa was in the Ogbuefi meeting, both young and old must be conscious of his presence. He held no prisoner and his personal interests became law, overriding other considerations.
A few mundane things held his attraction such as reveling over recalcitrant redcap chiefs, at Traditional Council of Ndichie/Ogbuefi Azu Ogbunike. He abhorred dishonesty, a strong advocate of "Eziokwu bu ndu" (truth is life). For me, Ichie Lord, could have emanated from another planet and it suited him nobody challenged his judgment.
His concentration, singing and dancing to Ayaka music was legendary and woe betide anyone who disturbed his pleasure. Another interest was his uncanny love for "ife emelu mma"(due process) and his preference for traditional means of resolving conflicts.
Chief Ezenwa's legacies are quite noted and will endure for ages. We will ensure and maintain the continuous peace you fought for in Azu Ogbunike. I will work hard in synergy with various community Stake-holders to ensure a better and more prosperous Ogbunike.
Ichie Lord, Jee ije gi nke oma!Nnukwu Nnam!