Wife, 27, Stabs Husband, 35 To Death During Squabble Over S*x
Posted on November 24, 2022
MICHAEL AKINOLA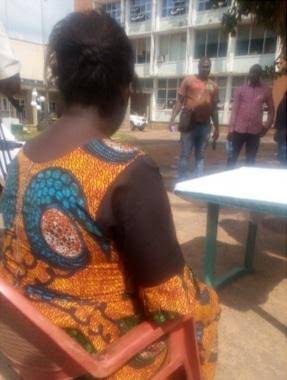 A 27-year old woman, Mrs. Odunayo Olumale, has stabbed her 35-year old husband, Olamilekan Salahudeen, to death during a squabble over sex three months after the couple's reunion and reconciliation after a period of separation.
P.M.EXPRESS reports that the incident happened at Oko-Oba area of Oyo State, where they reside.
The suspect, Mrs. Odunayo, has been arrested by the Police operatives from theOyo State Command over the death of her embattled husband.
The couple was said to have had disagreement over an undisclosed matter, which led to their separation. The matter was later resolved and the wife returned to her husband.
One night, the wife returned home and the husband attempted to have sex with her but she refused. It led to a disagreement and in the process, the wife stabbed him with a knife. He was said to have bled profusely and was rushed to an undisclosed hospital, where he eventually died.
The corpse was deposited at the mortuary for autopsy reports and the matter was reported to the Police, who then arrested the wife over the death.
This was disclosed by the Oyo State Police Public Relations Officer, Adewale Osifeso, who confirmed the arrest of the suspect indicating she is undergoing interrogation over the alleged murder.
He stated that the preliminary investigation revealed that the deceased and his wife had returned to their home in the Oko-Oba neighborhood of Oyo town on the day of the incident after a three-month separation while presenting the suspect at the Oyo Police Command headquarters in Eleyele, Ibadan.
"On or about November 17, 2022, at approximately 0350 hours, one Ismaila Tijani reported at Dubar Divisional Police headquarters that on or about November 16, 2022, at approximately 0223 hours, his son Olamilekan Salahudeen, age 35, was stabbed to death with a knife by his wife, Odunayo," Osifeso stated.
The deceased attempted to have sex with his wife but she rejected the move. It sparked a fight during which the deceased grabbed and broke his wife's phone. The deceased was then stabbed in the chest in retaliation and died as a result.
According to Osifeso, the suspect later admitted to the crime and her unfortunate part in the situation, which led to the death of the deceased.
He stated that the suspect will be charged before the Court and prosecuted for murder, which attracts several years of imprisonment or life imprisonment but that will be after the conclusion of the investigations.