World Stars Jostle To Feature At Access Bank Lagos Marathon
Posted on December 20, 2016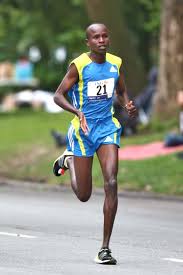 Stars across the world are jostling to participate at the 2017 Access Bank Lagos City Marathon.
The competition, which reaches its second edition on 11 February, is already having about 125 elite athletes across 13 countries applying to feature at the Lagos race. The number is still growing with less than two months to the  event.
General manager for the Lagos City Marathon, Yussuf Alli, says stars such as Kenya's Daniel Kinyua is one of the headline cast for the Access Bank-sponsored Marathon 2017 Lagos race.
Kinyua, it was gathered, is ranked among the top 10 in the world and will be competing for honours in Lagos.
With a personal best of 2:05:21, he won the 2016 Amsterdam Marathon.
Another Kenyan, Sammy Kitwaic, who won bronze at the World Half Marathon, and who ran2:04:28 at 2014 Chicago Marathon and  2:05:45 at Amsterdam Marathon in 2016, is equally confirmed for Lagos.
Marius Kimutai, also from Kenya, with a 2:05:47 at 2016 Amsterdam Marathon 2016, and Ethiopian Siraj Gena,  winner of 2016 Buenos Aires Marathon 2016, 2010 Rome Marathon and 2013 Istanbul Marathon, are also coming to Lagos.
In the female category are Ethiopian Mamitu Dasic, Alice Timbili, Haliem Hussan Beriso and Emily Chekemoi Samoe of Kenya, winner of 2013 Barcelona International Marathon and 2015 1st Xiamen International Marathon, Taiwan.
"Our projection is 50,000 runners and the response has been tremendous; we have distributed over 40,000 physical and the response online has been great," said Alli.
He said that only 60 foreign elites athletes and 100 Nigeria elites will be invited for this edition.
"We are expecting 50,000 participants this year, so we welcome runners from all parts of the world but we shall cover travel expenses and accommodation of only 160 elite athletes, 60 elite athletes from different parts of the world and 100 Nigeria elite athletes based at home and abroad," Alli, a former Nigerian international athlete said.