Abba Kyari, IRT Police Team In Disarray Over IGP Promotion Order After Evans' Arrest
Posted on June 22, 2017
CYRIACUS IZUEKWE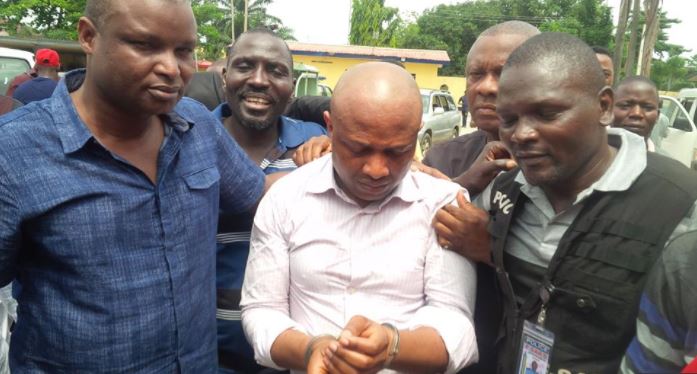 The ugly sides of the arrest of the notorious kidnap kingpin, Chukwudi Dumeme Onuamadike popularly known as Evans are gradually coming out over the alleged selective promotion of the police officers who participated in the operations that led to the eventual arrest of the suspect and that of his gang members around the country.
P.M.EXPRESS gathered that the recent promotion announced by the Inspector General of Police, IGP Abubakar Idris for the officers who participated in the operation has torn the officers apart and they seemed to be in disarray at the moment.
The bone of contention actually was the alleged hijack of the list where names of some certain officers has been reportedly removed by some undisclosed top cops.
Our correspondent gathered that the IG actually promoted the officers within his capacity from the rank and file, and they were happy.
But the fate of the other officers from the rank of Inspectors and other senior officers including Kyari seemed to be unknown following the position of some top officers who were against the promotion exercise.
It was gathered that some of the officers were promoted after the arrest of Vampire and some of his gang members and as such, if the same officers were promoted, it would amount to two promotions within a year.
P.M.EXPRESS gathered that some top police officers were said to be against it and were doing everything possible to ensure that the names of those officers were not sent to the Police Service Commission for promotion.
Following the development, the team was said to be in disarray and the drive to work has been low at the moment due to the recent development.
Our reporter gathered that the team worked day and night; travelling to states such as Anambra, Enugu, Imo, Delta, Edo, Bayelsa, Abia and others before they were able to achieve success.
Some of the senior officers who were aware of the plot were against it; saying that the officers were supposed to be rewarded not minding whether they were promoted a week before they achieved such historic high profile arrest of kidnapping gang.
"They merited the promotion because it was achieved through hard work and there was no need for "bad belle" that could demoralize their good works," one of the senior officer said.
It was gathered that some other senior officers were against the 'double promotion' because the officers will level up with their former seniors which will not augur well in the police hierarchy ranking system.
However, the general disposition within the police circle, P.M.EXPRESS gathered was that all the officers should be rewarded as announced by the IGP.
It was not confirmed whether their names have been forwarded to the Police Service Commission as the bickering had delayed the submission of the list.
The Police Force Public Relation Officer, FPPRO, Jimoh Moshood could not be reached fore comment as his phone was switched off.