Ecobank Named Bank Of The Year In 5 regions
Posted on February 12, 2018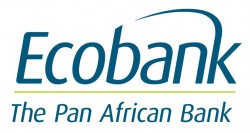 Ecobank, the leading pan-African banking group, has won "Bank of the Year" awards in five of its countries of operation.  
Ecobank scored the five-trophy hall at The Banker awards, which were held on 29th November at the Hilton London Bankside, with Cameroon, Guinea Conakry, Gambia, Togo and Uganda, all emerging triumphant. This is the second consecutive year that The Banker honoured Ecobank Guinea Conakry for its performance.
The Banker, part of the Financial Times, is one of the most recognised and widely respected trade finance titles. Judges said that the winning countries had made significant progress over the past 12 months; not only in terms of strong financials, but by implementing new products and services which have transformed their customer service offering.
Ade Ayeyemi, Ecobank Group CEO said, "Ecobank is truly honoured to receive these awards. To remain relevant in Africa's banking world of tomorrow, there is a pressing need for banks to disrupt themselves and transform their operating models. Ecobank is embracing these forces for change as we seek to build the most efficient digital banking platform in Africa."
"Over the past year we have worked hard to strengthen our digital service delivery in order to fulfill our promise to connect Africa and reach out to the masses. Ecobank's geographical spread across 33 African countries tells you just how committed we are to the pan-African model. The awards demonstrate that we are making progress delivering the bank's integrated African vision, while continuing to innovate."
Meanwhile, Ecobank  is once again displaying its care for the community credentials, as today, a series of volunteering and fundraising activities simultaneously take place across the 33 African markets where it has a presence.
The charitable endeavours mark the 5th Ecobank Day, an internal initiative where the bank's employees are encouraged to turn their attention from servicing customer needs, and towards their local communities. Each year Ecobank commits a significant amount of money towards this critical activity.
The 2017 focus is on 'Safe Water, Healthy Living', and has been chosen to raise awareness of the sheer number of people within the African continent who lack access to safe, clean water, and how this impacts their quality of life and opportunities.
Ecobank's Group CEO, Ade Ayeyemi, said the passion and commitment Ecobank employees continue to show to the Ecobank Day initiative demonstrates the bank's culture of giving back. "Ecobank is a pan-African bank of the people for the people, so it is important that we continue to work to improve the lives of some of the most vulnerable, disadvantaged people in the markets we serve," he said.
"Since the first Ecobank Day back in 2013, Ecobank employees have supported a variety of causes ranging from malaria prevention to helping to improve education standards in some of the most deprived areas of Africa. However, it is shocking that in 2017 so many people still do not have access to water, something which should be a basic human right. This not only has a negative impact on health, education and economic opportunities, but perpetuates a seemingly inescapable cycle of poverty."
Through a series of activities – from volunteering in areas of need, construction projects and the provision of specialist equipment such as water tanks, the Bank hopes the work carried out via the Ecobank Day initiative will start the motion of change.