Gbenga Daniel Declares: We've Only Artificial Recession In Nigeria
Posted on August 23, 2017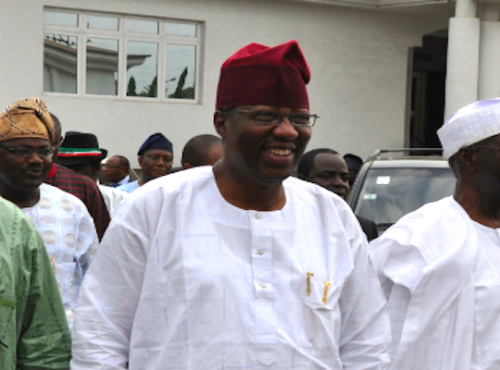 Otunba Gbenga Daniel, former Ogun State governor, is a respected voice in the Nigerian polity. The former Gateway State number one citizen was in Lagos on Tuesday at a launch of a new Lotto business as the chairman.
In a chat with FUNSHO AROGUNDADE after the event, the man fondly called OGD, shared his thought on the state of the nation and dropped the bombshell that he never believed Nigeria was in recession  
Q: What is your perception of the lotto business in Nigeria?
To me, I see growing Lotto business as a very good initiative to the extent that it has  unlimited capacity to employ thousands of people measured against the acute problem of unemployment in Nigeria, and we must support the business. Any initiative today that can employ people is a welcome initiative once it is not illegal.
You did make a very fundamental statement during your address about recession. Can you expatiate on this?
You know what is going on right now with the effort of the current All Progressives Congress, APC government to track down illegal monies. And if you look at it carefully from that perspective, you will find, in fact, you will not believe the amount of monies that we hear on daily basis being uncovered. It therefore means that if such funds were deployed to ventures here in this country, where then is the recession? To me, there is no recession. What we have is artificial. What we are experiencing is artificial recession. This country has unlimited capacity to make things happen, and there are unlimited resources in this country if only people know what to do.
You also insisted that there is a lot of money in this country to tackle our economic problem.
From your own view, did you think there is no money in this country? It is important that we have to encourage the rich to invest more in the economy. In any part of the world, you cannot ignore the rich and you cannot force the rich to bring out their money. But you can only appeal to them to have mercy on the underprivileged and invest in the economy to reduce the poverty rate. For example, in Nigeria we should first and foremost forget about the source of the wealth rather encourage those Nigerians who have money stuck in foreign accounts to repatriate the wealth back home and invest them in the local economy. Doing that, our millions of graduates who are unemployed can be engaged productively. So we can have more industries and engage more investors in mechanized farming with food processing and other agro-allied businesses that can employ millions of Nigerians. Does it really sound well that virtually everything we use in our day-to-day life in Nigeria are all imported? It doesn't make sense at all. We must appeal to those who have the resources lying idle in foreign banks to bring them back and invest them in the local economy. Government has to overlook some certain things and consider the impact such fund will have on the unemployment rate in the country. I believe you remember what the former British Prime Minister, David Cameron said about the money belonging to Nigerians that were in their system and should those monies be taken out of the Britain at once, the British economy will collapse. Why? That's a puzzle for us to answer.
What is your take on the current call by various segment of the country for restructuring?
I believe in restructuring, that's the only way to go. But people should not misunderstand restructuring to be an idea to separate. It is for us, an opportunity to free people so that people can tap into their potentials and discover the innate and hidden talents in their society. And they are all there. If you look at what is going on in various areas, you will see. We should take away our fixation on this issue of dividing the resource, when we are not producing anything. People should have opportunity to express themselves to develop their hidden talents, and that is for me, the whole essence of what restructuring is all about.