Honeywell/Ecobank Suit: Ecobank Refuses To Open Defence
Posted on February 8, 2018
FUNSHO AROGUNDADE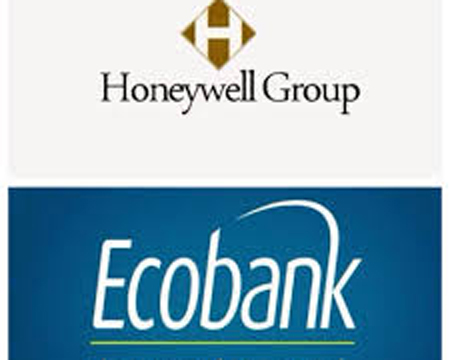 Ecobank Nigeria Plc has failed to proceed with its defence when the suit instituted by Honeywell Group against the bank resumed Thursday February 8 at the Federal High Court, Lagos Judicial Division, Ikoyi.
Present at the hearing was Dr. Oba Otudeko, CFR and Chairman of the Honeywell Group, who appeared as a witness to Ecobank in the suit.
Otudeko was summoned by the Court, during Tuesday's proceedings to give evidence in relation to the alleged N5.5 billion debt allegedly owed Ecobank.
In opening Ecobank's defense, Mr. A. O. Divine, a Counsel from the firm of Kunle Ogunba & Associates, the Counsel to Ecobank, attempted to commence his defence by questioning the witness outside of the filed witness statement on oath as against the adoption of same contrary to the rules of the Federal High Court.
The counsel to Honeywell, Bode Olanipekun however objected to this line of question by arguing that Ecobank's disregard for the procedures of the Federal High Court was wrong as a Witness Statement on oath sworn to by Dr. Otudeko was already before the court.
This was simply supposed to have been adopted in commencing its defence.
Upon listening to counsel for both parties, Justice Mohammed Idris ruled that cases are not opened through cross-examination but rather through examination in chief.
Justice Idris, quoted case law to the effect that "counsel's unpreparedness cannot be tolerated or used as an excuse to delay proceedings".
Consequent to this, the Court directed that Ecobank's counsel should proceed with the examination in chief.
The matter subsequently took a dramatic turn when counsel to Ecobank, perhaps realising that his strategy would not work, informed the court that he had no further questions for the witness he had requested the court to invite consequent to which he invited the court to discharge the witness because he no longer wanted him as a witness.
Thereafter, Counsel to Honeywell sought to proceed with the cross examination of the witness, Dr. Otudeko. However, Ecobank's counsel objected to the cross examination by Bode Olanipekun on the grounds that even though the witness statement was sworn to by the witness, the fact stated therein was not Ecobank's narrative.
Honeywell's counsel however said that argument was wrong, as according to him, the only statement on oath before the court was the one filed by Dr. Otudeko and that since Ecobank took the risk of inviting the Honeywell Group Chairman as a witness, the Bank must swim or sink with whichever testimony he gives.
Following the hearing of the arguments from both counsel, his Lordship, Justice Idris adjourned the matter for ruling on Wednesday February 14.