Nigeria Is Closer To Meeting Universal Health Coverage Goals – Tejuoso
Posted on September 23, 2017
MICHAEL AKINOLA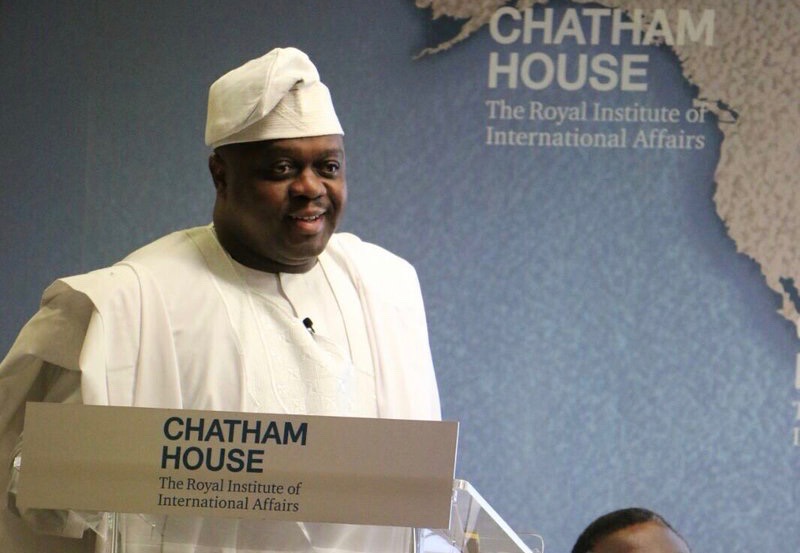 Senator Lanre Tejuoso, Chairman, Senate Committee on Health said Nigeria is edging closer to meeting the Universal Health Coverage goals.
Tejuoso disclosed this on Friday at the prestigious Royal Institute of International Affairs, (Chatham House) London on invitation alongside the Minister of Health, Prof. Isaac  Adewole, to be part of the important and high profile occasion dedicated to advancing the cause of Universal Health Coverage (UHC) and health security in Nigeria.
In his keynote address titled "Public Health Africa Policy Forum, Primary Healthcare Policy, Universal Health Coverage & Health Security in Nigeria: Optimizing Global Opportunities and Partnerships for Success", the senator representing Ogun Central Senatorial District told distinguished guests at the Institute's Center for Global Health Security that Nigeria's positive effort towards moving closer towards achieving Universal Health Coverage goals are mostly from a legislative standpoint.
Tejuoso lauded the unique opportunity of having medical practitioners at the helm of affairs at this point in time in the Nigerian legislature.
He explained that the Nigerian legislature expectedly has been very instrumental to Nigeria's UHC aspirations as the seventh Assembly passed the 2014 National Health Act which provided legal framework for health system strengthening in the country and established an earmarked fund called Basic Health Care Provision Fund (BHCPF).
The fund, he said, was aimed at providing additional statutory resources from the Federal Government to fund the provision and delivery of a Basic Minimum Package of Health services.
The implementation of the Basic Health Care Provision Fund was the first test for the legislature in super charging the momentum to UHC.
Tejuoso also used the occasion to explain the rationale for Basic Health Care Provision Fund, and said that efforts were at advanced level towards reviewing the National Health Insurance Scheme Act at National Assembly.
The lawmaker also harped on the need for the establishment of state supported health insurance schemes, legislative advocacy for UHC in Nigeria, efficiency of spending, opportunities for working more effectively with the private sector, advocacy to address malnutrition, advocacy to support the country to harness the demographic dividend, global partnership, and personnel capacity.
He concluded by saying that the quest for Universal Health Coverage spans beyond speeches but was one that needed to be characterised by concrete actions, having shared several actions being taken in Nigeria which no doubt will move the country closer towards achieving UHC goals.
Tejuoso however reiterated that the relationship between the executive and the lawmakers should not be defined by the annual budget cycles but one that is holistic and driven by a UHC agenda.