Russian Richest Man Usmanov, Ambode For African Fencing Championships In Lagos
Posted on February 11, 2018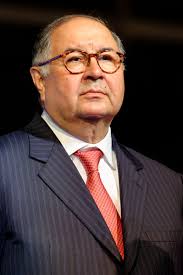 Russian richest man, Alisher Usmanov and Governor Akinwunmi Ambode are scheduled to grace the 2018 Junior/Cadet African Fencing Championships which was awarded to Nigeria by International Fencing Federation (FIE). 
The event which  will take place from February 26 to March 5 at the Molade Okoya-Thomas Hall of the Teslim Balogun Stadium, Lagos has been endorsed by the Lagos State Government.
The opening ceremony of the championship will be attended by Usmanov, who is the FIE President. FIE is the international governing body of fencing, and he has invested in fencing programs and fencing development around the globe. Usmanov, is also a major shareholder in Arsenal Football Club.
According to the President of the Nigeria Fencing Federation, Adeyinka Samuel, this is the first time Nigeria will be hosting any international event in the sport as the country beats the challenges of Tunisia and Algeria who also bid to host the championships.
The J/C AFC is an internationally recognized and FIE-approved tournament that provides a platform for fencers across Africa's 31 registered nations to compete for world ranking points leading to the 2018 World Championships in Verona, Italy and the 2020 Olympics Games in Tokyo, Japan.
Other international dignitaries are also expected at the championship which is expected to attract over 150 fencers from about 25 African countries.
Samuel, a former top 100-ranked fencer, lauded Governor Ambode the support to host the event pointing that it would boost tourism and other businesses in the state.
"As Nigeria opens its doors for this epic event which invariably opens vistas of opportunities to the tourism industry, we urge the citizens to take advantage of the corporate, social and economic outcome of this tournament," he said.