Three Arrested For Diverting Truck Load Of Rice
Posted on January 14, 2018
LUCKY LAWAL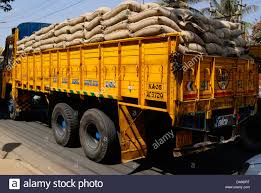 Three suspected robbers were arrested by the police in Ogun State for diverting a truck loaded with 203 bags of rice in Ijebu Ode.
The three suspects, 34- year old driver Omotayo Sogo, 26- year old Animasaun Lekan,and 48-year old Olayemi Kehinde were all arrested on the 9th of January following a complaint by one Izah Ekene who resided at Mabogunde Street, Oju Ore Ota who reported at Igbeba Division in Ogun State. Ekene said that he hired a truck to convey 203 bags of rice valued at N2.024m to Kwale in Delta state.
He explained that on getting to Ijebu Ode, the truck driver and Lekan Animasaun stopped the truck suddenly and in a commando style brought out a gun, pointed at him, pushed him out of the truck and diverted the rice to an unknown destination.
He reported that they equally took away his bag containing the sum of N50,000
and his ATM card. The incident according to Mr. Izah was quickly reported to the nearest police station and the DPO Igbeba Division, CSP Adebiyi Ademola detailed his Anti-robbery officers to go after the criminals.
Their efforts paid off on the 11th of January, 2018, when the duo of Lekan Animasaun and Sogo Omotayo were apprehended through technical intelligence and their arrest equally led to the arrest of the receiver Olayemi Kehinde and the recovery of the truck subsequently.
Also recovered from them were a bag containing the victim's ATM card, cash sum of N19,000 and a toy gun with which they robbed their victim.
Meanwhile, the Commissioner of Police, CP Ahmed Iliyasu has ordered the immediate transfer of the suspects to Federal Special Anti-Robbery Squad for further investigation and prosecution.
Categorised as : Crime, crime
No Comments »