WARIF Set To Train First Wave Of Traditional Birth Attendants
Posted on October 25, 2017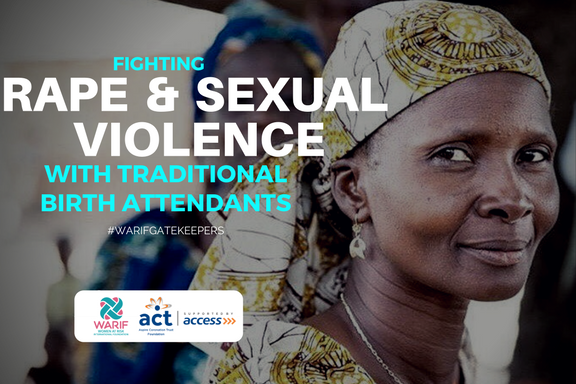 The Women At Risk International Foundation, in collaboration with the Aspire Coronation Trust, ACT Foundation are set to train and equip traditional birth attendants with the necessary skills and provide the tools to identify and render first wave treatment to women who exhibit signs of and are affected by Gender based violence in their communities.
The first training course will hold on 25 October 2017, where facilitators from the WARIF Center will instill these skills unto 550 TBAs who are trusted members of their communities, serving  as 'gatekeepers'  to women at risk in many of these rural and some urban communities across Lagos State.
In addition they can also proffer solution to these women to visit crisis centers such as the WARIF Rape Crisis Centre for further treatment and counselling.
The training will include education on key indicators to look out for in the women they attend to, and also the training is set to provide basic first responder training on psycho-social counseling of the women.
Due to the stigma in most of these following areas Gender Based Violence (GBV) includes physical assault, sexual assault, rape, psychological torture and domestic violence. the survivors tend to either be too ashamed or afraid to report that they were victims of such heinous crimes; hence they are more likely to confide in the woman that birthed them or their children.
WARIF is a Non-Governmental Organization that was incorporated in 2016 by Dr. Kemi Da-Silva Ibru MD; MPH in response to the high incidence of sexual assault, rape and human trafficking occurring among young girls and women across Nigeria.
This is achieved through the implementation of immediate and preventive target –oriented interventions, that all have the hallmark of the foundation initiatives  of being impactful, measurable and sustainable.