We Never Endorsed Fayose For Presidency -CAN
Posted on November 2, 2017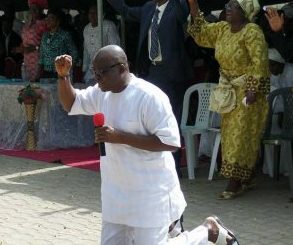 The Christian Association of Nigeria, CAN, has denied the media reports claiming that the body has endorsed the ambition of Ekiti State Governor, Ayodele Fayose to become the next President of Nigeria in 2019.
In a statement on Thursday, Adebayo Oladeji, Head of Media and Communication to the CAN President, Rev. Samson Ayokunle, said the alleged endorsement attributed to the Secretary General of the association, Musa Alade, through a purported letter, was never the position of CAN, as it was a personal opinion of the scribe which he was entitled to.
He added that at no time has CAN begun to endorse people for political offices.
The letter reads: "Since the letter (Alake's) was leaked to the media, for whatever reasons, some prominent Christian stakeholders have been making calls to CAN President, His Eminence, Rev Dr Samson Olasupo Ayokunle, asking for the clarifications since there was never a time the matter was discussed by the leadership of the association. Hence the need for this statement.
"In the letter. Dr Asake stated it there clearly that it was his personal letter. This contradicts the impression being given by the media that CAN had endorsed the governor.
"There was no time CAN or the President of CAN authorised such a letter.
"It was the personal opinion of the General Secretary. However, anyone who wants to run for any political office in Nigeria has our goodwill in CAN and we would be praying for them if he or she is well qualified to contest, including the respectable Governor Fayose.
"Our prayer to God is to always get a godly, a detribalised and peace loving leader presiding over the affairs of the country."