Africa-Canadian Investment Summit: Peju Oke Visit King Tackie Teiko of Ga Mantse 
Posted on March 28, 2022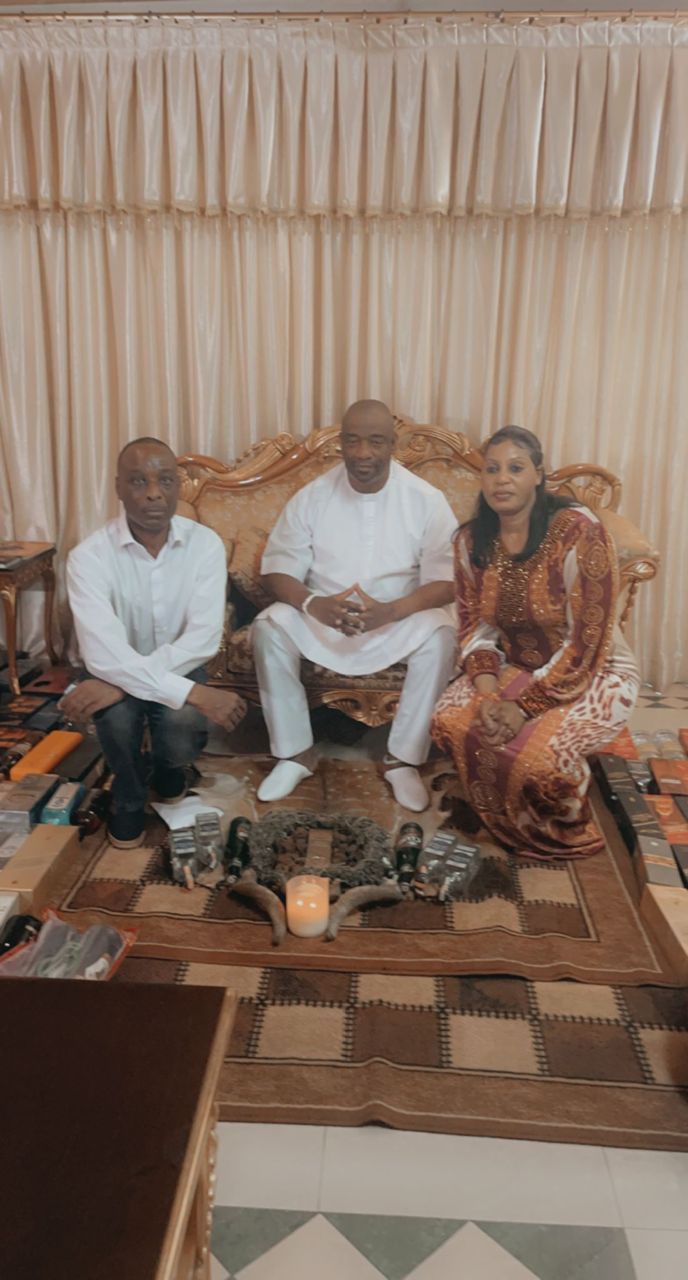 In other to foster bilateral and investment relationship between Africa and Canada, Philanthropist and head honcho of HopeForSureFoundation, Ms. Peju Omolola Oke visited Accra, Ghana to meet His Royal Majesty, King Tackie Tieko Tsuru II of Ga Mantse Accra, Ghana.
The visit was to seek the Monarch's royal blessings, endorsement and presence for the forthcoming Africa-Canada Investment Summit holding in Canada July 2022.
At the familiarization meeting between Peju and King Tackie Tieko, His Royal Majesty welcomed the idea and applauded the initiative to foster a healthy business relationship between Africa and Canada in terms of attracting top investors to enhance wealth and jobs creation by stabilizing the African economy.
According to Economic pundits, by 2050 Africa would have had a stable economy that will wrestle the rest of the world as a choice destination for investment in terms of profit maximization leveraging on its increasing population, human and mineral resources.
The 7-day power-packed event will be opened with Policy forming programs, where speakers will discuss the topic: "Tapping in Government-Private partnership to boost economic growth".
The second day would be Local Government Operation in Canada creating an operational synergy between public and private partnerships where the discussant would speak on ways to boost Internal Generated Revenue IGR for Public and private entities.
The third day is a lecture on Entrepreneurship in business investment success with a certification for participants. This will avail attendee harness basic rudiments of being a serial entrepreneur for business success.
There will also be a visit to the office of the Brampton, Peterborough, Nigara fall Mayor's office for a meeting with investment communities, prospective Canadian investors and Africa.
The grand finale day would round off with an award ceremony, a meeting with the African community, Commissioners of Africa to Canada. This will allow Africa to seal investment deals for proper ratification and implementation.
Convener of the Summit, Ms. Peju Omolola Oke disclosed that; the reason for the summit is to establish an investment pathway between Africa and Canada to boost empowerment, generate revenue increase, International partnership and also wealth creation mechanism.
"We want to build a network of opportunities for non-oil export opportunities and turn commodities to products for export. We want to also align international opportunities with Africa's interests among others," she stated.
Ms. Oke added; "It's a summit one should not miss for any reason. We would also use the opportunity to celebrate our heritage as Africans; displaying our cultural heritage via dance, songs and attire. The cultural day will also showcase our root day tagged: 'Isomoloruko' (Child's Naming Ceremony); a day where a new name in Yoruba, Ghanaian and other cultures will be bestowed to people from the diaspora via a proper DNA investigation of African descent. That's why we are partnering with His Royal Highness to connect traditional and political institutions together for the upliftment of our Economic fortunes."
His Majesty King Tackie Tekio Tsuru in his remarks thanked Ms. Oke for the gesture and also pledged unflinching support to make sure Ghana is fully represented at the summit.
He also urged other African countries to be fully represented.
"This is a summit we as Africans should not miss. It's a partnership that will better our lives and economy. Special thanks to the convener, we will support her to the very end and ensure the success of the summit."
His royal highness also doled out valuables and gifts to Ms. Peju to show appreciation for her undying passion to drive investment to Africa.
"She is to be treasured and appreciated for not neglecting her motherland," he further added.