Akinwunmi, Tade Others Salute FCAAN For Organizing Coaching Seminar In Lagos
Posted on July 18, 2021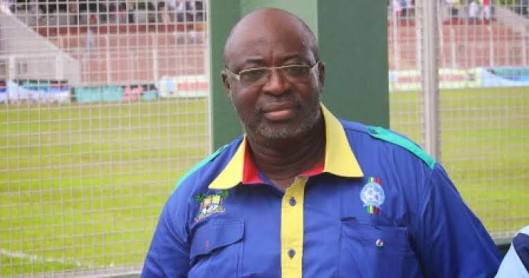 First Vice Chairman of Nigeria Football Federation, NFF, Barrister Seyi Akinwunmi has commended Lagos State Football Association in collaboration with Football Coaches Association of Africa Nations FCAAN for organizing one day seminar coaching course for affiliated coaches within five football divisions in the State.
Akiwunmi disclosed this during FCAAN coaching seminar held recently
at Indoor Hall of Agege Stadium. Coaches were selected from various divisions to take part in the FCCAN seminar which heralded the commencement of the U-15 Eko Football- FCCAN tournament at Agege Stadium.
Akinwunmi who doubles as Lagos FA boss expressed satisfaction with the effort of FCCAN in enhancing the capacity of football coaches not only in Lagos but Nigeria at large.
He said Lagos FA is happy to partner with the association and they would continue to encourage them in any capacity. He said the seminar was organized to broaden the knowledge of coaches who came from various divisons in the state.
"The Lagos FA is happy to partner with FCCAN because of the good job they are doing in Nigeria. I strongly believe that the seminar would go a long way and help our coaches in order to be better on their job. The Lagos FA would continue to support and encourage our coaches and make sure that our coaches get the best coaching training that can make them compete with their counterpart on the field of play", he said.
The Vice Chairman of Lagos FA, Tade Azeez applauded FCCAN for training and retraining coaches to make them better on their job. He said Lagos would continue to support coaching education and boasted that many of the players and coaches that passed through Ekofootball programmes are graduated to national teams.
"Our developmental programme is giving us results because many of our players and coaches who passed through Lagos FA programmes are now in national teams. Lagos is doing everything to make sure that we train our coaches and give them necessary support to achieve their objectives, he said.
Chairman Lagos State Football Coaches Association, Fredrick Yamala thanked FCCAN for educating his members on technique of coaching. He said seminar like this would make the coaches better and deliver well at the training session and football competitions.
In his response, Director of FCCAN, Henry Abiodun thanked the Lagos FA for their support in organizing seminar for coaches. He said the seminar would really help the coaches in area of service delivery. He said the FCCAN facilitators have taught the coaches modern technique of coaching which would guide some coaches to be better on their jobs.