Badminton Star, Opeyori Hails Lagos Govt For Bringing Sports Back After COVID-19 Hiatus
Posted on September 14, 2020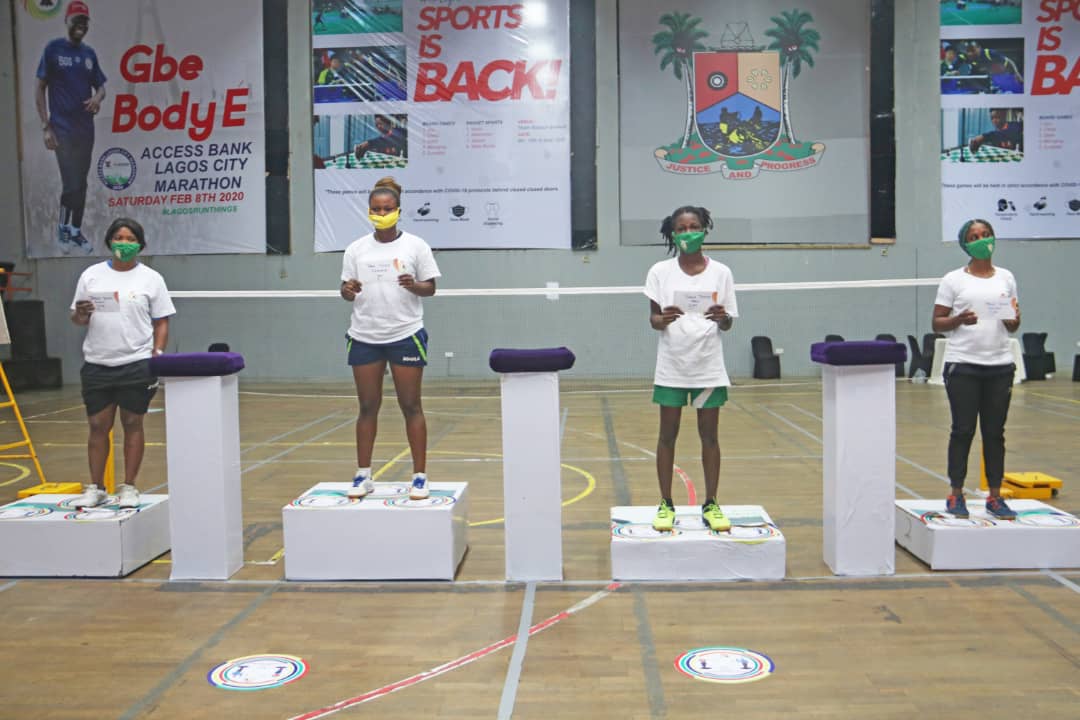 The two day Invitational Open Competition for Non Contact Sports approved by Governor Babajide Sanwo -Olu ended  in style last Thursday. 
At the competition tagged "Sports is Back" where some of the Athletes like Anuoluwapo Opeyori , a product of the Lagos State Government Grassroots Sports Development Programme and number one badminton player in Nigeria, was a dominant participant.
In the Badminton double male event, the duo of Anuoluwapo Opeyori and Godwin Olofia won the 1st position.
Anuoluwapo Opeyori disclosed that Lagos State Government through the Lagos State Sports Commission has always been supportive of his personal development in Badminton as a player through exposure to several State Government's sponsored competitions and sponsorship to participate in Games outside the State. 
"I personally owe the Lagos State Government appreciation for my development in Badminton as a product of the Lagos State Sports Commission's Grassroots Sports Development Programmes. I started as a Cadet Player and now I am the number one Badminton player in Nigeria," he said.
According to Opeyori, the support of Lagos State Government through the Lagos State Sports Commission for organising series of Competitions such as the Lagos State Badminton Classics and other Grassroot Sports Championships has helped Players like me and others in different Sports to continue to develop in our Games.
"Lagos State Government by organising this two day Competition has scored another first in Nigeria at this time of COVID -19 pandemic. On behalf of other Participants in this two day Competition tagged "Sports is Back", we are saying thank you to the Sports Commission for bringing sports back to Lagos State, the Centre of Excellence gradually ".
Athletes, officials and spectators commended the organisation of the event put in place by the Sports Commission especially on the protocols of CoVID-19 which were strictly enforced
Sports competed for in the tournament included Ayo, Chess, Dart, Monopoly and Scrabble (Board Games) and Abula, Badminton, Squash and Table Tennis (Racket Sports).
Some others winners in the competition are John Michael who came 1st in Squash Game, Sulaiman Faruq 2nd position and Abdulrahman Nasir placed 3rd position.
In Abula game, Oladeinde Jide defeated other participants to claim the 1st position, Daniel Joseph came 2nd while Daniel Oladapo was 3rd on the medal table. 
Lapite Rotimi won the 1st position in Chess, Odum Martin came 2nd and Oluwaseyitan placed 3rd. Winners in Scrabble male are, Enoch Nwali, John Ayedun and Adeyemi Adeosun respectively.
Darts and Table Tennis games have winners in Pius Famakin, Aloba Sulaiman, Adegbite Damola and David Fayele, Adeyinka Hameed and Augustine Emmanuel as winners respectively.\