Celebrating 2021 World Press Freedom Day With The Theme "Information As A Public Good"
Posted on May 3, 2021
NJOKU MACDONALD OBINNA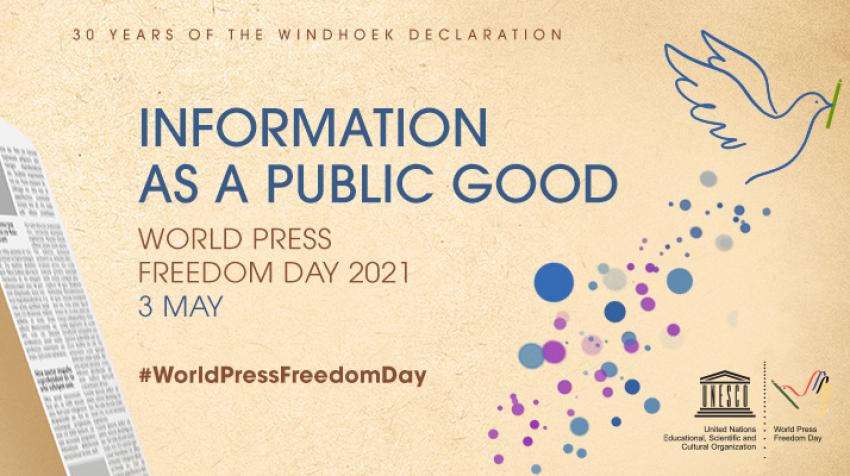 Every 3rd May of the year is a date usually set aside to celebrate the fundamental principles of Press Freedom, to evaluate such freedom around the world, to defend the media from attacks on their independence, and also to pay glowing tributes to journalists, who lost their lives in the line of duty; exercise of their profession.
In the Western world, United States of America for instance, numerous journalists had been reportedly murdered in cold blood while reporting or covering a Military conflict; some perhaps due to the investigative angle to their storylines or news reportage.
The journalists killed in the United States in the recent past were four reporters for The Capital in Annapolis, Maryland, who were murdered on June 25, 2018, in a mass shooting targeted at the newspaper's office. The most dangerous sector of the US media after 1980 has been the race and ethnic press.
According to the Committee to Protect Journalists, ten journalists serving the Vietnamese, Haitian and Chinese immigrant communities were killed in political assassinations between 1980 and 1993. Chauncey Bailey, who was the Editor at a large circulation African American newspaper, was murdered in 2007 for his investigative reporting (Reference: Wikipedia's list of Journalists killed in the United States of America).
In commemorating World Press Freedom Day, a mention must be made of a select renowned journalists, who paid the ultimate price in the exercise of their profession. Such names that reverberate in the social space with great emotions included but not limited to; Jean -Claude Oliver (February 18, 1991): An investigative journalist known for his controversial commentary, who was assassinated on his to way to his car as he left the club that fateful night.
Another victim was Fritz D'Or; a colleague of Oliver's at the WLQY, who was also assassinated as he left a club on March 15, 1991. Manuel Da Dios Unannue, a reporter with the New York City, who was murdered by Colombian drug traffickers for writing about drug trade.
At the home front, one of Nigeria's brightest and foremost journalists, late Dele Giwa, Editor-in-Chief and pioneer founder of NewsWatch Magazine, was gruesomely murdered on October 19, 1986, through a letter time -bomb allegedly delivered by the duo of Lt. Col. Ajibola Kunle Togun and Col. Haliru Akilu; Director of Military Intelligence, under General Ibrahim Babangida's regime, were fingered.
Almost 35 years after, nobody has been investigated, convicted or prosecuted for the murder of Dele Giwa even as his lawyer and friend, the late Chief Gani Fawehinmi, who served as a lone campaigner to ensure the perpetrators were brought to book, made several failed attempts to compel the former Military Head of State and Dictator, IBB, to appear before the Justice Oputa Panel set up by Chief Olusegun Obasanjo to assuage frayed nerves, who lost their loved ones during the Military Junta.
However, the theme of this year's World Press Freedom Day, "Information As A Public Good", underlines the indisputable importance of verified and reliable information. It calls attention to the essential role of free and professional journalists in producing and disseminating this information, by tackling misinformation and other harmful content.
The Publisher of 4th Estate Reporters, Njoku Macdonald Obinna, disclosed that the 2021 Global Conference, which was hosted by the UNESCO and the Government of Namibia, scheduled between April 29 -May 3, would be a physical and digital experience combining virtual and in -presence participation.
The conference is for urgent attention to the threat of extinction faced by local news media around the world, a crisis worsened by the COVID-19 pandemic. It hopes to put forward ideas to tackle the challenges of online media environment, push for more transparency of internet companies, strengthen safety of journalists, and improve their working conditions. The Conference will also call to support independent media and empower citizens to face these challenges.
"For us at 4th Estate Reporters, a virile press remains a potent catalyst for democratic growth anywhere in the world. It is widely acknowledged that a free and unfettered press is an indispensable component of any democratic dispensation."
Our 22 years of democratic experience and experiment have firmly illustrated that a free press is a complement rather than a hindrance to representative democracy. Many laudable Government initiatives will fail without appropriate advocacy through the media.
The media also has the capacity to promote transparency through surveillance function, while also setting an agenda for good governance. This is the notion behind Shared Prosperity, which seeks to positively enhance the lives of the people through job provision, adequate portable water supply, good roads, qualitative health services, quality education, employee welfare, peaceful environment and the overall economic empowerment of the public.
The Nigerian Government, under President Muhammadu Buhari, has also been charged to use this medium to assess her media friendliness, core implementation of the Freedom of Information Bill while working assiduously to address a number of challenges in the administration as insecurity, incessant regional crisis, dwindling economy and separatists movements dominate a better part of her national discuss.
– Njoku MacDonald Obinna,Media Consultant|PR-Expert, Publisher, 4th Estate Reporters