Celebration Of Life, As Olubiyis Remember The Late Patriarch In Lagos
Posted on May 2, 2021
The 15th day of April will always remain a very important day in the family of Olubiyi. This is because on this day they lost a rare gem and the Patriarch, Chief Sehindemi Awe Olubiyi, JP who gloriously slept in the Lord at age 70 on 15 April, 2020 and was buried on 10 July 2020.

It was not a surprise that all roads were led to the Vaults and Garden Cemetery in Ikoyi, Lagos where family, relations and friends converged to hold one year remembrance service for the late Philanthropist per Excellence on 15 April this year. The service was coordinated by the Chapel of Light the Christ (Interdenominational) of Lagos State Government, a brief reception was thereafter held at the same venue.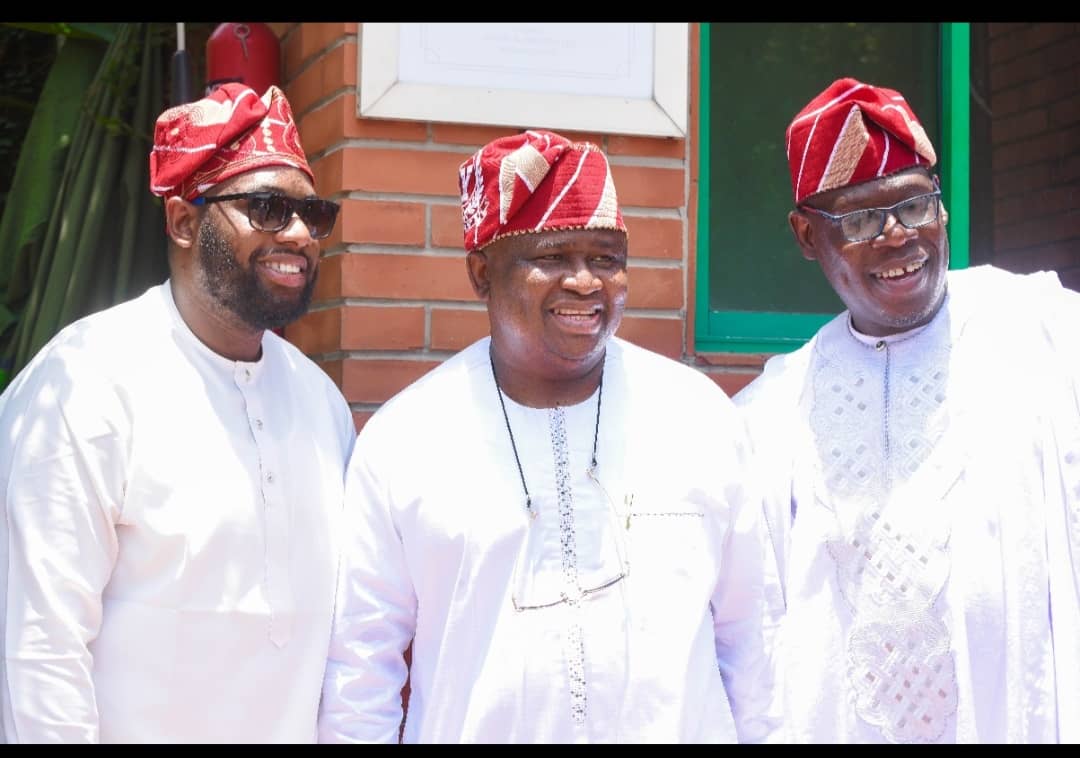 Though very brief, it was elaborate and well attended in line with all health protocols on COVID-19. P.M. EXPRESS presents a photo news of how the Olubiyis celebrated the one year remembrance of their Patriarch.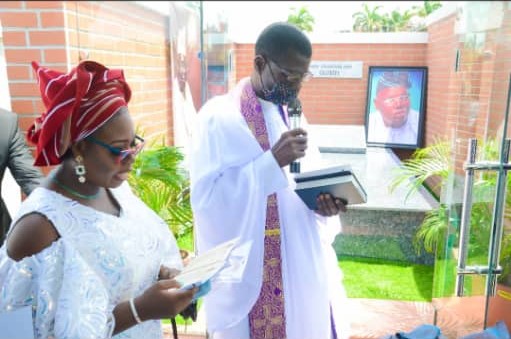 A BRIEF BIOGRAPHY OF CHIEF SEHINDEMI HEZEKIAH AWE OLUBIYI.
Chief Sehindemi Hezekiah Awe Olubiyi, JP was born 27th of May 1950 to the late and first Odofin of Iponda Land, king David Erinopojo Olubiyi and Late madam Abolaji Victoria Olubiyi (nee Ayeni) of Igbogi Ilesa both townships in Obokun Local Government Area Ilesha Osun State Nigeria. Chief Awe Olubiyi was the first illustrious son of the union. The great kingdom and family hailed from Ikole Ekiti in the old Western Region, the present-day Ekiti State. He spent the early part of his life with his mother because of the demise of the king when he was at a tender age. He was raised by his mother alone; he showed gratitude to his mother at an early stage of work-life for this gesture by building and gifting Abolaji Cottage in Iponda Osun to show appreciation for the care and motherly love.
He arrived in Lagos State in the 60s to pursue his career in construction, mobility and decision that eventually brought a generational shift to the family. He moved and settled in Somolu Bariga at a young age; however, he was intensely focused, strong-minded and resolute to make it. Consequently, with verse training and formal education, he eventually became a well experienced and hardworking construction magnate and builder. After adequate diverse working experience and acquiring needed entrepreneurial skills, he was able to register and incorporate the company – Awe Olubiyi Builders, a business he managed and run privately till retirement. Before losing counts, his remarkable odyssey in building development in Nigeria recorded over 400 completed and delivered residential and commercial building, to companies, governments, and high net worth individuals in Nigeria and Diaspora. Even after retirement, in 2014 he continued to make strategic contributions to property management and construction because he was passionate, diligent and devoted to the profession and sector.
He was married for many years till his last breath to Mrs Titilayo Elizabeth Olubiyi, JP the beloved, committed wife and a retired civil servant of The Federal Ministry of Health Nigeria. The union is blessed with bright, focused sons and daughters who are professionals and who are equally happily married with kids. The first son, Dr Timilehin Olasoji Olubiyi, followed by the first daughter – Mrs Temitope Adeola, the second daughter is Mrs Olufunmbi Beckley, the second son is Mr Olabode Olubiyi and the third son, and the last born is Mr Oluwatobiloba Olubiyi.
Baa'ba Awe as he was fondly called embraced the tenets of our Lord Jesus Christ on kindness and giving. It is in the area of giving that he built his most considerable reputation, he gave without restraints or reservations but passionately. The act of giving to Baa'ba Awe was a way of life and he exhibited that undoubtedly. Both at work and home, he could not stand or bear the sight of anyone in distress, particularly basic needs such as food, shelter and funds. Chief Awe Olubiyi was a devoted, prayerful and committed Christian and a selfless member of Cherubim and Seraphim church.
One particular hobby he enjoyed was travelling, and for that reason, he toured South Africa, Republic of Benin, Ghana, India, Dublin-Ireland, United Kingdom, Jerusalem, Dubai-UAE amongst others. He was a lover of pets, especially dogs, monkeys and parrot birds and he equally enjoyed watching the Discovery channel on DSTV. He was known for his warm hospitality and kind gesture in Alagbado Lagos State, Ilaje Ilesa Osun State and Arepo Ogun State communities where he resided before the call to glory. Also, within the family, residential associations and church societies, he was well known as a compassionate, and benevolent peacemaker.
In the home front his wife, sons, daughters and grandchildren exceedingly loved Baa'ba Awe chiefly because of his profound attention and commitment to family ties. He made the home front comfortable for everyone before he rested in the Lord on the 15th of April 2020 around 12.15 am. He will be sorely missed by immediate family, staff, friends, associates, neighbours and other relations. He will be fondly remembered for his amiable smiles, accessibility and the ever readiness to help. He is survived by wife, sons, daughters, and many grandchildren May he find a place in the bosom of his Maker and may his soul continue to rest peacefully, Amen.
Tribute to Baa'ba Awe with love
I have lovely memories of my dear father, death and parting hurts but his memories are with me all characterized by genuine affection, dedication, and dependability. Even though I wanted you to stay longer with us, we cannot question God, with a why? It pleases the Lord to call you home to rest; therefore, we are all pleased with His wish. I knew it had to happen at some point, of course. It's the cycle of life. Therefore, my consolation and that of others is that Baa'ba Awe is in a better place, resting with no pain or illness. A very hardworker and a dependable father, I must say, your memories linger each day, particularly joining Baa'ba Awe for prayers every morning growing up, a pleasant experience and a dad per excellence. Continue to worship the Lord face to face with the angels. My thoughts and prayers are with you, and we do miss you deeply. Rest on peacefully, dad. Love you always!
– Timilehin Olasoji Olubiyi, Ph.D.