Chicken Republic Declare N3.3bn Net Profit
Posted on October 5, 2020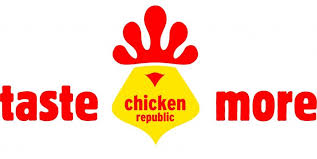 Food Concepts Plc, owners of the popular Chicken Republic, has declared a 135.7 per cent growth in its profit after tax (PAT) for the financial year ended December 31, 2019.
The company revealed this in its financial statements and a look at the books showed that the net profit increased to N3.3 billion from N1.4 billion in the 2018 fiscal year.
The firm recorded a 73.3 per cent rise in profit before tax to N2.6 billion from N1.5 billion in 2018 and in the period under review, it received a tax credit of N723 million, which boosted the net profit for the year.
Food Concepts trades its shares on the floor of the NASD OTC Securities Exchange and in the year under review, the revenue generated, which was made from contracts with customers, rose 51.6 per cent to N13.8 billion from N9.1 billion in the preceding year.
A breakdown showed that operations within Nigeria accounted for the chunk of the revenue (N13.6 billion versus N8.9 billion in 2018).
Meanwhile, operations outside the shores of the country recorded a drop in revenue by 6.7 per cent as N208 million was made in the year as against N223 million.
Also recording a drop during the period was the operating income, which went down by 2.9 per cent to N135 million from N139 million recorded in 2018.
There was a rise in the number of raw materials and consumables used during the period as N6.4 billion was expended against N4.1 billion on record the year before.
Equally, employee benefits expense rose by 40 per cent during the year with N2.1 billion spent compared to N1.5 billion in the previous full year.
Operating profit rose during the period by 109.1 per cent to N2.3 billion from N1.1 billion during the preceding year.
Speaking on the result, the Chairman, Mr Odunayo Olagundoye, noted, "We have, once again, grown our revenues and our bottom line and despite various Macro and Micro economic challenges, we are pleased to share with you your company's key achievements for the financial year ended December 31, 2019.
"We have achieved many milestones over the past few years; we continued to open our flagship brand Chicken Republic stores, whilst adding a new and exciting brand Pie Express to our portfolio of brands.
"We concluded our rights issue in 2019 and secured the requisite funds to continue investing in new stores, IT infrastructure and Central Kitchens; we also built a strongly integrated manufacturing and supply chain division, that will enable our future growth strategy."
"Our company has overcome many challenges over the years and is now well-positioned to exceed the many milestones achieved in 2019. We have generated strong cash flows and as a result, have achieved robust profitability.
"We have a solid new store pipeline in place for 2020 and will fund our growth and ambitious plans with a combination of cash generated from operations and cash raised from the rights issue.
"Our staff are motivated, happy and responding well to the direction set by the board, executive and senior management teams," the Managing Director, Mr David Butler, noted.
"Our growth continues to be driven both by same-store sales growth and the expansion of our Chicken Republic and Pie Express brands; we have seen a 56 per cent year-on-year increase in customer traffic to our stores – representing a significant gain in market share. We have opened 25 new shops taking our total to 94 company-owned and franchised locations," he added.
He noted that due to the COVID-19 pandemic, Food Concepts Plc was declared an Essential Service and continued to trade noting that despite the related challenges, the company has continued to see its sales, customer count and profitability continuously increasing.
He assured that "It is still early days with many predicting a rocky, protracted rollercoaster-type recovery to the COVID-19 pandemic… but I can assure you that our business is improving daily and reacting well under the current circumstances."