Courage, Creativity, and Constancy: The Story of IDCLng @5
Posted on October 28, 2020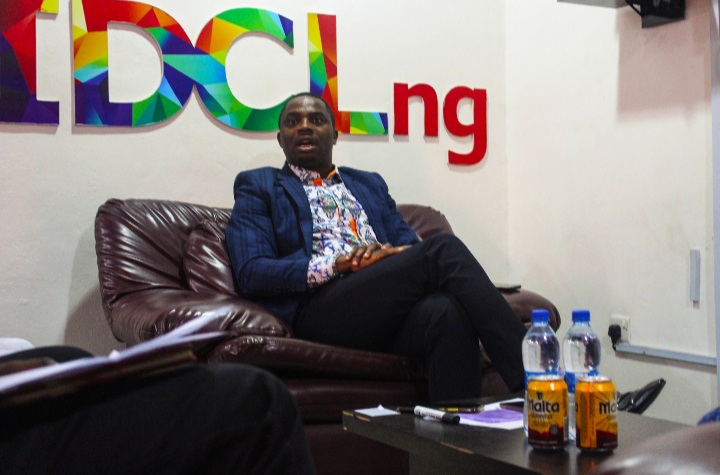 Succeeding in any business requires what economists describe as the four Cs; 'curiosity, confidence, courage and constancy.' For effect, you may add consistency.
Very few CEOs better embody these qualities than Kingsley James, the Chief Executive Officer of Indoor Design and Concept Limited (IDCLng), a 360-degree production company, which has in its short existence ideated and curated some of the biggest red carpet events in Nigeria among other landmark projects in its sphere of influence.
As at 2015 when the company started operations, Nigeria was teetering on the periphery of an economic recession occasioned by a sharp decline in global crude oil price, the after-effects of a heated general election and the enthronement of a new government.
The country officially went into a recession in 2016. Friends and associates genuinely feared for the survival of James' new baby but they did not reckon with his stoicism.
He said, "I am a serial entrepreneur and a compelling risk-taker and when you have that as second nature, fear is never the word. It is just you making up your mind on which direction to take."
Before the birth of IDCLng, James disclosed that he had stayed at home for almost one year just strategising on what next to do having left Digiprints – which in the early 2000s was one of the biggest companies in advertising and branding in West Africa – where he served for about 13 years and resigned as managing director.
Thus, when he decided that he needed to go back into the same business, he sat back and tried to figure out what exactly the competitors were doing and what he needed to do differently before entering the market.
He recalled; "So, when I came in at that time, there was still a need but your eyes need to be completely open to see how to fit in. What did I do differently? My initial company was 100 per cent a printing company; we don't do anything else. As of that time, we had a backlog of jobs that could cover production for 45 days. We were very busy. But I knew four years earlier that printing, as we knew it, was going to go down. Four years earlier, there was a clamour for paperless companies and we knew that was going to affect the number of prints that would be churned out.
"All those thoughts were what I carried into my business. We opened up four new areas. We started a fabricating line and ventured into event management and production. We also decided to take the branding aspect of our business a notch higher. With these, we rebranded our business in the market space, not as a printing company but as a production company. We went corporate. We started planning annual general meetings, award ceremonies, and end-of-year parties, not weddings.
"Our printing press is still intact. 40 per cent of our prints are direct jobs while 60 per cent are filling the gaps for the other services. For example, if you want to set up an office, you would need signages, letterheads, call cards, branded t-shirts for your workers, and probably even brand your offices; 40percent of which is printing which is done directly by us. So, the printing part of our business was not suffering even though we were not getting direct print jobs from our clients. What also gives us a bit of an edge in that regard is that we respond faster, we control quality and we control price."
Call James one of those rare individuals who strive to always take a high road and position themselves for success regardless of the obstacles before them and you won't be mistaken.
Despite the maelstrom and headwind of a tempestuous home-grown economy, his resilience and steadfastness kept him on the straight and narrow path to a breakthrough. From a two-man entity in 2015, the company has grown to a direct staff strength of over 50 and an indirect staff strength of over 150 while also evolving from just a printing firm to a company that is now involved in different kinds of businesses including fabrication, production, events management and branding among others.
The journey was, however, not all smooth-sailing.
On a sun-draped afternoon in his expansive office in Ogba, Lagos, James reflected on the early days; "I had a very tough beginning. The business is very capital intensive. I had a proposal of almost a billion naira for what I needed for the business. I was confident that there wouldn't be any problem because I believed I had the market in my hands despite the little competition at the time. I was optimistic that people would invest heavily in the idea. I went to banks and individuals but not a single person supported me or the idea. So, I went to a microfinance bank and took a loan at 11 per cent interest per month to buy my first machine. But, that loan did not pay for the machine. I went to a gentleman called Akin Oduwole, who gave me the machine on half payment. So, I used the rest of the loan to pay for a small office space to start something.
"For the first two years, I was servicing loans. Another microfinance bank said it could offer me a loan at an eight per cent interest rate, so I quickly closed my loan with the previous bank. I also moved to another microfinance bank that gave us a five per cent interest rate per month. That was how we kept running at the beginning until we were able to pay back the loans. We started growing and then we opted out of the microfinance bank. Then we moved to commercial banks and we had a bit of a problem with them too. They told me that I didn't have an account with them or they did not know me or my business so they couldn't give us loans. Those are the things that kill businesses in Nigeria."
IDCLng was lucky, however, as the market trusted it and it started growing.
The issue of banks not supporting SMEs touched a raw nerve, literally, and James took time to elaborate.
"I think our banks are not wired to support businesses and it saddens me. A lot of dreams are dying not because they are not good ideas or viable but because the banks' position today starts with a question – what if the idea fails. The bank doesn't come with the position of what if the idea succeeds. And those two positions are very strong."
James recalled that at the beginning, Digiprints, too, faced the same disappointments until Rev. Segun Agbetuyi of the defunct Omega Bank reluctantly came to its rescue even though he also said 'I don't believe in you too but it is my bank and I will give you a loan of N10m.' The last time Digiprints closed its Omega Bank account, James said, "We were doing over N90million a month for a business that the banks were reluctant to support."
He said further, "That is the confidence that keeps propelling me and I have told the bankers that they would see it; they haven't seen it yet, but it is still far better than where we are coming from. We are now having constructive conversations; they are seeing our clients and are now considering taking a leap of faith. But the question is if one of my boys started his own business now; except he has somebody funding him, he can't go far. Importantly, my business is one that after agriculture can employ faster in Nigeria because for each machine that you buy, you need at least six to seven people to handle it; you don't have a choice but to employ."
Like every other business across the globe, IDCLng was also affected by the devastating COVID-19 pandemic but unlike others, James declared that he did not sack any of his direct staff.
"I will say to you that on the positive side, we didn't fire a single soul all through the pandemic. We promised our team that together, we would go through the pandemic, except, of course, an employee does something illegal. That was a major decision I took. For us, the first thing we did was to check where our revenue would come from. We realised that the revenue of our core clients was actually on the increase. So, pharmaceuticals, dairy companies, beverage companies, food companies, and telecom companies were making money. So, we immediately innovated within ourselves having realised that everybody wanted to protect themselves. So, we came up with the first idea of producing the hand-wash mechanism. We ideated and produced 100 per cent locally the hand-wash mechanism. And because of the demands for the mechanism, we were not off the market at any point during the lockdown. Our core products were not selling but the innovative aspect of our business kicked in and saved the day. So, there really was no hard decision to take because as long as there was income, we were able to sort out our staff as best as we could."
A trained lawyer cum accounting graduate of the University of Jos, James is married to Adeola, the daughter of veteran broadcaster, Bimbo Oloyede, and late Tunde Oloyede, the producer and director of the defunct television drama series, Village Headmaster.