COVID-19 Can't Stop Us This Year-Bodyweapon Taekwondo Club Coach Boasts
Posted on January 9, 2021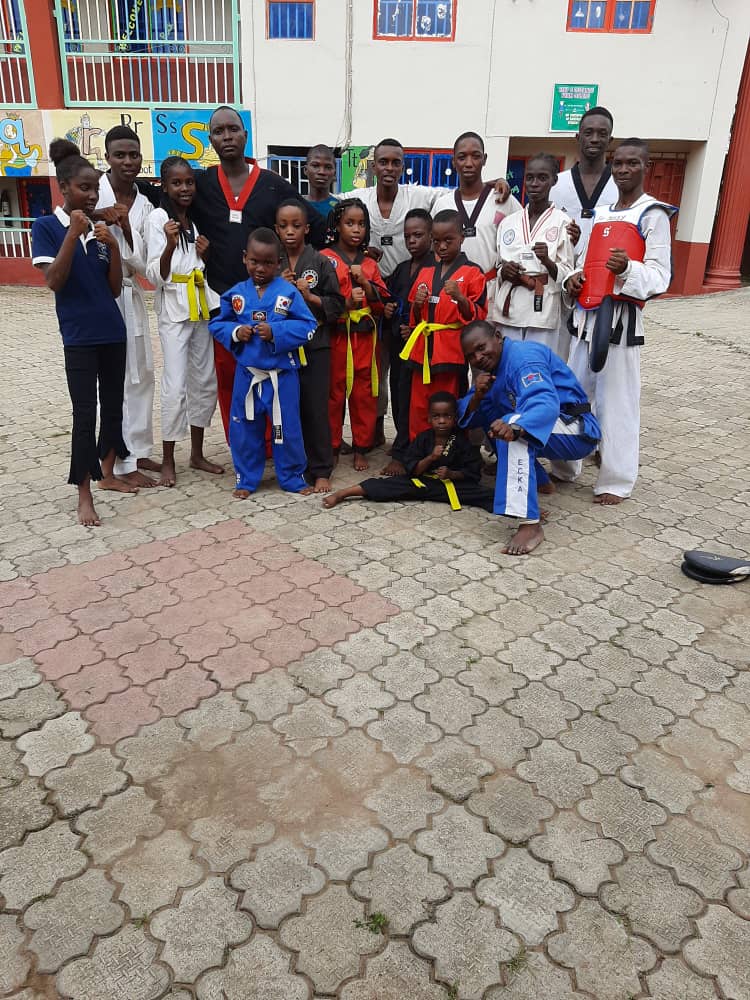 Ikpo IGBINOBA
For the very first time in its ten years history, Bodyweapon Taekwondo Club of Lagos did not do the traditional bi-annual grading of its athletes in 2020.
No thanks to the Covid-19 pandemic which dealt a severe blow to sports and other human endeavours not just in Nigeria but across the globe.
Chief Instructor of Bodyweapon Taekwondo Club, Emmanuel Banjo said the Covid-19 assault dealt a harsh blow to his club and 2020 aspirations.
According to him "We looked forward to 2020 with great expectations because our club  which was founded in 2010 was to mark ten years.
"We planned to celebrate the 10th anniversary in a big way. We also planned to have our twice a year grading in a big way."Unfortunately, 2020 ended up being a disastrous year, without our usual grading and the 10th anniversary".
Banjo said he had to surrender to Covid -19 last year "in the interest of our students.
"We had to scale down on our activities in 2020, we even suspended our training while there was a lockdown to check the spread of the virus", he lamented. 
He added "We didn't want any of our students to be victim of the novel virus".
But as the club commenced its 2021 programme on Saturday at its Frontliners Primary School base, in Agbado, Lagos Banjo was upbeat that the New Year would be better.
He enthused "I am excited about this New Year 2021. We will no longer be scared of Covid-19. Thank God and medical scientists around the world for the breakthrough of getting a vaccine in record time.
The coach said grading was top on the agenda of events in the  New Year."We have a lot on our plate in the year and we hopefully will achieve all the plans", he said. 
"We will have our grading twice this year, as usual, first in March and the second one in November. The November grading will involve black belt,"Coach Banjo said.
The coach disclosed that another top event in the New Year is a challenge between his students and those of Fitness and Kickers Taekwondo Club in Abesan, Lagos. This challenge which is scheduled for February according to him will afford him the opportunity to pay homage to the instructor who nurtured him from the cradle of taekwondo as a white belt, Lucky Ogunmelen. Coach Ogunmelen is the chief instructor of Fitness and Kickers Taekwondo Club.
Banjo said "Whatever I am today in taekwondo is to the credit of Mr. Ogunmelen.
 "He nurtured me from white belt to black belt and I was graded by grandmaster Emmanuel Ikpeme.
"Our trip to Abesan is like returning to my taekwondo roots and I am excited about it".
However, Banjo warned that it was too early to lower one's guard against Covid 19.
He admonished "Even though there is a vaccine for the virus, we still have to be careful. 
"The only way to deal with it, is to observe all the protocols always. We need to wear our face masks, observe social and physical distancing, wash our hands regularly, use sanitizer always and avoid crowds".
Meanwhile, in the build up to the grading, the club kicked off the New Year with poomsae programme on Saturday.