Delta Agog As Thousands Register For 2018 Warri/Effurun Peace Marathon
Posted on February 21, 2018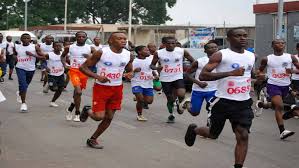 The marathon train in Nigeria moves to Warri, Delta State, March 3, as thousands who have registered for the 2018 edition of the Warri/Effurun Peace Marathon will compete for medals and prize money.
Apart from the national elite runners, this edition has generated interest from thousands of fun runners, students, and the physically challenged.
Conceived by Joyce Bozimo a lawyer and sports enthusiast to promote peace in Warri and other part of the state and by extension Nigeria the 10 Km road race will start at Airport Road and end at the Warri Township Stadium.
"The Warri /Effurun Peace Marathon is a growing race with the potential to become very big in the nearest future. The main aim of the race is to promote peace in Warri, Effurun and all the neghbouring villages but beyond promoting peace, this race aim to promote all the benefits associated with running which include but not limited to promotion of healthy living, tourism, promote local business especially the hospitality industry and get Deltans to embrace running as a way of life," said Bozimo.
She also revealed that race is open to everybody from Warri and around Nigeria.
"We are going to invite athletes from the whole country. We are also inviting students in Warri and Effurun to come and cheer or participate in the race as we want to do everything together as a people."
For the March 3 race, Bozimo revealed that there will be performance by artists and comedians at the finish.
"This year, we are planning to invite our big comedians and I think their presence will encourage a lot of young ones. We have invited a lot of people. We are inviting sports loving of Delta State in particular and the whole country in general'.