Don't Impose MC Oluomo On Authentic Leadership Of NURTW In Lagos State – CHSR Says
Posted on September 19, 2023
MICHAEL AKINOLA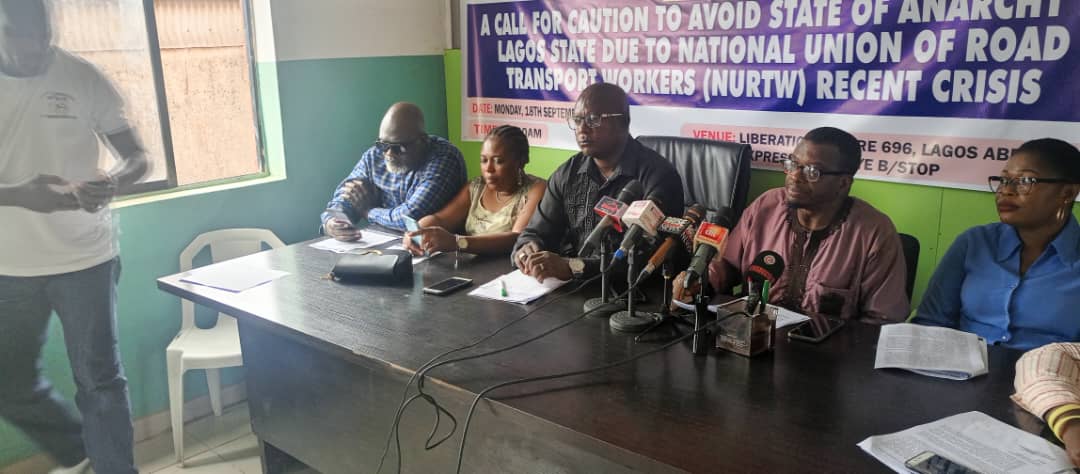 A non-governmental organization, the Centre for Human and Socio-economic Rights (CHSR), has urged the Lagos State Government not to impose the dissolved manager of Lagos Parks and Garages, Alhaji Musiliu Akinsanya, popularly known as MC Oluomo, on the authentic leadership of National Union of Road Transport Union, NURTW, in the State. 
P.M.EXPRESS reports that the group stated this during a press conference led by their President, Comrade Alex Omotehinse, in Lagos State.
The group stated: "We are compelled, as one of the strategic platforms of civil society stakeholders in Lagos State, to do a follow up on our earlier clarion call through media briefing on April 28, 2022 on the potential disruptive motive of vested interests masquerading as authentic trade unionists under the banner of the now dissolved Lagos Parks and Garages Management with the sinister agenda of usurping the operations of the NURTW in Lagos State".
"On account of our civil obligation as patriots, we are again compelled to alert the Nigerian general public; particularly critical local and global stakeholders as well as relevant institutions of the inherent danger of imposing Musiliu Akinsanya (a.k.a MC Oluomo) led Lagos Parks and Garages platform on the legitimate structure and leadership of Alhaji Fatai Adesina-led National Union of Road Transport Workers (NURTW) in Lagos State."
"It would be recalled that Mr. Musiliu Akinsanya, MC Oluomo, who is the arrowhead of Parks and Garages Management had issues with the Tajudeen Baruwa led leadership of NURTW. Following the sanctioning and suspension of Mr. Oluomo as stipulated in Article 42, Section 5 Subsection (i-x) of the NURTW Constitution, the Lagos State Government, notwithstanding, accorded recognition to MC. Oluomo, albeit as the leader of Lagos Parks and Garages (not recognised as an affiliate of the NURTW) and by so doing instigated state-sponsored rebellion against the authentic national leadership of NURTW.
We are not unaware of ongoing insurrection against the authentic national leadership of the NURTW which is duly recognised by the Nigeria Labour Congress (NLC)."
"It should be worrisome that the CIVILIAN COUP IN NURTW clearly appears to enjoy active connivance of the Nigerian State as manifested by the partisanship of the Nigerian Police. What is however, of immediate concern and source of worry is the subterranean manoeuvres to imposed MC Oluomo as leader of NURTW in Lagos State in spite of having publicly severed relationship with NURTW and assumed a new role as the Chief Manager of Lagos Parks and Garages."
"We are deeply worried that the undemocratic and crude imposition of outsiders on legitimately constituted authority through the back doors and dark corridors to hijack the leadership of the NURTW is manifesting in Lagos State. Our position is clearly in defence of the constitutional rights of citizens in a democratic dispensation. The right to form and belong to an association including Trade Union based on established laws and regulations is eloquently recognised and guaranteed by the 1999 Constitution of the Federal Republic of Nigeria as amended."
"We hold firm that Freedom of Association is one of the cardinal rights of global concerns. This is why it is enshrined in the United Nations (UN) as well as the Charter of Human and Peoples Rights of the African Union (AU). Thus, Mr. MC Oluomo can only belong to any union as permitted by law and regulation guiding such union. As far as we know and in line with what is already a public knowledge, MC Oluomo belongs to Parks and Garages Management while Alhaji Fatai Adesina is the duly and legally recognised leader of Lagos State Council of NURTW under a extant law that is sacrosanct. It is not permitted by law for person to poach, usurp and hijack the structure, least to imagine, assuming the leadership of any organisation that he or she is not a recognised member having been suspended/expelled in line with the rules and regulations guiding such organisation."
"It should be emphasized that since our last media briefing, the NURTW structure and Alhaji Fatai leadership have not been allow to operate by Lagos State government on account of alleged proscription of the union notwithstanding that the union has remained law abiding in demonstration of commitment to the stability and advancement of the developmental agenda of Lagos. We therefore, unequivocally and in unmistaken terms, condemn the meddlesome interloper transgressor in the person of MC Oluomo for orchestrating hostile takeover of NURTW in Lagos State. This development should be a major concern to all Lagosians considering the potential adverse effects of any escalation of hostilities in the Transportation sector and the overriding consequences for security of lives and properties in the State. We are not unaware of the unpleasant occurrence at the nations federal capital, where peaceful Abuja residents have witnessed fracas between the factions of NURTW."
Our Demands:
"Considering that transportation is key to economic transformation, we call on government at the federal and state levels to ensure peaceful activities amongst stakeholders in transport union in line with rules and regulation and without interference and forceful hijack of established structures."
"We also demand as follows:
We therefore, call on the Lagos State Government and particularly Governor Babajide Sanwo-Olu and the Inspector General of Police, Mr. Kayode Egbetokun to resist the pressure to be dragged into the selfish agenda of individuals who are determined to hijack legitimate structures and constituted authorities of NURTW."
"We call on Governor Sanwo-Olu in particular to impress it on Mr. MC Oluomo to be contended with his roles as the Chief manager of Parks and Garages and allow other stakeholders within NURTW breathe and operate without interference in Lagos."