Emem Isong's 'Ayamma' Hits Nigerian Cinemas This Weekend
Posted on December 21, 2016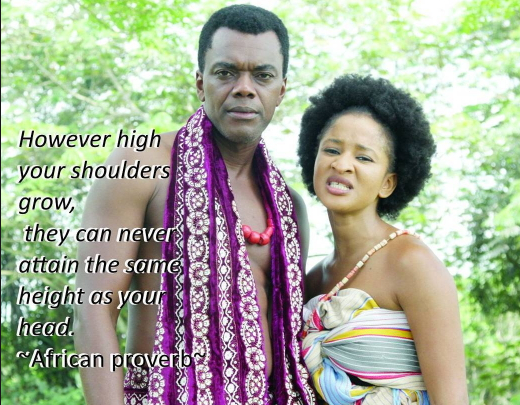 This weekend promises to be exciting as various top Nollywood movies are scheduled to hit the cinemas this weekend and Emem Isong's new movie, 'Ayamma' is one of those movies that will be showing in cinemas from Friday, 23 December.
The musical movie under the production of Royal Arts Academy and produced by renowned Nollywood producer and director stars Adesua Etomi, Wale Ojo, Ime Bishop Umoh, Ekere Ekanga, Theresa Edem, Majid Michel, Moses Armstrong and so many others.
The star-studded movie which focuses on culture and history is as a magical story of love, treachery, lust and revenge, all entwined in the beauty of music and dance.
Set in a fictitious village somewhere in Ibibio land in Akwa Ibom State, Ayamma tells the story of Prince Daraima (Wole Ojo), the fascinating heir to Obong Ikpaisong, who repeatedly dreams of Ihuoma (Adesua Etomi), poor but radiating maiden whose beauty is matched only by her voice. He is in love with the girl of his dreams. In the real world, Prince Daraima is set to marry Princess Ama (Tinsel star, Theresa Edem), the arrogant child to a neighbouring Monarch. Princess Ama observes her groom-to-be captivated by Iko and resolves to nip this obvious threat in the bud.
Emem-Iosng said that her new movie 'Ayamma' set in the lush, green fertile land of Akwa Ibom, is a sweeping epic that transports us into a magical world of music, dance and drama which will be hitting cinemas across Nigeria on Friday, December 23, 2016, is a must watch movie for all. It is bound to be a good company for everyone in this yuletide season. It is a beautiful story mixed with different features.
The movie 'Ayamma', which was directed by renowned Nigeria director, Chris Eneaji have become one of the most anticipated movie on every media platform.
Watch trailer of the movie and the premiere video below as we anticipate it release on cinema on Friday December 23, 2016.
https://www.youtube.com/watch?v=pxuDY6ARmPo
https://www.youtube.com/watch?v=j3o43I5FGmI&t=54s