After Entitlements Paid, Falcons Yet To Release AWC Trophy To NFF
Posted on December 21, 2016
Francis Achi/Abuja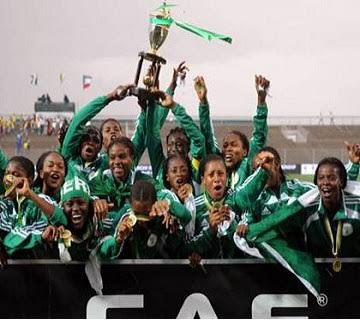 After getting full payments of all their entitlements for winning the African Women Championship, AWC, in Cameroon, the players of the Super Falcons are yet to return the trophy they won to the secretariat of the Nigeria Football Federation, NFF, in Abuja.
Feelers reaching PM EXPRESS in Abuja reveals that the players are demanding that the federation should pay them their match winning bonus against Senegal in the qualification game for the Africa Women Championship before the trophy will be released to the football body.
A reliable source in the Nigeria Football Federation informed that the players are taking their action too far after each player received alert of N5.5m on Monday from the Federal Government for their efforts in Cameroon and it is very unfair for the players to seize the trophy.
" I don't know what the players want again. They were paid all their entitlements of winning the Africa Women Championship, AWC, and I don't know what they want to gain by not releasing the trophy they won to the NFF"
Adding further that, "the players are insisting that the NFF must pay the match winning allowance of the AWC qualifying game against Senegal before the trophy will be officially released to the NFF. I think the players should be considerate and show appreciation for what the government has done. But if they continue to seize the trophy and it gets missing, the tide will be against these players. "
One of the foreign based players who spoke to PM EXPRESS on the condition of anonymity said she is not aware whether the trophy is still with the players, stressing that she is glad that her entitlements were paid, and she is not bothered about the yet to be paid match winning allowance of the game against Senegal.