Ex-Lagos Assembly Aspirant, Maryam Celebrates Princess Bada As New Chairman Ikosi-Isheri LCDA
Posted on February 11, 2020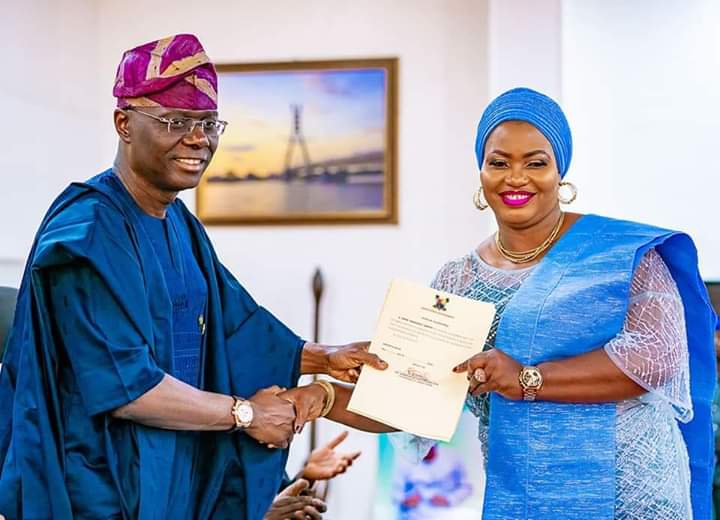 Mrs Maryam Owolabi-Bada, a staunch member of All Progressive Congress (APC) and one of the Lagos State House of Assembly aspirants in Somolu LG has commended the governor of Lagos state, His Excellency Babajide Sanwo-Olu for inaugurating Princess Samiat Abolanle Bada as the next chairman of Ikosi-Isheri LCDA.
Bada said that she was elated to hear the good news about the elevation and wish to congratulate her and as well as see more of such development where women folk are making A-list in leadership roles and some other area of human endearvours.
"Although, it is truly sad and painful that the former chairman was snatched by the cold hands of death which no one prayed for but we give thanks to Almighty Allah for He giveth and taketh anytime He wishes whom we cannot even blame".
"I rejoice and celebrate with Hon. Mrs Samiat Abolanle Bada for this wonderful and great achievement and commended Mr Babajide Sanwo-Olu and all All Progressive Congress (APC) stalwarts and party members in Ikosi-Isheri for finding her so worthy to be elevated and inaugurated accordingly as enshrined in the constitution and the laws guiding local government establishment in the country.
She stressed further "There's no doubt about the fact that Hon. Princess Bada has a lot teach men and women folks alike about government and leadership owing to exemplary leadership style".
"It is also not surprising that governor Babajide Sanwo-Olu administration is gender sensitive with 32% female representation which makes his entire government a well represented one and a testimony of all-inclusive government".
Princess Bada was elevated and inaugurated on 30 January, 2020 as the new Ikosi-Isheri Local Council Development Area (LCDA) after the demise of the former chairman, Hon. Engr. Abdul Fatai Oyesanya who died after a brief illness having been in the system as the Vice-Chairman of Ikosi-Isheri LCDA till the seat of the chairman was declared vacant.
Talking after her inauguration, Princess Bada thank the Lagos state governor, Mr Babajide Sanwo-Olu, APC party leaders, colleagues and the good people of Ikosi-Isheri for all good wishes and kind messages of support received while promising to also look forward to working not just with APC as the ruling party but work across the board.
However, In his speech, governor Babajide Sanwo-Olu charged the new chairman to priotized all the projects left behind by the late chairman and ensure the people of Ikosi-Isheri  benefit adequately from her government.
Meanwhile, Maryam Bada did not hesitate to advice her be steadfast in her all her dealing and be guided by Almighty Allah.