Fayemi To Ekiti Assembly: Your Allegations Are Childish
Posted on October 28, 2016
MICHAEL AKINOLA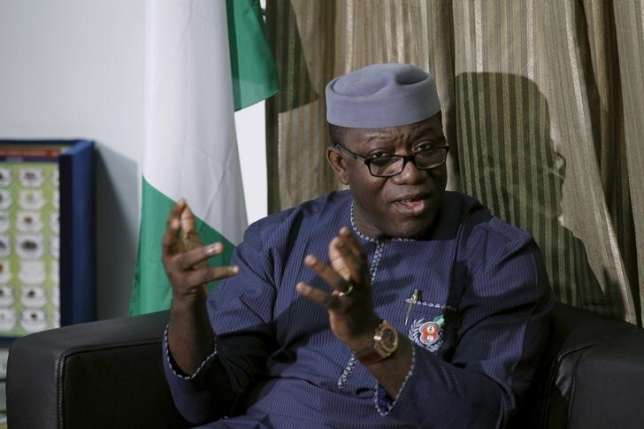 Dr. John Kayode Fayemi, Minister of Mines and Steel Development, has dismissed as childish and ridiculous allegations of fraud leveled against his administration in Ekiti State by the State House of Assembly, saying he would not be distracted by such. 
Fayemi, the immediate past governor of Ekiti State, was reacting to the petition submitted by the State legislature to the Economic and Financial Crimes Commission (EFCC) alleging fraud to the tune of N40 billion under his watch as governor.
The minister's response was contained in a statement signed by his Special Assistant on Media, Olayinka Odebode.
In a statement issued Thursday, Fayemi said the Assembly's petition to the EFCC is nothing but a rehash of old tales told by little minds.
He added that since the allegations lacked substance, they are bound to fail like the previous allegations made by the State government and its agents.
"The Ekiti Assembly and indeed the Ayodele Fayose-led administration had spent the last two years rehearsing and rehashing all manners of ridiculous allegations in their desperate effort to taint Dr Fayemi's reputation. As at last count they have come up with six different attempts, with varying degrees of falsehood.
"Dr. Fayemi's four years meritorious service in Ekiti remains an open book.  The administration's financial dealings and executed projects were well documented and copies of the documents are with the Assembly. We enjoin them to read the necessary portions and get the right answers to their puerile posers.
"But if their intention is to distract the Minister and paint him in corrupt garb, then they have failed, as Dr. Fayemi cannot be distracted by the government's cheap blackmail," the statement said.
Oyebode also advised the Fayose-led government to concentrate on the provision of amenities in the State instead of investing time in and desisting from its falsehood and cheap blackmail.
The State House of Assembly has accused Fayemi of allegedly looting about N40 billion from the state's treasury.
The allegation was contained in a petition the state House of Assembly submitted to the Economic and Financial Crimes Commission, EFCC, on Thursday in Abuja.
The petition dated October 24 2016 and signed by the Speaker of the House of Assembly, Pastor Kolawole Oluwawole, called on the anti-graft agency to investigate and prosecute the former governor of the state.
Addressing journalists shortly after submitting the petition at the EFCC's office in Abuja, the Deputy Speaker said, "Since EFCC have claimed that the commission does not have any complaint against those holding power in Abuja, we have decided to submit this petition openly so that Nigerians and indeed, the entire world will be able to follow it up and ask questions from the EFCC as to what has happened to it."