First Ladies Donate N10m To UCH Cancer Patients As Makinde's Wife Hosts Coalition
Posted on October 30, 2023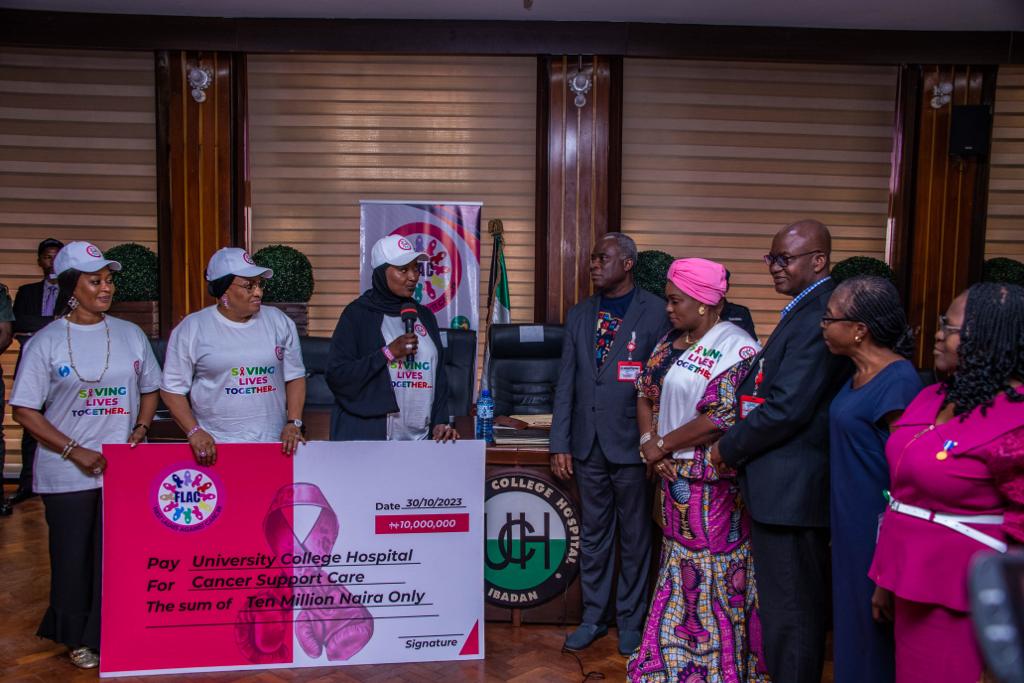 Wives of former and serving governors in Nigeria on Monday donated N10 million to support treatment of cancer patients at the University College Hospital (UCH), Ibadan.
The governors wives who are engaged in the fight against the spread of cancer among women and girls, under the aegis of First Lady Against Cancer (FLAC) were also hosted by the wife of the Oyo State Governor, Mrs. Tamunominini Makinde in her offices inAgodi, Ibadan.
The Coalition, led by its chairman and former First Lady of Kebbi State, Dr.ZainabShinkafi has in attendance, wife of former governor of Oyo, Dr (Mrs) Florence Ajimobi, wife of former governor of Ogun, Mrs Olufunsho Amosun, representative of wife of former Ekiti State governor, Erelu Bisi Fayemi, and representative of Wife of former Kwara State Governor, among others.
The first ladies are in the state to assess plight of cancer patients and donate to them to relief them of their financial burden.
Mrs. Makinde, in her address, commended FLAC for considering Oyo State for support, assuring them that whatever donations they make would be use effectively.
She lamented that cancer has become a deadly diseases, saying all hands must be on deck to get rid of the diseases.
She urged people, particularly women to get vaccinated  against cancer, always go for routine cancer check and not wait till it gets to stage two or three in their body.
"As we all know that October is Cancer Awareness Month, let's pay attention to our health, let's be vaccinated and do the needful to get rid of cancer."
Speaking during a courtesy visit to management of UCH, FLAC chairman, Dr.Shinkafi said the purpose of the coalition was to increase awareness and advocacy on cancer and render necessary assistance to its patients.
She stated that the choice of cancer patients at UCH was deliberate considering the status of the hospital in delivering adequate healthcare to Nigerians.
In his response,  Chief Medical Director (CMD) of UCH, Prof. Jesse Otegbayo commended the gesture of FLAC, saying government alone can not provide all the needs of the hospital.
He noted that efforts of FLAC is not only encouraging, but also commendable considering the choice of UCH for the collaboration.
"I sincerely appreciate the commitment of FLAC towards supporting our cancer patients in the Hospital as well as your advocacy for improved access to cancer care services, this effort will remain indelible in the minds of those who will benefit from your kind gestures. It will also be a great relief to the hospital", he said.
He however said the donation will reduce burden on the internally Generated Revenue of the hospital that is being overstretched already and will also reduce the cancer burden in Nigeria.
"We want to appreciate the support of the Federal Government in making our Systems grow, and we appeal to you, the First ladies, former and present,  to useyour good offices to solicit for assistance for the Hospital. You can endow wards and projects and such will be named after you and it becomes a legacy you will be proud of."
Also speaking, Mrs Florence Ajimobi, wife of late former Oyo Governor AbiolaAjimobi, whose foundation, Access to Basic Care (ABC) Foundation, a member of the partner NGO facilitating the resources to the state appealed to parents not to listen to negative insinuations about the HPV vaccine for young girls.
She said the vaccine will help reduce the rate of spread of cancer among girls and women.
"We want to strike out cancer and the only way we can strike it out is by going around, telling people about early detection. Once they can detect early, we are hopeful and that is why we are here today.I
"My Foundation, ABC has been at the forefront in providing basic Medicare in Oyo state over the past 11 years. For me, this is something I am passionate about, to put a smile on people's face and save as many as we can. If we educate people and create awareness for them, then I think we will be able to strike out new cancer patients.
"And I just want to use this opportunity to tell parents that they should allow their children take the HPV vaccine, it's not going to harm them.
"Because I have been hearing some wrong insinuations that the vaccine will not make the girls get pregnant when they want, that's not true. Please, it is very important, let them take the HPV vaccine, the government is giving it free to everybody. So please go to the different health centres and have the vaccine.
"ABC is going to partner with Oyo state so that children from 10 to 13years can take it. Please don't listen to any negative news out there, let our children take the vaccine", she advised.