Greater Lagos Team Felicitates With Sanwo-Olu's SA On Commerce & Industry, Hon Oladele Ajayi Oluwadamilare On Birthday
Posted on April 15, 2021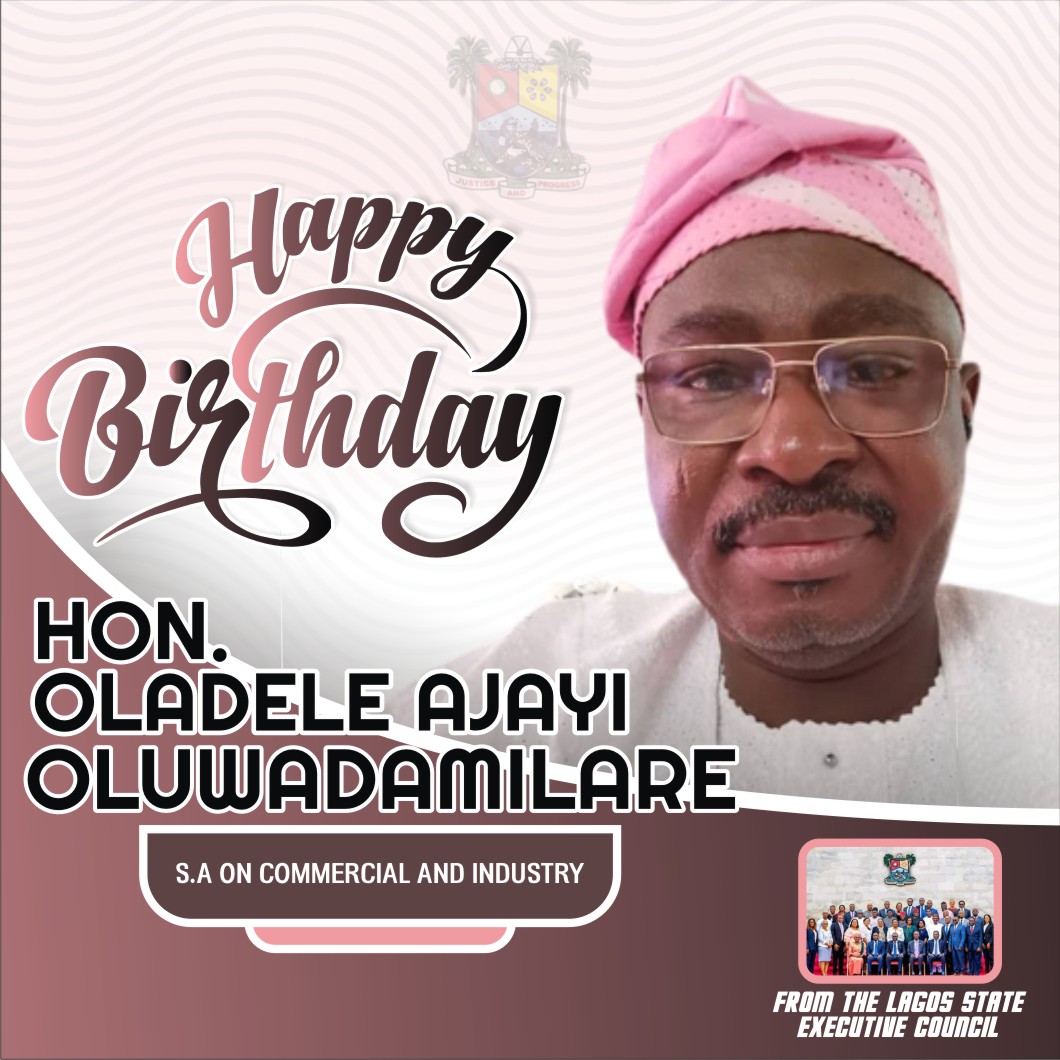 "There are two days in any human's life; The day we are born and the day we discover why" -Wilhcum Barclay"The Lagos State Executive Council proficiently led by the workaholic Governor of Lagos state, Mr. Babajide Olusola Sanwo-Olu, today 15th day of April celebrates an unassuming teammate, Hon. Oladele Ajayi Oluwadaremilare, the Special Adviser on Commerce & Industry, Lagos State, a versatile component of the Council, a great team player, very calm/ experienced technologist and an easy going personality.
"We anticipate that this token of felicitation commensurate with your commendable contributions to the feat recorded by the Sanwo-Olu's administration within the space of few years in office and since your appointment into the #GreaterLagos team so far."
"As you complete another circle in the journey of your life today April 13th 2021, we wish you many more prosperous, flourishing, triumphant and productive years ahead."
"On behalf of the entire Lagos State Executive Council ably led by Governor Babajide Sanwo-Olu, we appreciate you for your laudable contributions, wonderful commitment and exemplary dedication to the realization of the #GreaterLagos of our dream and your vigorous/unfeigned efforts to the Lagos Commerce & Industry sector with your valuable advises geared towards uplifting the State of Excellence, in line with Mr. Babajide Sanwo-Olu developmental agenda pillar acronymically represented by T.H.E.M.E.S."
"We pray God Almighty bestow upon you long life garnished with good health, happiness and all round success, increase you in wisdom, intelligence and tenacity as you open another foliate in the book of your life and grant you the grace to amplify your contributions towards taking Lagos state to Greater heights and making many more impacts to humanity."
"We join all well wishers and the state of Excellence to wish you a prosperous and blissful birthday."
"You deserve all the wishes, prayers, celebrations, accolades and encomiums of this special day because of your track records."
"Happy Birthday Hon. Oladele Ajayi Oluwadamilare, the Special Adviser on Commerce & Industry Lagos State."
EXCO WILL NOT FALL!
BABAJIDE OLUSOLA SANWO-OLU WILL NOT FAIL!!
LAGOS WILL NOT FALL!!!" Lagos State Executive Council concluded.