How I Became An Apostle Of Asiwaju's Philosophy – Olulade
Posted on September 16, 2020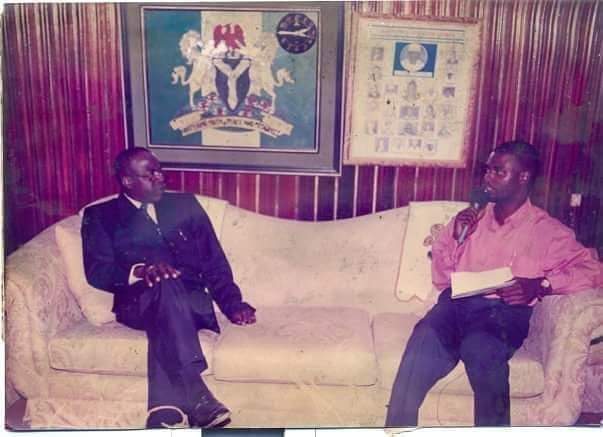 My first encounter with Asiwaju Bola Ahmed Tinubu was in 1998, even though sixteen years have passed since that day, the memory and honour of that fateful day still lingers and stays fresh in my heart. At the time, I was a student of Economics at the Lagos State University (LASU) and it was the dawn of a new political era. The sudden demise of General Sanni Abacha saw General Abdul Salam Abubakar ascend the exalted office of Commander-in-Chief of the Federal Republic of Nigeria.
I had been keenly involved in politics as a student leader. I was a member of the student electoral committee of LASU and was part of the student movement that agitated for the ratification of the late Chief Bashorun M.K.O. Abiola's mandate. Prior to General Abdul Salam Abubakar's sudden ascent to power there had been outcries and agitation from the public, student unions, international community and organised civil societies with NADECO at the vanguard demanding the installment of Chief Bashorun M.K.O. Abiola winner of the General Ibrahim Babangida annulled June 12, 1993 presidential election, an election widely acclaimed to be the most free and fair election ever held in the country.
It was on the 8th day of June, 1998 that the news broke of the sudden death of General Sanni Abacha. I remember that his death was greeted with wild jubilation and dancing on the streets of Lagos and other parts of the country. In my own opinion, the funfare that greeted the news of his demise was not because the man had died, but rather the triumph of good over evil; going by the heinous acts the man committed while alive. I joined the euphoria of the moment; it was a feeling of ecstasy. My hopes as well as others were that with the demise of General Abacha, Chief M.K.O. Abiola would be sworn in as President. This however did not happen because approximately one month after General Abacha passed on, Chief M.K.O. Abiola died under questionable circumstances.
The news of Chief M.K.O's death was sudden and shocking; it threw the country into a period of national grief, despair and confusion. His death was a monumental loss to the struggle for the actualization of the June 12 mandate. Even at that, his demise did not diminish the agitation for democratic change from the pro democrats amongst whom Asiwaju Bola Ahmed Tinubu was an arrowhead and played a pivotal role. With the death of General Abacha and the coming to power of General Abdul Salam Abubakar, the agitation for democratic governance was sustained. The military eventually succumbed to the pressure mounted by the pro democratic movement and the process for democratic change was initiated.
MY MEMORABLE ENCOUNTER WITH ASIWAJU
Before I met Asiwaju, I had developed an admiration and liking for him as a Senator representing Lagos West under the flagship of the Social Democratic Party (SDP). His intrinsic intelligence, coupled with his pedigree and articulate presentation on the floor of the senate, his constructive comments on national issues and the colossal role he played alongside others at the risk of his life and that of his family in the quest for democratic governance in our country had endeared me to him.
So when the opportunity to meet him presented itself I was delighted. The hardworking Governor of the State of Osun, Ogbeni Rauf Aregbesola a.k.a Omoluwabi facilitated my meeting with Asiwaju who was seeking our party, Alliance for Democracy's ticket for the governorship election of Lagos State at the time having distinguishing himself as a senator and being at the vanguard in the agitation for democratic governance under the draconic rule of General Abacha. I joined his campaign train having listened to him outline his stirring vision and aspiration for Lagos. I can proudly say that I was amongst the first people in BATCO (Bola Ahmed Tinubu Campaign Organisation).
As part of BATCO, we took his campaign to the nooks and crannies of Lagos and our hard work paid off. Asiwaju not only won the nomination to fly our party's flag in the election, he went on to win the governorship elections for two consecutive terms against the will of the powers that be and became the 3rd and 4th Executive Governor of Lagos State. I remember with nostalgia leading a handful of students from various tertiary institutions on a courtesy visit to him at Alausa to further show our unalloyed support for his new administration.
Asiwaju excelled tremendously as Governor. He showed how the government must be a potent instrument for growth and development. His achievements are enviable and have never been a subject for debate but rather have provided inspiration to our generation and generations of Nigerians yet unborn.
The evidence of his impact in all MDAs while in office is compelling and visible for all to see without prejudice. Is it his admirable financial intellectual capacity to raise the state internally generated revenue from the N600 million monthly he inherited to billions of Naira that is funding the rapid infrastructural development we are witnessing today, is it his ingenious insight and tenacity to create new MDAs and 37 additional Local Council Development Areas to further spread the tentacles of government and thus bring democratic gains closer to the people in spite of the odds that where against him at the time, or is it his giant strides in the education sector, with the building of the millennium schools, his healthcare delivery policy that saw the proliferation of primary healthcare centres across the state, both in the urban and rural areas, his free eye glasses and eye surgeries, his free heart surgeries, his free limbdeformity, corrective surgeries, his free ambulance and emergency services etc.?
Asiwaju's achievements as Governor are enviable and too numerous to list out, but for record purposes and history lessons; for human memory is short, it is important that we his apostles continue to highlight and celebrate his achievements. Aside the obvious land- marks we can see such as the numerous infrastructural developments credited to his administration and those he initiated during his reign as Governor, his impact was mostly felt in the intangible areas such as the creation of jobs and services. For example, it was his government that computerised the civil service and introduced capacity building programmes in the state civil service.
His administration also created the Office of the Public Defender to provide free legal service to the less privileged, LASAMBUS, LASTMA, and the initiation of the first Independent Power Project (IPP) in Nigeria. The project if was not frustrated was designed to produce 375 MW and 450 MW serially to illuminate all of Lagos State, but for the bureaucracy and ill faith politics of the Federal Government which was bent on frustrating his government at the time, the project would had been successful.
Asiwaju's greatest achievement as Governor for me is his vision to lay a progressive foundation, set the agenda and roadmap for today and probably the future governance in our state, handing out equal opportunities to everyone affiliated to him irrespective of age, gender, tribe and religion.
ASIWAJU'S PHILOSOPHIES
Asiwaju's philosophies are easy to spot as they are reflected and are embedded in his words, thoughts and actions. His rousing contributions in the struggle for democratic governance, his dogged commitment to democratic values and beliefs i.e. his advocacy for true federalism, democracy, the rule of law and his dedication to the principles of good governance stand out. His deep compassion for the poor and the downtrodden explains his unending spirit of philanthropy and his pursuit for social equality, justice and equitable resource allocation.
ASIWAJU SEES FUTURE AT THE PRESENT
One of the characteristics of great leaders of all time is the ability to see beyond others coupled with the tenacity and wisdom to actualise their visions. Asiwaju has the capacity to see beyond the immediate, he saw through his lens many issues in the past that are just visible to us today. Long ago before the discourse on constitutional reforms, electoral reforms, state police, sovereign national conference and true fiscal federalism came to the front burner, Asiwaju was the first to raise national consciousness and questions to those issues.
ASIWAJU'S DECISION MAKING PROWESS
Asiwaju's wisdom for decision making is immeasurable. He has taken various decisions in the past that were thought to be unpopular at the time only for people to see the relevance of such decision down the road. The emergence of the current governor of Lagos State, His Excellency Babatunde Raji Fashola is a reference point, at a time when there were about 13 other qualified lieutenants jostling to occupy the seat he waved emotions aside and took a decision which was regarded by many as unpopular. The unpopular decision would later prove Asiwaju's unmatched talent at decision making.
The decision to engage ACN our defunct party in a merger with selected political parties was equally criticised by some party members and faithful. Today the merger decision is now being widely celebrated by not only the progressives but Nigerians in different quarters.
ASIWAJU'S PEDIGREE
There is no Nigerian alive or that has passed to the great beyond that has been celebrated or showered with eulogising words in the manner Asiwaju has been extolled in appreciation. A look at some words and phrases that Asiwaju has been described with will tell one how great he is and how he is a blessing to our generation: a consummate politician, a consistent democrat, a tested and trusted leader, a towering progressive arrowhead, a seasoned administrator, a shrewd investor, a financial surgeon, a great organiser, a powerful mobiliser, a master strategist, a man of vision and foresight, a courageous fighter, a defender of the oppressed, an apostle of the rule of law, a foremost philanthropist, a people's politician, a humanist, a firebrand, a maestro, a model, a legend, a tower, a pillar, an enigma, a man with an impeccable desire for service, a man with an unending spirit of generosity, an uncommon philanthropist, a great thinker, an agent of change, a vanguard of transformation, an advocate of true federalism, and a beacon of hope, need I say more?
Asiwaju has been conferred with numerous international awards, honours from reputable tertiary institutions and traditional titles like no other, titles such as the Asiwaju of Lagos, the Jagaban Borgu of Borgu Kingdom, the Aare Ago of Egbaland, the Agba-Akin of Ijesha Land, the Aare of Ile-Oluji Ondo, the Aare Atayese of Ilawa Ekiti, the Ezeo- Baludikegwu of Oko Anambra, etc.
WHAT ASIWAJU MEANS TO ME
There are many sides to what Asiwaju means to many people. To me he is a man with an impeccable desire for service, a man whose life is tailored towards ensuring every man lives for what they adore strongly, a motivating force, a man who sees and brings out the best in others, a man that has an unending spirit of generosity, a leader of leaders.
MY GRATITUDE TO ASIWAJU
I am full of praise and grateful to Asiwaju for his sacrifices and leadership, what some people fail to reckon with or are quick to forget is the possibility that without his like we would probably still be living in the shackles of the military repression and the exploitive governance of the PDP in many if not all the states in the country. I am bold to say without Asiwaju's leadership, perseverance, vision and tenacity when many politicians compromised and were overpowered in the third republic, not much will have changed in our polity today. So it comes with no surprise the mass exodus of progressives all over the country to align with his vision and school of thought.
I am indeed thankful to Asiwaju who for the today myself and other contemporary progressive politicians are thriving in, he gave his yesterday.
Be Inspired!
Be Involved!
God is Involved!
NOTE:
This article was published in 2014 edition of ELENIYANCARES Constituency Magazine. To read more interesting write-ups or to download the entire Magazine, visit:
http://eleniyancares.com/download-eleniyan-magazine/