How Social Entrepreneur, Funmilayo Waheed Showered Love To Scores Of Youths On Val's Day
Posted on February 15, 2020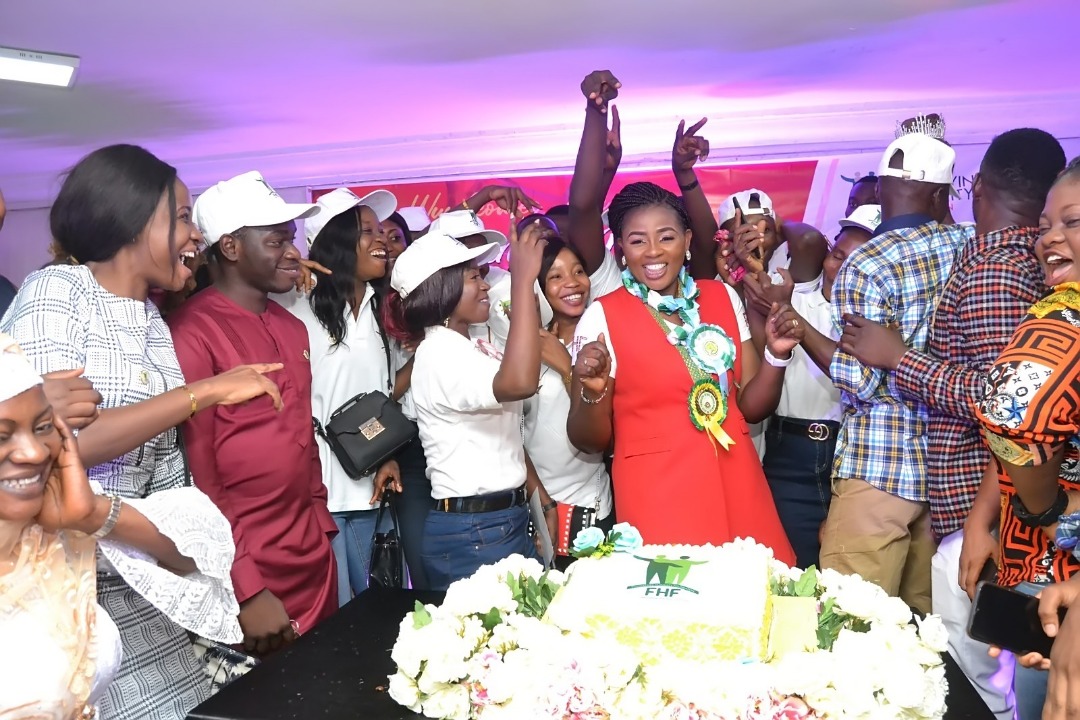 Friday February 14, 2020 will remain fresh in the memories of hundreds of students and other youths who gathered inside the Mayfair Hall on Otunba Jobi Fele Way, Alausa, Ikeja, Lagos venue of the Valentine's Day Hangout with philanthropist, Engineer Funmilayo Ayinke Waheed and her nonforprofit, Funmi Ayinke Humanity Foundation.
On a day to celebrate love, these young men and women had gathered for the purpose of meeting Funmilayo, their mentor and helper, who has given them hope and thrown lifelines at them in the midst of intractable challenges.
It was a day to be remembered for most of the guests –majorly undergraduates and graduates alike– who came to really confirm whether all they have heard about Funmilayo were true.
P.M.EXPRESS gathered that prior to the event, the stories about Funmilayo's philanthropic activities dotted the social media space, yet those who had benefited immensely from her Foundation have had little or no opportunity to meet her in person.
When the idea of Valentine's Day Hangout came up, they all saw it as an opportunity to personally meet and appreciate the young lady who has touched the lives of many and has continued to help the indigent.
The guests came from all parts of Nigeria: South East, South South, the North as well as the South West.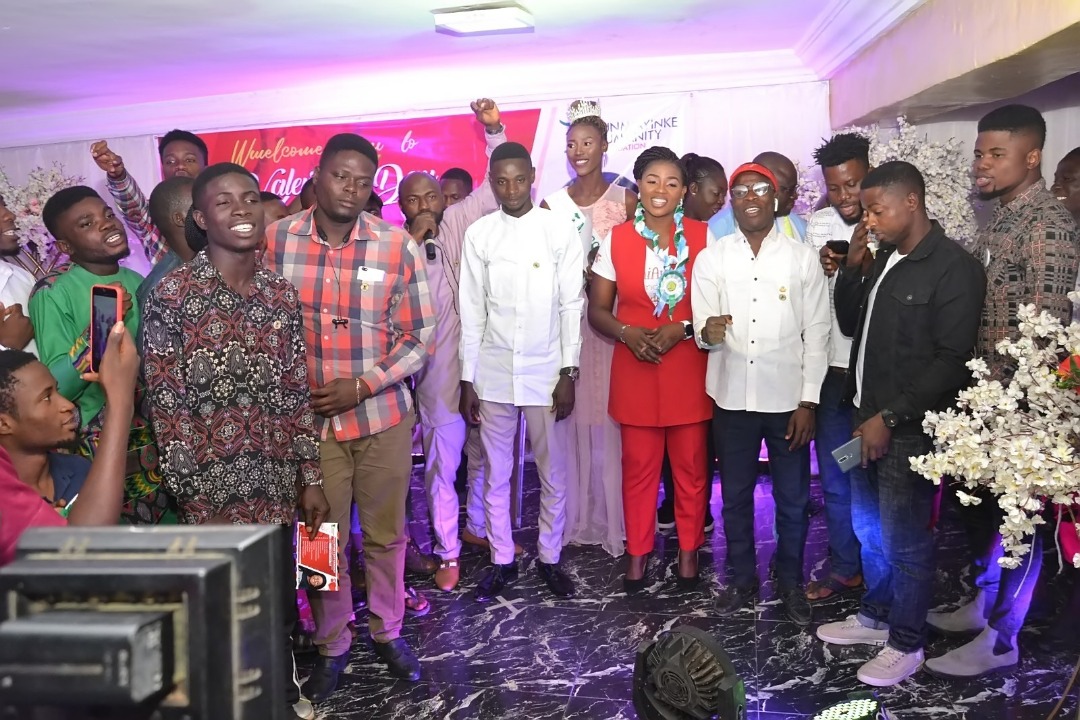 Emotions ran high among the guests as they poured encomium on the Engineer and social entrepreneur who has always been the giver but in the spirit of Valentine's Day, she was appreciated with loads of gifts including paintings, cake, roses, and various other items in return during the event.
Indeed, the National Association of Nigerian Students, sent in a powerful delegation to honour her as their matron.
The Students' body chronicled Funmilayo's achievements and reeled out her interventions on behalf students at every level –from primary to secondary and tertiary– who ordinarily would have dropped out of school.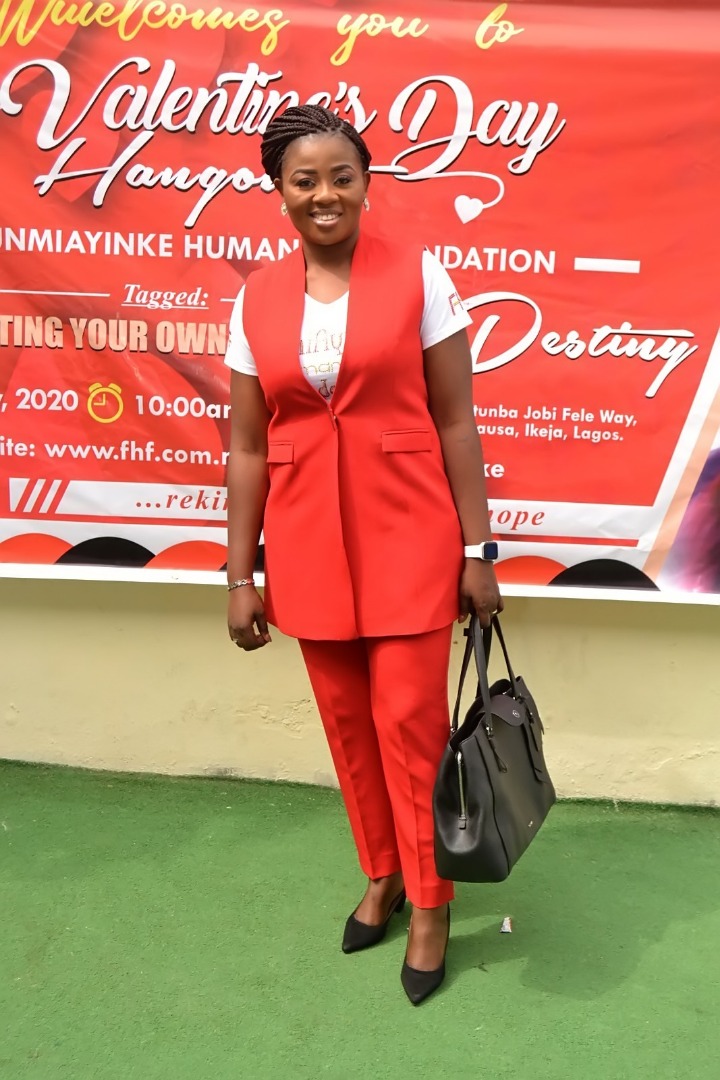 In her welcome address, the young and pretty Engineer Funmilayo, who was there with her husband, Professor Waheed Adekojo, an Engineering Professor and former Deputy Vice Chancellor of FUNAAB, was all smiles as she went down memory lane to why she started the FunmiAyinke Humanity Foundation.
She also gave details of how far she had gone with video slide to show what she has done for widows and single mothers in Ogun State towards the end of last year.
According to her, the Foundation caters to the needs of various groups of indigent people and she is happy with the way Nigerians have responded to her show of love.
Engr. Funmilayo also explained to those who were hearing of her activities for the first time, and asked to fill forms at the point of entry into the venue of the event, that it was basically to collect their data, and know how the Foundation would be able to help them.
The Registrar of Federal University of Agriculture, Abeokuta was on hand to give a lecture titled; "Charting your own Course and Destiny", to encourage the youths who were in attendance.
It was a moving lecture as the guest speaker shared personal story of how he became an orphan at age six having lost one of his parents at four and the second on the day he came back from school with his first elementary school result. Undaunted, today, the man holds a PHD and also occupy an enviable position in the society.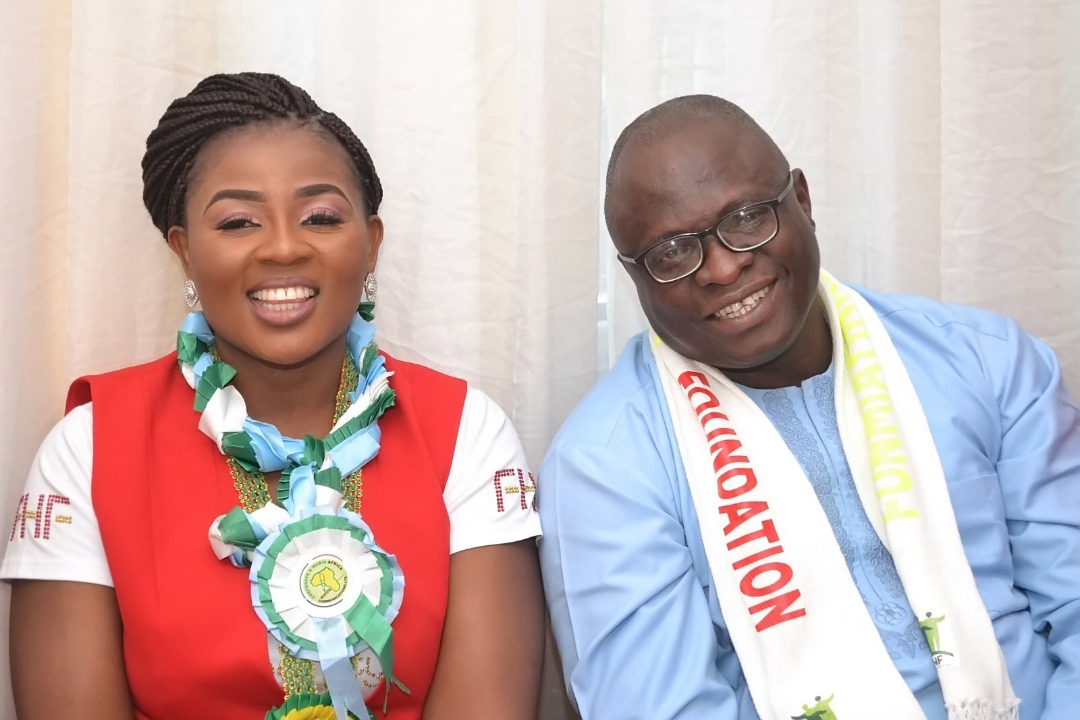 In a chat with her husband, Professor Waheed Adekojo, who couldn't hide his emotions, said he was touched seeing people appreciate how his family has touched their lives for good, given them hope in a society where hopelessness pervades every sector and homes.
Undoubtedly he left with a feeling of satisfaction that his decisions about his wife and FHF was right after all.
The major highlight of the day was the electrifying performance by former BBNAIJA star and guitarist, Debbie Rise.
Her performance left many guests asking for more as she seemed to have something for everybody from the elderly to the youths who just could not have enough.
There were also additional performances by some talented members of the FHF family.