How To Improve Rice Seed Germination And Crop Yield?
Posted on July 5, 2022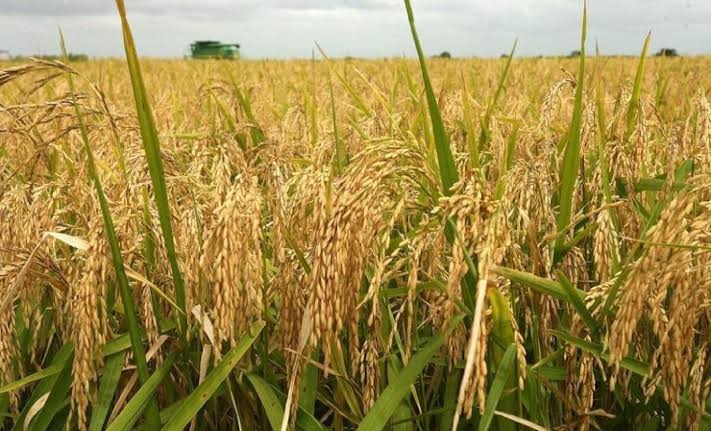 Rice is a prominent staple food and an economically important crop. In many developing countries, rice provides essential calories for everyday diets but it's more than a crop. 
Rice plays a significant role when it comes to global food security. It fulfills the food requirements of more than 50% of the total global population. And that's why farmers across the globe are trying to improve rice yield.
If you are one such harvester, we have compiled a short guide for you. This will help you understand the growth process and why water is essential. We have also enlisted some progressive ways that can help you boost the crop yield.
Is Water Necessary for Rice?
Contrary to popular belief, rice does not need water to grow. It can grow in the same conditions as many other summer annual crops. This is the reason why so many gardeners are choosing rice crops to grow at home.
The reason why farmers use water to grow rice is simple. The only purpose of using water is to suppress the weeds.
As compared to weeds, water does not affect the rice crop. In fact, the plants thrive in water whereas other plants cannot grow properly in flooding. This is the main reason why harvesters utilize water to improve rice seed germination.
Different Stages of Rice Crop Growth
The Rice crop is normally grown in the fields but some also use containers to grow it at home. 
Soil that has silt loam and heavy clay is considered suitable for rice plants. If you are growing it in the field, we recommend you use a grain drill to plant the seeds. However, if you are farming on a larger scale, using an airplane is a good idea.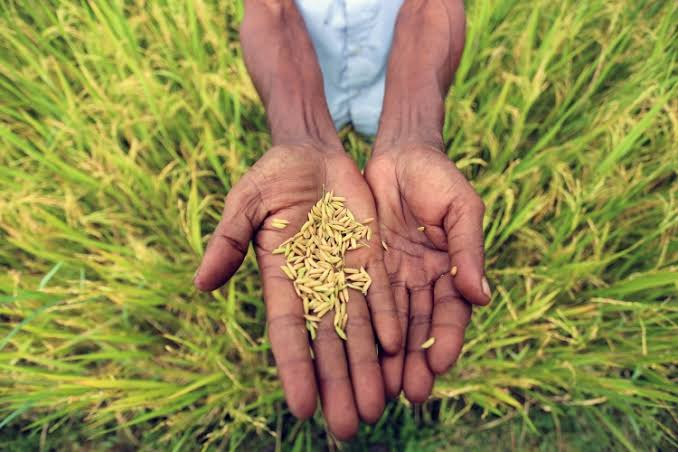 Germination Stage
Rice plants normally germinate after 3-5 days of seed sowing. And the crop usually grows up to three feet after four months. This depends on the type of soil, availability of nutrients, and irrigation.
If you are growing rice in water, we recommend you keep the field flooded. Water the field and make sure water remains higher than the soil layer.
Growth Stage
Depending on the variety, rice plants start growing leaves after 50 to 90 days. The flower stalk or panicles emerge at this stage known as the 'booting' stage. With time the panicles will start growing and at the 'heading' stage the bloom starts revealing itself.
The next stage is flowering which usually begins after one day of heading. The process normally takes one to seven days to complete.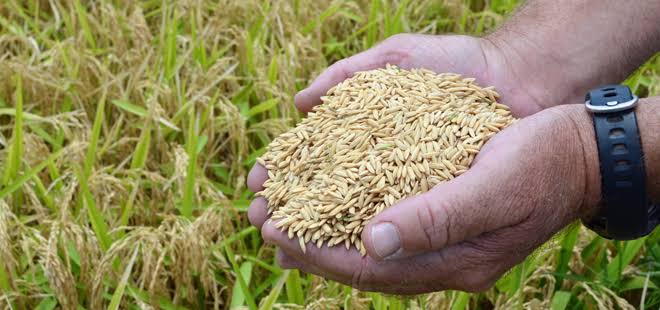 Pollination Stage 
The pollination of the rice crop, like all grains, is done through the wind. And once the pollination is done, seeds take about a month to fully mature. However, the time may change depending on the weather conditions.
For example, rice seeds can take a longer time to mature during wet conditions.
How to Improve Rice Crop Yield?
It's necessary for a harvester to know the factors that can hinder or boost rice yield. With proper care, you can achieve a higher rice yield. All you need to do is follow the best agricultural practices.
Below are the key factors that you must bear in mind as a rice farmer.
Keep in Mind Weather Conditions
A slight change in weather can affect the rice yield rate. Weather changes like flood risks, water shortage, and temperature variations can lower the crop yield. That's why you should consider the weather conditions if you want to improve production.
Availability of Water
If you are growing rice in water fields, you need to ensure consistent availability of water. That's because as a paddy crop, rice plants require a high amount of water.
Low availability of water and droughts can seriously impact crop yield. If there isn't sufficient water for the crop, the average yield rate will decrease.
Water availability also depends on the area where you are growing crops. In the USA, Texas, Missouri, Mississippi, Louisiana, California, and Arkansas are major states that produce rice. 
Pick the Right Seed
One of the major factors that can greatly impact the overall crop yield is the choice of seed. Make sure the seed variety you are using has:
A higher germination rate

higher crop growth rate

Consistent and uniform rice maturation

Resistance against diseases and stress
Don't Forget to Check the Nutritional Value 
Another thing that you should do to improve rice yield is to measure the nutritional value of the field. That's where soil testing can help you evaluate the nutrients.
However, you must do soil testing accurately to get better results. When you are doing soil testing, focus on the whole field, not just one part of it. You need to ensure your fields have a sufficient amount of both macro and micro-nutrients.
Macronutrients include nitrogen, potassium, phosphorus, calcium, magnesium, and sulfur. Whereas micro-nutrients include copper, boron, manganese, chlorine, zinc, iron, molybdenum, hydrogen, and carbon.
You cannot expect to have a higher rice yield if your land doesn't have consistent nutrients.
Pay Attention to Field Leveling
One of the best agronomic practices that can impact crop yield is field leveling. A leveled field improves the rice yield and consumes less water. So, make sure your fields are properly leveled and titled before you start sowing.
When you have a well-leveled field, the rice seeds can germinate and grow quickly.
Consider the Drainage
If you are sowing rice in fields and using water to grow, pay attention to drainage. That's because the rice crop requires continuous water exchange to grow properly.
Proper water drainage helps in keeping the pests away while preventing fungal development. So, to maintain crop health, you must ensure proper drainage.
Take Care of Diseases and Insects
Rice, like other crops, is prone to diseases and insects. Viruses, fungi, and bacteria are the major organisms that cause diseases. The best way to cope with these is to pick a resistant seed.
In addition to that, you should follow IPM practices to prevent insect and disease attacks.
Takeaway Words
We hope you are now aware of the factors that play their role in rice crop growth. All you need to do is pick a resistant seed variety, prepare the solid, and keep an eye on nutrient availability. And by keeping in mind these factors, you can improve your rice crop yield.