Humanitarian Service Icon Award: Another Worthy Feather On The Cap Of Ekwunife
Posted on April 30, 2022

KINGSLEY UBANI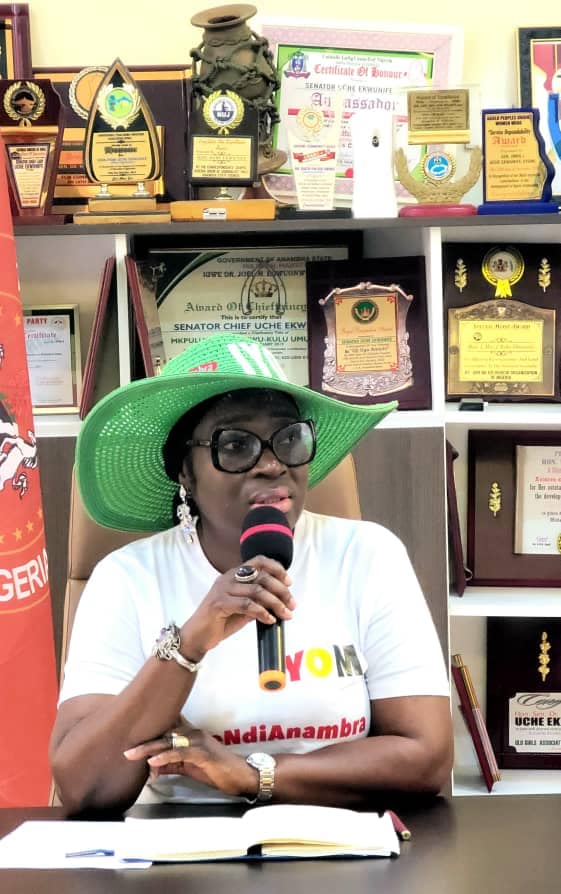 In the next few days, particularly on May 7, 2022, the Senator representing Anambra Central Senatorial District, Uche Ekwunife PhD, will alongside other outstanding Nigerians receive the 2021 Sun Award.
Ekwunife will be conferred the Humanitarian Service Icon Award, an award category reserved for Nigerians who have made significant impact on humanity.
To many Nigerians, Senator Ekwunife is a lawmaker saddled with the responsibility of making laws for peace, order and good governance, but for those who have observed her closely, the grassroots-friendly lawmaker is first a humanitarian before anything else.
For sake of clarity, a humanitarian is someone who is concerned with people's welfare, and the alleviation of suffering; A humane or compassionate individual – this definition sums up the personality of the Distinguished Senator.
Oftentimes when Senator Ekwunife's achievements are discussed, her numerous accomplishments in infrastructural development usually take the centre stage, however, for Ekwunife, nothing is more important than establishing lives and alleviating suffering. By simple observation, it can be said to be her primary purpose in life. The energy the federal lawmaker commits in lifting those at the lowest ebb of the society is unparalleled.
Very few individuals have the ability to positively affect humanity in and outside public office like Senator Ekwunife. Her community development projects, empowerment programmes and legislative inputs and outputs are all focused on making life better for the common man. It is therefore not surprising that the organizers of the Sun Awards have found her worthy to be a recipient of the 2021 Humanitarian Service Icon Award.