Jilted Man Docked For Intimidating Lady With Hired Thugs To Love Him 
Posted on August 5, 2022
CYRIACUS IZUEKWE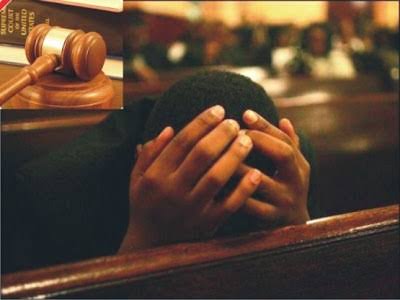 A young lady, Ayomide Tella, did not bargain for what happened to her recently in Lagos State after she jilted a young man, Blessing Jibayode, who had wanted to engage her in relationship but she refused.
P.M.EXPRESS reports that the lady's refusal, which looked like a disgrace, angered Jibayode and he then hired two of his friends,  Idris Salaudeen and Salami Shogunro, as thugs who armed themselves with axes, cutlasses and attacked the lady, Ayomide, forcing her with intimidation to date Jibayode.
The incident happened at Araromi Street, Akiode area of Ojodu, Lagos, where they reside.
The alleged intimidation and assault was reported to the Police and three friends behind the act were arrested and detained at the station for interrogation.
At the Ojodu Police Station, where they were detained for interrogation, Jibayode informed the Police that he was a respected young man in the neighbourhood, was shocked when he approached Ayomide and she rejected him and he was unable to bear the shame.
He reportedly admitted to have informed his friends about the embarrassment and did not hired them as thugs to attack her but to persuade her to accept his advances to save him the embarrassment in the neighbourhood.
After thorough interrogation, the Police found their action culpable and subsequently charged them before the Ogba Magistrates Court for conspiracy and threatening with violence to intimidate Ayomide after she had refused going out with Jibayode.
They pleaded not guilty before the Court when they were arraigned.
 The prosecutor, Supol Benson Emerhi, then asked the Court to give a date for hearing since they pleaded not guilty to enable the Police to prove that they actually committed the alleged offence.
The Presiding Magistrate, Mr. M.A. Owolabi, granted them bail in the sum of N100,000 with one surety in like sum, who must show evidence of means of livelihood and tax payment.
They were remanded in the Correctional Centre at Kirikiri town, Lagos, pending when they will perfect their bail conditions while the matter was adjourned till when the Court resumes sitting due to the annual leave embarked on by the Presiding Magistrate.