Like Asiwaju, Like ARK
Posted on March 29, 2021
SOLA FOLOWOSELE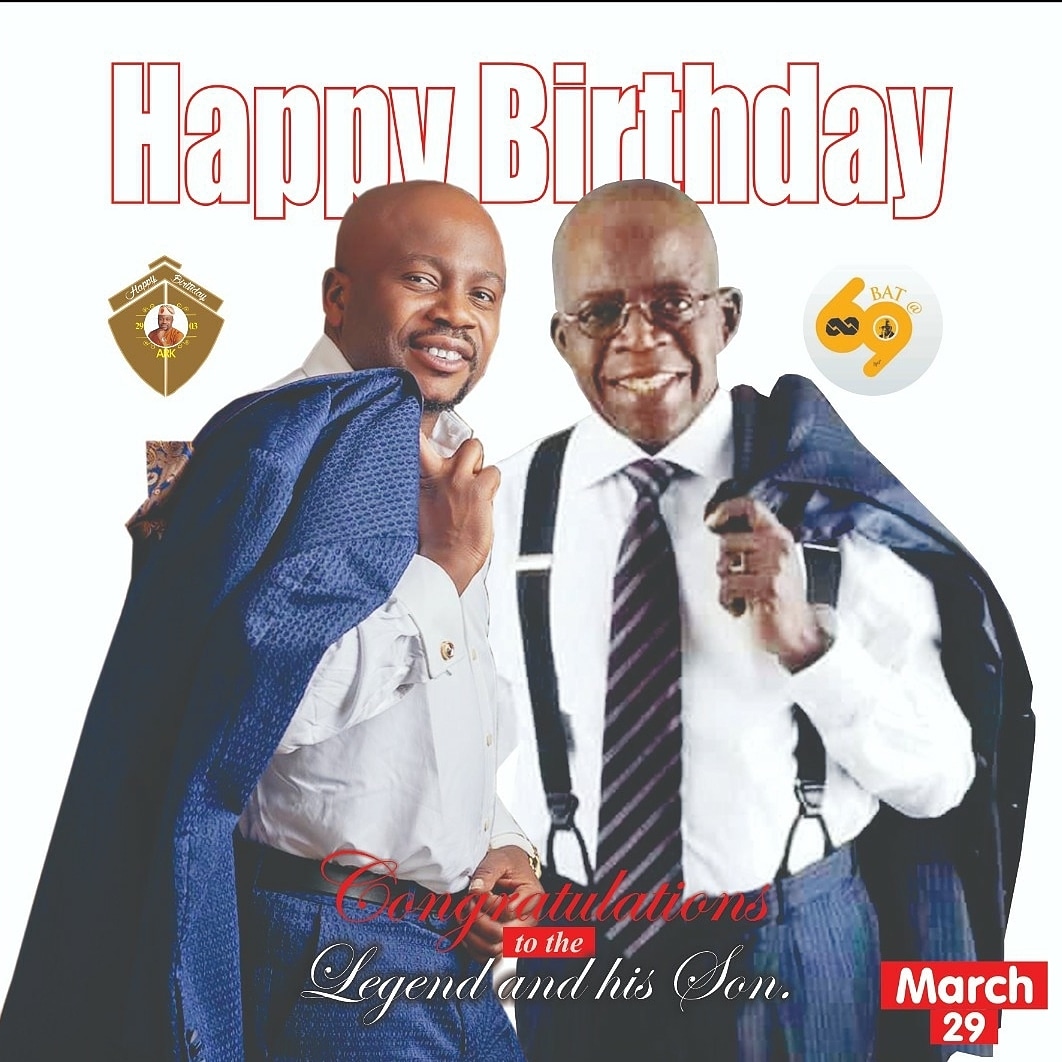 Certain things in life are viewed differently by different people. To some, certain things may appear as coincidences but to others they are Divinely ordered or orchestrated by unseen hands, which made Malcolm Nance to say, "For an old spy and codebreaker like myself, nothing in the world happens by coincidence".
Today, Monday 29 March, is the birthday of the enigmatic National Leader of the All Progressives Congress, APC, Asiwaju Bola Tinubu. It is equally the birthday of the young, vibrant and energetic Lawmaker, Hon. Adedamola Richard Kasunmu (ARK), representing Ikeja Constituency 2 in the Lagos State House of Assembly.
Having a birthday alone is great but sharing one's birthday with a great personality like the colossus, Asiwaju Tinubu, is an awesome feeling and one that must be treasured.
The bond between Asiwaju and Hon. Kasunmu is much more than what anyone can describe in words: it's beyond father-son relationship.
Right from childhood, Asiwaju has been a solid pillar of support not only for the dynamic lawmaker but for the entire Mogaji/Tinubu family.
For Hon. Kasunmu, his pedigree is as impressive as it is intimidating. Yet, his very courageous and admirable father, Asiwaju Tinubu, opened up the pedestal for him to pursue his passion for service to the fullest.
He started out as a political activist, basically fighting for active democracy, just like Asiwaju Bola Ahmed Tinubu and making sure that youth inclusion in politics was an area that needed to be paid attention to.
"I have drawn a lot inspiration from Asiwaju's personal lifestyle, his leadership styles and every other part of him that qualifies him to be a great man and I believe this is something to take to the future," Hon. Kasunmu once quoted.
Though born into a political family, Hon. Kasunmu had to learn the ropes, and teach himself through the dynamics of politics. He grew into it, got interested in it and saw it as a way of pursuing his passion in taking care of people and their needs and being selfless.
As we wish the great leader, Asiwaju Bola Ahmed Tinubu a great 69th birthday, in his honour today to mark his own birthday too, let take a look at some of the most recent Scorecard of Hon. Kasunmu.
1— LAW-MAKING AND OVERSIGHT FUNCTIONS—In October 2019, the Leadership of the House of Assembly appointed me as CHAIRMAN, HOUSE COMMITTEE ON LANDS.
In this capacity I have been able to get involved in various land dispute resolutions across the state and carry out oversight functions to a number of government schemes across board. I have also been actively involved in law-making processes through insightful contributions on the floor of the House. My contributions often form part of the resolution of the house. An example of this is the Market Board resolution of 2020.
2—FREE GCE REGISTRATION—Two-Hundred (200) Students from across the constituency benefitted from ARK FREE GCE REGISTRATION 2020. This cut across all our 10 wards as well as various groups, individuals and subgroups. The cost of each Registration is N15, 000 bringing the total expended on the scheme to N3 MILLION.
3—EDUCATION ENHANCEMENT—Over 1000 school girls benefitted from ARK EDUCATION ENHANCEMENT INITIATIVE early this year.
Under the Phase 1 and 2 of this programme, we partnered with Ms Jonna Gudmundsen from the Republic of Denmark and Hameedah Poverty Relief Foundation of Nigeria to educate, train and empower our school girls across the constituency on menstrual hygiene and other vital aspects of school life.
(Some of our women leaders, councillors and youth leaders seated here, assisted in making the programme a success in Ojodu and Ikeja). The third phase of the initiative will focus on the boys.
4—SPORTS –A number of constituency youth won various cash Prizes and trophy during ARK 8-LEGEND BALL SNOOKER COMPETITION held at Presken Hotel, Ikeja in January, which I sponsored 100%.
Celebrities like Saidi Balogun, Tunde Blackk and others were in attendance as well as some of our Youth Leaders. More competitions will take place before the end of the year 2020.
5—YOUTH DEVELOPMENT—
(i)-Ten (10) youths from Ikeja Constituency 2 got my sponsorship to participate in IBILE YOUTH ACADEMY LEADERSHIP TRAINING. Out of these ten, Miss Yewande Oseni emerged as one of the finalists and she is currently representing Lagos State a DEPUTY DIVISIONAL YOUTH AMBASSADOR for Ikeja. She is here in this Hall.
(i)- One of our Constituency entertainers, Ahmadu Shanana (a.k.a Shana Show) got enlisted to perform at the Greater Lagos Fiesta through my recommendation last December. And he did very well and made good money.
We intend to use his platform to support and inspire other upcoming entertainers in Ikeja 2.
(c)-Another youth, Segun Benson (JP) from Ikeja got sponsorship to Jerusalem pilgrimage from my office.
6—EMPLOYMENT/VOCATIONAL SUPPORT—
(i)–Unlike the previous year, the number employment I successfully processed was quite low this time.
Out of 31 employment processed, only 20 % have so far got their employment letters. These include one (1) Medical Doctor, Two (2) LASTMA and Three (3) with LSPWC.
The remaining, which cut across Teaching Service, Health Service, NDE and others are still at various stages as at today 29th October, 2020. As soon as they get their letters, we will announce it.
(i)-Also Five (5) Vulcanizers and Two (2) Barbers benefitted from State Government empowerment through my office.
7—FACILITATION OF ROADS REPAIR—Some of the roads nominated to the state Government for repairs from my office include:
(i)-Aina Street (Ojodu)
(ii)-Odozi Street(Ojodu)
(iii)-Ogunlowo Street(Ikeja)
(iv)-Mojidi Street (Ikeja)
(v)-Kasummu Aleshiloye Street, Agidingbi and a number of others.
8—N25 MILLION COVID-19 RESPONSE:
The total figure spent on my response to COVID-19 from the beginning of the pandemic till after the ease of lockdown was about Twenty Five (N25) Million Naira. This covered:
(i)-Production and distribution of 5000 units of 250 ML Hand Sanitizers
(ii)-Production and distribution of 5000 high quality Nose Masks
(iii)-Purchase and distribution of my personal FOOD PALLIATIVES in three Phases.
(Iv)–Distribution of Lagos State phase one Palliatives
(v)-Under ARK COVID-19 CASH TRANSFER, over 500 Constituents benefitted from Direct Cash Transfer in sums ranging from a minimum of N5000 to N50, 000 during the lockdown period when nobody could go out.
(v)–Production and distribution of Covid-19 awareness materials
9—OTHER FINANCIAL ASSISATANCE—One Hundred and Two (102) Constituents got quality Financial Assistance in various sums to sort out personal needs ranging from Business support, health, accommodation, social and other needs. Total TRACEABLE money expended on Financial Assistance within this period is N5.6M.
This excludes Christmas, Sallah and COVID-19 cash reach-out.
10— BOREHOLE WATER INITIATIVE
4 Borehole Projects completed and Commissioned as Part of his Birthday Celebrations
at the locations below 👇🏻
(i)-Ipodo
(ii)-Ojodu (Aina Street)
(iii)-Yakoyo
(iv)-Anifowose
In conclusion, we want to wish the Legend and the National Leader of the great party, All Progressives Congress, APC, Asiwaju Bola Ahmed Tinubu and his son, Hon. Kasunmu, a happy birthday and many more happy returns!