Meet Top DPOs In Lagos (3)
Posted on February 2, 2019
CYRIACUS IZUEKWE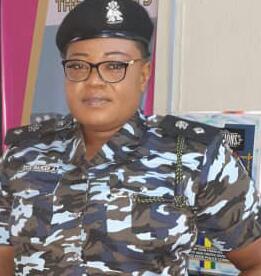 It was Thomas Hauser who said that being a good police officer is one of the most difficult, dangerous and idealistic jobs in the world. It is particularly important to note that policing is very demanding, as their work demands that they be permanently on call. At the same time the Police Force has had a bad name over the years because of a few rogue officers who have given new meaning to the saying; one rotten egg spoils the entire pudding. By their selfish acts, they have dented the image of the police and as fate would have it, the bad elements in the Force are easily noticed.

But it would be dishonest to deny the existence of a good number of police officers who execute their duties with diligence and dedication.

Accordingly, P.M.EXPRESS deems it fit to highlight such hard-working officers like CSP Oyinpreyobofa Francess. Hard work, as often said, pays. Hopefully, this piece will help to goad other officers who often treat their work shabbily to work hard and honestly for the good of society.

CSP Oyinpreyobofa Francess A. (Nee Nemisinghan) is one of the police officers worthy to be mentioned for positively positioning the image of the Nigeria Police. She is currently serving as the DPO, Ago Police Division. Oyin, as she is fondly called, is an intelligent officer born and raised in Warri and has great passion for the job.
CSP Oyin has displayed the ability to dislodge hoodlums and decimate criminal elements operating within Ago Palace since she resumed as the DPO. According to the residents, Ago Palace was notorious for various crimes including armed robbery, burglary, fraud and other criminal vices that were of serious concern to the police authorities. Hence, the deployment of Oyin to restore peace in the area. Thanks to the efforts of CSP Oyin who brought her intelligence, skills and hard work to bring sanity in Ago Palace.

How was she able to achieve the feat? According to the residents, Oyin employed modern community policing strategy; it worked perfectly and the resultant effect can be seen in the area. She brought all the stakeholders in the area and sensitized them on the need to build consensus on security. The stakeholders agreed and gave her their support which has brought relative peace to Ago. Today, people in Ago Palace area have peace and are grateful to Oyin and her officers at Ago Palace Division.
CSP Oyin is a graduate of Sociology and also holds a Masters Degree in MILR Industrial Labour Relations both at Delta State University, Abraka. She got enlisted into the Nigeria Police Force as a cadet (ASP) Assistant Superintendent of Police in 2002. She like many others was trained at the Police Academy, Wudil Kano, before she was posted to Enugu State. She passed out in 2004 from the Academy.
She has also attended several courses and conferences both at home and abroad. She is a member of (IACP) International Association of Chiefs of Police and also a member of International Association of Women Police (IAWP). She was a one time (PRO) Public Relations Officer of POWA and presently the Social Secretary of POWA Lagos State Chapter. Oyin was also a onetime secretary to the famous Baptist Girls High School Agbor, Old Girls Association, Lagos State Chapter and presently their Security Adviser.
She has worked in various states and departments of the Police Force. She was OC JWC, Uwani Division, Enugu, DCO Gwagwaruwa Division, Kano, AO Fillinhuki Division, Kano, DTO Man Centre Division, DCO Man Centre Division, AO Ikeja Division, DCO Ikeja Division, Acting DPO Ikeja Division, and DPO Man Centre. She was 2.ic Area West and Acting Commander Area West, Airport Police Command, Murtala Mohammed International Airport, Ikeja, Lagos, Divisional Crime Officer (DCO) of Isolo Okota Division.
Oyin has won numerous awards as a Police Officer. Due to her kind heartedness, she was honoured with the title Ezinne (Good Mother) by C.W.O. Our Lady of Fatima Cathedral, Kano in the year 2009. She was among the 50 recipients that got honoured by the Lagos State Government at the Lagos@50 Hall of Fame Awards as a Peace Ambassador. Other awards Oyin has received included:
– Best Media Friendly Police Officer of the Year Award by Rainbow Event Magazine
– Most People Friendly Police Officer in Nigeria, courtesy of the Crime Reporters Association of Nigeria (CRAN)
– Most Outstanding Police Officer of the Year by MOPO
– Pragmatic Leadership Awards by Zenith International Magazine among other awards.
CSP Oyin is passionate, smart and a lover of peace with a special gift in conflict resolution. Testimonies abound on how she has helped solve disputes that would have ordinarily ended up in court as an Alternative Dispute Resolution Officer. She has equally taken serious criminal cases and pursued them to logical conclusions and with that her simplicity cannot be taken for granted. She is presently the Social Director – POWA; working with the wife of CP, Mrs. Mary Edgal who is the chairperson of POWA.

Another top Divisional Police Officer that needs to be applauded for quality performance in Lagos State is Chief Superintendent of Police, CPS Naziru Abdulmalid. Presently, he is the DPO attached to Ojokoro Division.  CPS Naziru Abdulmalid is a typical example of an officer with wealth of experience, intelligence and super strategy in the job of policing.That is exactly what CSP Abdulmalid is doing in Ojokoro Division.

Before he was moved to the Division, the area was known for various criminal activities ranging from abduction, under-aged prostitution, burglary and stealing, various kinds of fraud and other vices. To residents, curbing those vices appeared a herculean task and seemed almost impossible. But the residents testified that they can now sleep with their two eyes closed and there is relative peace in the area thanks to the efforts of CSP Abdulmalid and his team. He brought his intelligence and capacity to lead to bear by mobilizing his officers and the stakeholders in the area.
P.M.EXPRESS investigation revealed that when CSP Abdulmalid resumed duty at Ojokoro Division, he first assessed the area and acquainted himself with the security situation there. Thereafter he embarked on the application of intelligence and innovative community policing strategies. He employed modern community policing approach by partnering with the stakeholders comprising of the traditional rulers, leaders, youths, eminent personalities in the area and built a common synergy to combat crime in the area.
Today, Ojokoro community is peaceful and the people are happy doing their businesses with the full protection of CSP Abdulmalid and his officers.
CSP Abdulmalid has been described as super officer who had exhibited intelligence and hard work in any position he had worked.
CSP Abdulmalid hails from Katsina State and studied Geography at the Usman Dan Fodio University in Sokoto State where he graduated with B.Sc honours.
He joined the Nigeria Police Force in August 15th, 1996. He attended the Police Academy in Kano and had worked in several states in Nigeria including Plateau, Kebbi, Katsina, Kano , Borno before he was transferred to the Lagos State Command.
In Lagos, CSP Abdulmalid has worked in many divisions including  Imota, Ikorodu, Layeni in Ajegunle before he was deployed as DPO Ojokoro which had prepared him for the task.
CSP Abdulmalid is married with children and loves reading as hobby. He has been described as a detribalized officer who is ever ready to work with any officer despite his tribe, religion and belief.
Abdulmalid will always be remembered for his dedication, humility, honesty, kindness and love not only on police duty but to people around him.