Naomi Campbell Named First-Ever Global Face of Pat McGrath Labs
Posted on May 31, 2020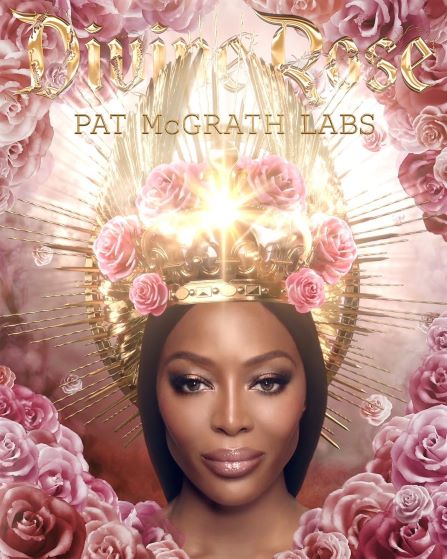 Less than a week after celebrating half a century of looking incredible, legendary supermodel, Naomi Campbell has emerged the global face of PAT McGRATH LABS, the first in the beauty brand's history.
This achievement, she celebrated by starring in a goddess-themed video campaign, which sees the legendary fashion icon showing off a flawless complexion while modeling a gold halo crown and some angelic wings.

Pat McGrath is a British makeup artist and has been called the most influential makeup artist in the world. Last year, she was included in Time's "100 most influential people" list. Close friends and artistic collaborators for over 25 years, these two industry's most iconic trailblazers, Pat McGrath and Naomi Campbell, who have worked together often in their careers, have once again made an indelible impression on the beauty industry.

For her official LABS debut, the ever graceful Naomi Campbell stars in PAT McGRATH LABS's latest film, "DIVINE ROSE," directed by McGrath herself, for the new DIVINE ROSE Collection and will star in campaigns throughout the year, as well as in the new groundbreaking virtual PAT McGRATH LABS Masterchat TM series. As they combine forces in this new project, the makeup mogul McGrath gushes: "I am thrilled that my sister Naomi Campbell is our first official face at PAT McGRATH LABS.
"Naomi's beauty is without compare, but what truly makes her special and the ultimate McGrath Muse, is her legendary loyalty, unparalleled work ethic, and sublime soul. It is an understatement to say that I consider myself blessed to call her a friend. To be a part of her luminous legacy as a trailblazer in the worlds of beauty and fashion is truly an honour."

With the feeling more than mutual for Naomi, the model responded: "It's an absolute honour to be the new and first official face of PAT McGRATH LABS. Pat is my chosen family and an undeniable creative force in the beauty business who has been in my life since the early stages of my career. Pat has created a line that brings fantasy and glamour back into our daily lives and makes us dream again! There is no one else I'd rather embark on this journey with other than the iconic Pat McGrath."

With hashtags like #DivineNaomi #BloomLikeNaomi, Naomi Campbell isn't just the queen of the catwalk, she is simply divine. The DIVINE ROSE Collection will be on sale on May 29, 2020