Notorious Land Grabber, Alhaji Alado Wanted By Police
Posted on December 15, 2018
MICHAEL AKINOLA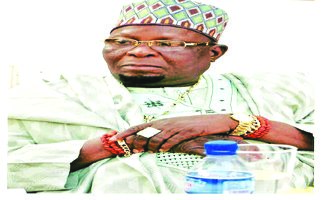 A land speculator, Alhaji Tahoreed Faronbi, a.k.a Alado has landed in trouble after he allegedly invaded and forcefully took over some parcels of land belonging to a 70-year old woman, Mrs. Bimpe Oliver, in Isheri Oshun area of Lagos.
P.M.EXPRESS gathered that Alado's camp is now in disarray following the information that spread in the area that the Nigeria Police want Alado over the land grabbing matter.
This followed a petition dated 24th August, 2018, to the Inspector General of Police, IGP Ibrahim Idris.
The complainant alleged that Alado, who is a serial land grabber, conspired and chased her away from her property which she bought from one Alhaji Ayuba Dada a.k.a Baba Rasi some years ago.
She alleged that Alado used thugs with dangerous weapons to harass and threaten people thereby dispossessing them of their land property, leaving land owners to come boot licking at his feet to repurchase their own landed property from him.
The petitioner alleged that Alado uses the names of very senior police officers to perpetrate his heinous crimes in Isheri Oshun Kingdom. He often boasts that he has DIGs, AIGs and other senior police officers in the office of the IGP on his payroll. Hence, that police officers take orders from him and IGP cannot do anything to him.
She alleged that it was because of the influence he claimed to have that he used to convert his house to a court to treat cases; became an umpire and law to himself.
She alleged that it was on that premise that he conspired, took her plots of land forcefully, positioned thugs on her land and threatened her not to come near the land until she repurchased the land for N12m. She said Alado also threatened to take all her remaining property from her claiming that nothing will happen.
She is appealing to the police to use their offices to bring the lawless elements to book over their conspiratorial move to chase her away from her property.
When P.M.EXPRESS contacted Alado in his house at Isheri Oshun, his aides said that Baba was not ready to respond on the matter.
Police sources confirmed the petition by the complainant at both Zone 2, Onikan and IGP's office at Police Headquarters in Abuja.